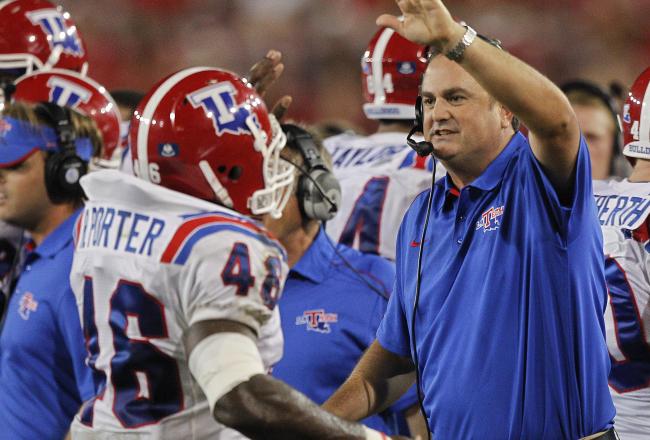 Weirdest story of bowl season?
Louisiana Tech:
Louisiana Tech issued a press release Sunday evening saying the team was not selected for a bowl game. The Bulldogs lost their final two games of the season to finish 9-3 overall and in third place in the Western Athletic Conference.
WUT? Louisiana Tech led the country in scoring at 51.5 points per game and went 9-3, finishing second in the WAC. Granted, the WAC only has one tie-in (that tie-in went to conference champion Utah State), but there had to be another bowl interested in a team that was in pretty good shape for a BCS bid two weeks ago considering the pure volume of crappy bowl games featuring crappy teams. And there was:
Louisiana Tech reportedly had an offer to play in the Independence Bowl for the second time in four years, but turned it down.

Bowl officials declined comment, saying it was a "sticky situation".

Louisiana Tech associate sports information director Patrick Walsh said athletics director Bruce Van De Velde would likely not want to comment when contacted Saturday night and that the Bulldogs are waiting to see how the bowl picture plays out in the next 24 hours.
The bowl picture didn't play out so well, obviously.
A bit of an explanation
from Louisiana Tech's AD via Bruce Feldman:
"We asked the Independence Bowl to let the games play out because we were told by the Heart of Dallas Bowl and the Liberty Bowls that they were very interested in us," said Van De Velde Sunday night. "They (the Independence Bowl reps) called us on Saturday and put a deadline on us. We thought there would be a spot open for us in one of those other bowls. We asked them to wait so we could vet out these other options, but they wouldn't."
So there were two marginally better
potential
alternatives to the Independence Bowl (which Louisiana Tech played in two years ago), neither of which was anything close to a certainty because of the fluidity of some of the BCS spots and the relevant conference tie-ins that would be affected down the line. Something something hand something something bush.
I don't even blame the bowl people for wanting a decision, although one probably wasn't necessary Saturday night; I blame Louisiana Tech for basically going with the "hang on and let me see if I can find anything better" approach, which has never, ever worked for anything/anybody.
The bowl's side of the story via Brett McMurphy's Twitter feed:
Independence Bowl official told me "La Tech offered bid Saturday to play La Monroe. They turned it down"
Derp. Thus no bowl at all for a legitimately good team offered a spot in a respectable-ish game an hour from campus against an in-state rival-type substance. Good call, Bruce Van de Velde. Good call (a) giving Sonny Dykes a huge middle finger that should pretty much ensure his exit to a place where bowl games aren't so stupidly difficult to coordinate and (b) sending your seniors off without a bowl trip after your program's best finish in 15 years.
Speaking of which, here's a retweet of a since-deleted tweet from Louisiana Tech linebacker Josh Cuthbert:
RT @lukezim La Tech players, not on board. RT @jdb51me: Oh yeah and way to go athletic director #yousuck
— Bruce Feldman (@BFeldmanCBS) December 3, 2012
Not on board. Yeah.