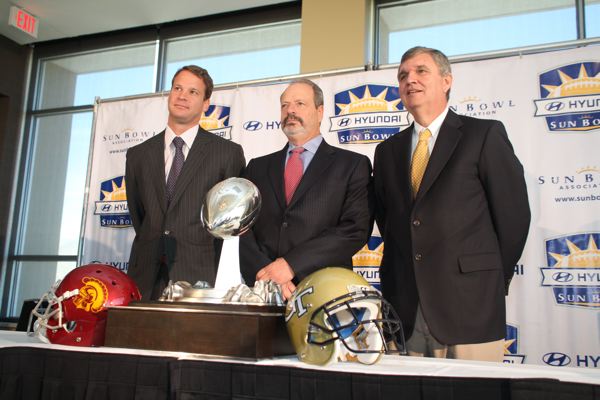 So there was some rabble rabble a couple weeks back when USC safety Tony Burnett sent a bunch of tweets (which have since been deleted) about the Sun Bowl being pretty much the worst thing in the history of ever. The Sun Bowl's executive director unsurprisingly took the high road, responding
like so:
"It doesn't bother us what people are saying before they get here. It's what they say after they leave, after they experience El Paso (and) after they experience the hospitality."
USC has now experienced El Paso. Or El Paso has experienced USC. Or something.
A tweet from El Paso writer Duke Keith at the official Sun Bowl dinner:
Bad form #USC. Hour late for Sheriff's Posse Dinner. #GaTech coach Paul Johnson took team & left. Can't blame him. twitter.com/dukekeith/stat…
— Duke Keith (@dukekeith) December 27, 2012
Errrrr yeah. The USC Rivals site claimed it was all because of a half-hour flight delay earlier in the day; that'd seem reasonable except, according to Keith, Georgia Tech actually got to El Paso two hours
after
USC and still found time to practice, shower and show up for the dinner almost a half-hour early (hence the hour between Georgia Tech's arrival and departure with no sign of anybody from USC, which Rivals reported was only a half-hour late). And if USC had "kept the Sun Bowl officials apprised all the way," wouldn't somebody have, I dunno, mentioned something to Georgia Tech instead of letting it turn into a huge thing?
Actually, it still wouldn't have been a huge thing if not for the aforementioned tweets from Burnett and then this since-deleted tweet from defensive end Leonard Williams ...
... that amazingly was sent the day after the dinner shenanigans and therefore almost two weeks after Burnett had to apologize for doing pretty much the exact same thing. USC!
I don't even know whether I'm more amazed by USC's terrible-ness at public relations or the fact that USC is still favored by either, 9, 9.5 or 10 points, depending on your Vegas locale; I'm leaning toward the latter. Srsly. Just look at Lane Kiffin's face in the photo at the top of this post; at this point, I'd throw down $20 on USC not even showing up.