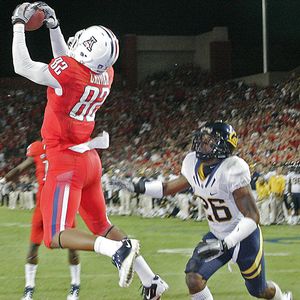 Juron Criner might (for some reason) miss the upcoming season:
The rumors have been flying around the interwebz the last few days after the Arizona Daily Star reported that UA wideout Juron Criner, a second-team All-American last year and the best receiver in the
Pac-10
Pac-12, might miss the 2011 season "because of undisclosed medical reasons."
Neither Criner nor Mike Stoops nor the school has commented publicly, so speculation is running rampant and nobody seems to really know anything. Probably the most connected person in the UA community -- longtime beat writer and Lindy's college football editor
Anthony Gimino
-- said he hasn't been able to reach Criner and doesn't want to "conjecture on what I hear about the state or causes of Criner's condition."
Calling whatever's going on "Criner's condition" sounds kinda bad, but again, nobody seems to know anything for sure right now. Meanwhile, both Bruce Feldman at ESPN (through a tweet) and AZCentral.com's
Bruce Cooper
said the whole thing is actually related to a family member's illness and not anything involving Criner himself ... but Criner apparently did have some sort of neurological testing recently, and it's unknown what the cause was or whether it was even related to the current situation.
So ... something's going on, it's potentially serious and his status is unknown (BTW, Criner would be a senior this year but does have a redshirt available). Arizona is actually pretty deep at receiver -- David Douglas, David Roberts, Dan Buckner, et al -- but there's nobody even close to Criner's level (duh), and losing him could be the difference between first and fourth in a Pac-12 South that's
wiiiiide
open for the taking with USC still ineligible.
Ohio State signs Luke Fickell to billion-year contract:
Luke Fickell told Dan Patrick the other day that OSU has removed the "interim" tag from his job title, which obviously means that he's the long-term guy and will be coaching Ohio State forever and always until the end of time.
"Luke is our head coach this year. At some point either during or after the season a decision will be made on who will be our coach going forward."
Tyler Gabbert transfers to Louisville:
Tyler "Little Brother of Blaine" Gabbert, who left Missouri after playing pretty crappily in spring and coming in behind James Franklin on the QB depth chart, is headed to Louisville.
Mark this one down as "surprising" or "confusing" or something other than logical, because Gabbert will have to (a) sit out a year as a D-I transfer and (b) compete in 2012 with Teddy Bridgewater, the highly touted incoming freshman who's expected to start right off the bat (and presumably beyond).
Bridgewater was a consensus four-star QB considered one of the 10 best in the country last year by pretty much everybody who does the recruiting thing, so if Gabbert was looking to avoid competition, he chose the wrong place. But it's a nice score for Louisville, which went from having zero legitimate starters to having probably two.
Zach Brown transfers to Pitt:
Buried on
the depth chart at Wisconsin and all but forgotten behind clones James White and Montee Ball, senior Zach Brown is d-u-n in Madison and headed to Pitt.
Brown's good enough to be a starting running back somewhere ... or at least he was a few years ago. He ran for 568 yards as a freshman, 305 as a sophomore, 279 as a junior and then zero last year as he redshirted and earned his degree (which means he's eligible to play immediately). And Pitt -- minus the microscopic Dion Lewis, who declared for the draft after a meh sophomore season -- would be a fine option except for two things:
The crazy-shifty Ray Graham ran for almost 1,000 yards last year as a not-quite-full-time complementary guy and is the preseason All-Big East first-team running back.
Todd Graham's throw-it-all-over-the-lot offense equals way fewer available carries, so even if Brown gets a role roughly equivalent to what Graham had last year, he probably won't end up with more than 100 rushes this year.
Then again, given the option of being a part-time player at a Big East contender like Pitt or a no-time player at Wisconsin, the choice probably wasn't that hard. The only other notable school on his list was Miami, which would have been a better playing-time choice but might not have been seriously interested.
Lloyd Carr (?!?) talks possible college football anarchy:
I could pretty easily pump out 20,000 words on the BCS and potential playoff systems and why most fans and their proposals are dumb, but since those things are all just time-killers, I don't. Howeva ... if there's anyone out there I'd expect to toe the NCAA line and talk about how tremendous (so tremendously tremendous) the system is and blah blah blah, it's Lloyd Carr.
Which makes
this statement
all the more shocking:
"I was in New York a month ago for the College Football Hall of Fame and I talked to some important people that said in the next 10 years or so, there could be a group of prominent schools with large budgets and stadiums that could break away from the NCAA and play their own schedule. There could be anywhere from 60-65 teams that would break away and play their own schedule and then have a playoff."
It's not clear if he was really advocating/believing this or just mentioning that he heard it, but the fact that relevant people are even talking about it is pretty interesting. I think most people
who understand
the financially mandated hierarchy of the current system agree that if a playoff (anything other than a plus-one) is ever gonna happen, this is how. Whether it would be good for college football is a completely different issue and anyone's guess.