Gus Malzahn knows what's up:
Ellis Johnson might have been the worst coach in the history of ever (he went 0-12 in his one year at Southern Miss before getting fired last week) but also might have been one of the better defensive coordinators in the country before that, which makes this ...
New Auburn coach Gus Malzahn didn't wait long to address a defense that has been reeling on the Plains for the last two years. Malzahn has hired veteran Ellis Johnson to be his defensive coordinator.
... a not-insignificant hire. FWIW, he'll also be making not-insignificant money: Auburn's gonna be paying him $800K a year, apparently because Florida State was also trying to hire him to replace Mark Stoops. But that's the going rate these days, even if pretty much the entirety of the Big Ten refuses to pay it despite having piles of cash to roll around in.
As for Johnson, he consistently had South Carolina's defenses at or near the top of the SEC (average national ranking of 19th in yardage and 27th in scoring) from 2008-11 after doing similarly well at Mississippi State for the four years before that and similarly well at Alabama for the four years before that. So he's vaguely familiar with the SEC and assembling good/very good defenses. FYI, his more recent at ones at Mississippi State and South Carolina used a base 4-2-5 with a spur, and Johnson said
at his hiring presser
that he intends to implement the same at Auburn.
Assuming Johnson is anything close to what he was a couple years ago, he'll represent some degree of improvement: Auburn was 80th in yards allowed and 65th in points allowed this year under Brian VanGorder and 86th and 81st in those two categories the year before under Ted Roof. He's a legit D-coordinator, and with Malzahn being a legit offensive guy, it's not unreasonable to think Auburn will be respectable (as in bowl-eligible) next year and very good again within a couple years.
Seems reasonable: Florida International fired Mario Cristobal this week after a 3-9 season, which ... ummm ... OK. Cristobal is still only 42 and built that program from literally nothing; FIU went from 1-11 five years ago to 7-6 (and the Sun Belt title) in 2010 to 8-5 (and a second straight bowl game) in 2011. And after that 8-5 season, which was exactly one year ago, Cristobal turned down the head coaching jobs at Rutgers and Pitt to sign a one-year extension at FIU. Good choice.
A quote from spectacularly titled executive director of sports and entertainment Pete Garcia:
"We will now turn our attention to attract the very best candidate to fill the position of head coach. We will begin a national search immediately."
Good luck with that. A more reasonable quote from Joe Tiller, who for some reason was asked to comment by
the New York Times:
"I'm amazed Florida International and midmajors, they act like they're big timers — and they're not. They might have a nice little program going someplace, but they're not amongst the heavyweights."
He added, "diabeetus." Anyway, the next time some irritable columnist-type guy writes the inevitable "THINK OF THE CHILDREN" piece about Coach X leaving School Y for more money/a better job/whatever, I will spam his email with links to Mario Cristobal-related stuff.
The best fake Bret Bielema picture ever:
This is
linked to from Bret Bielema's totally real Twitter feed, which isn't quite as hilarious as Will Muschamp's totally real Twitter feed but gets a lot of hilarity points for this:
People have been asking me if I really grew up on a pig farm. I did and well, here's a little proof.
Yesssss.
Cue sigh of relief from all seven Pitt fans: Pitt apparently won't be looking for its eleventeenth coach in the last four years:
Cross Pitt coach and former Wisconsin offensive coordinator Paul Chryst off the list of candidates for the Badgers job.

Wisconsin athletic director Barry Alvarez says Chryst is "going to stay at Pitt." Alvarez says he helped Chryst get the job at Pitt last year, and doesn't think it would be appropriate to hire him away after such a short time.
Since when did "appropriate" mean anything? Come on, Wisconsin. Get with the times.
So they're similarly built: This is a real picture of ESPN's Dari Nowkhah interviewing A&M tackle Luke Joeckel at Thursday night's Something Something Awards Something: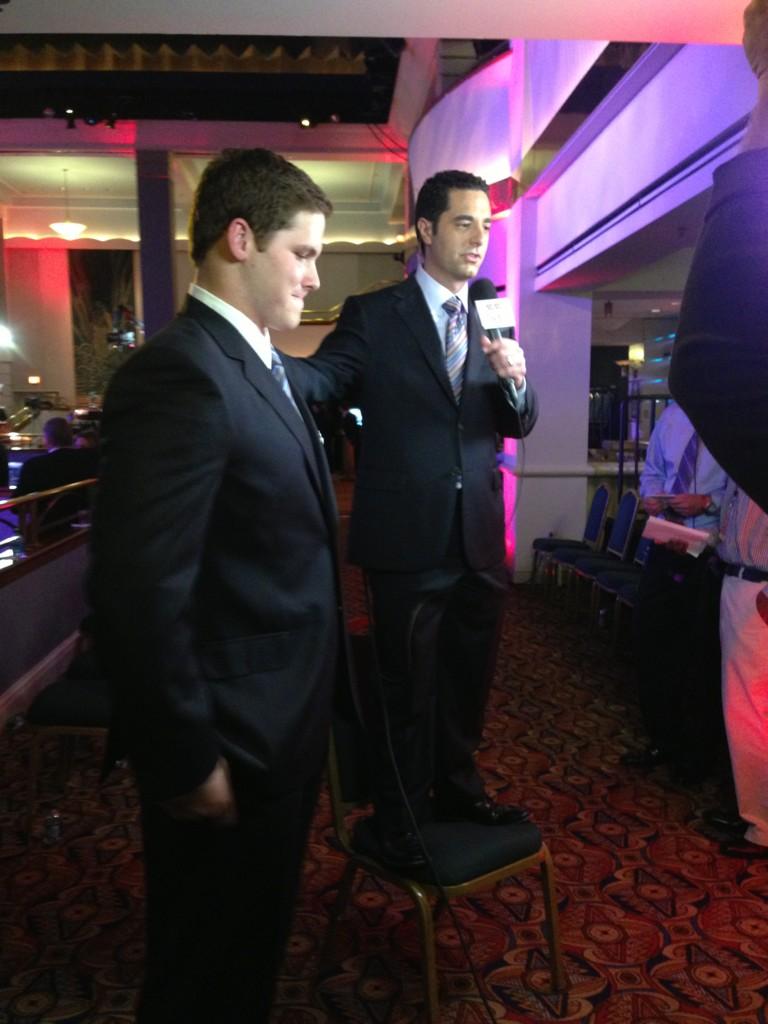 "Now let's bring Yao Ming over ..."
I don't get it:
The Big Ten added Rutgers and Maryland at least in part as Penn State insurance, according to Barry Alvarez:
The Big Ten's recent additions of Maryland and Rutgers were motivated in part by a concern of losing Penn State to another league, according to Wisconsin athletic director Barry Alvarez.

Speaking Friday to the Wisconsin athletic board, Alvarez said Big Ten commissioner Jim Delany wanted to add teams in the Northeast to ensure Penn State would remain in the conference.

"Jim felt that someday, if we didn't have anyone else in that corridor, someday it wouldn't make sense maybe for Penn State to be in our league," Alvarez told the board, according to the Milwaukee Journal Sentinel. "That they would go into a league somewhere on the East Coast. By doing that, it keeps us in the Northeast corridor."
Considering that the SEC doesn't have sufficient available spots to absorb any meaningful amount of the ACC at this point and thus would have the same problem geographically from Penn State's standpoint, that means Delany was (allegedly) concerned that Penn State would eventually leave for either the ACC or the Big East, in the process taking an incomprehensible pay cut in terms of TV revenue (especially once the Big Ten signs a quadrillion-dollar deal in 2015) and an even more incomprehensible pay cut in terms of general-fund revenue; Penn State gets a few billion dollars a year in research money from the Big Ten's academic arm,
the CIC
. Like ... I mean ... no. A line from
Brian at MGoBlog
goes here:
People in charge of things are just in charge of them. There is not necessarily a reason.
That is all.