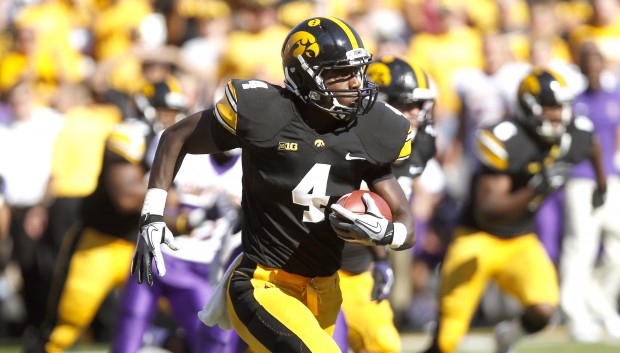 Iowa running back yadda yadda you know
how this sentence ends:
The running back exits continue for Iowa, as freshman Greg Garmon has decided to transfer from the team. There's nothing official from Iowa, but Garmon told multiple media outlets that he asked for and received his release from head coach Kirk Ferentz on Wednesday.
Garmon was a moderately highly touted four-star dude last year who ended up with 38 carries for 122 yards and eight catches for 57 yards, with most of those touches out of necessity since obviously. Recruiting rankings aside, he was the No. 3 option for most of the year behind walk-on fullback Mark Weisman and converted receiver Damon Bullock; interpret that as you will.
An explanation from Garmon
via 247Sports:
"This had nothing to do with my grades or getting in to any trouble at all. I just didn't feel comfortable here anymore with the offense. It is a power offense and I am not a power type of a back. I'm more of a scat-back type guy. I can run, but I like to catch the ball out of the backfield and do different things."
Iowa runs a power offense? Surprise! It's almost like recruits don't really know anything about the systems they commit to play in. Or something. I dunno.
Anyway, seeing as how Weisman, Bullock and Jordan Canzeri (who made his first start in last year's Insight Bowl and played decently but then tore his ACL this spring) will all be back next year, Garmon was unlikely to be a significant part of the offense next year regardless. Except he undoubtedly would've been since those guys will all be struck down in inexplicably vengeful fashion.
BHGP summarizes:
Garmon is the third running back to transfer out of the Iowa program in this calendar year, the fourth to leave the team. He is the sixteenth consecutive running back to leave the program early; the last Iowa running back to actually complete four years with the program remains Damien Sims, who graduated in 2007. In the last four years, Iowa has signed four Rivals.com four-star running backs. All four of them left the program before the beginning of their third year in the program.

The Hawkeyes' running back depth chart is now a converted two-star wide receiver, a walk-on fullback who transferred from Air Force, and a two-star scatback who spent the season recovering from a torn ACL.

Fun times in Babylon, indeed.
Indeed. But it's OK because Greg Davis will fix everything.