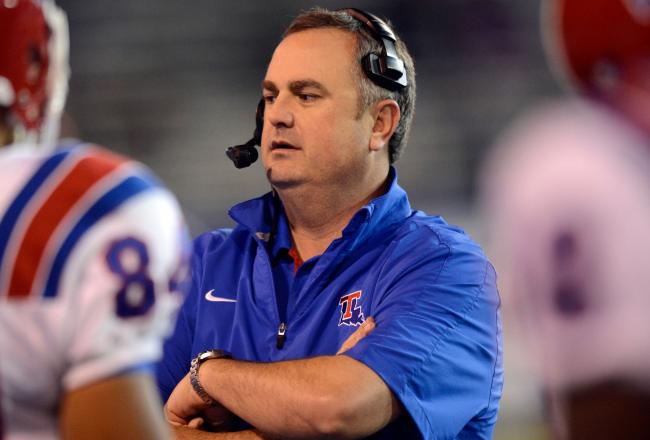 Sonny Dykes was on his way to becoming the 2012 version of 2011 Gus Malzahn (the guy everybody allegedly wanted but nobody actually hired)
until Wednesday night
, when Cal decided scoring a lot of points again would be swell and Dykes decided going to a place where bowl invites are usually accepted would be similarly swell:
California on Wednesday hired Louisiana Tech coach Sonny Dykes in hopes the offensive mastermind can revive a program that struggled in recent years under the fired Jeff Tedford.

Dykes, 43, led Louisiana Tech to a 9-3 season that included wins over Virginia and Illinois and a two-point loss to Texas A&M. The Bulldogs were 22-15 in three seasons under Dykes.
Them's the basics; more on that stuff momentarily. The other basic of note: Dykes is an Air Raid guy all the way. His formative years were spent almost entirely under Hal Mumme and Mike Leach, which ... I mean .. obviously. He likee the pass.
Dykes was Leach's O-coordinator for two years before leaving for Arizona in 2007, at which point UA turned into Texas Tech Lite as Willie Tuitama/Nick Foles threw a billion times a game (with varying degress of success). Arizona's national rank in passing yards those three years: ninth, 36th and 48th. It should be noted that the '08 number was mitigated by Nic Grigsby putting up 1,100 yards on the ground; in '09, UA threw almost 500 passes (!) but had the yardage number held down via Foles' general first-year-starter mediocrity.
And that was it for Dykes as a coordinator since he got hired after the '09 Holiday Bowl (back when Arizona was playing in Holiday Bowls) to coach Louisiana Tech, which Derek Dooley had left in a vaguely competitive state after going 17-20 in three years and somehow getting the Tennessee job.
Things there went reasonably well:
2010: 5-7 overall, 4-4 WAC
2011: 8-5 overall, 6-1 WAC
2012: 9-3 overall, 4-2 WAC
Keep in mind that Louisiana Tech's three losses this year were by a combined 18 points and to three teams (one of which was Texas A&M) that all went 10-2. Even more amazing: Tech scored at least 41 points in every loss and
in all but one game this year
. Read that sentence again. Now go watch an Iowa game. Now laugh.
Unsurprisingly, that offense wasn't run entirely by Dykes but mostly by Air Raid god Tony Franklin (of
2008 Auburn weirdness
), whom Dykes hired immediately upon getting the job. Surprisingly, that offense was balanced-ish. Tech was close to a 50/50 run/pass split in all three seasons, with the overall numbers going from 49th in yardage and 59th in scoring in 2010 to 51st in yardage and 42nd in scoring in 2011 (with everything getting better once Colby Cameron took over as starting quarterback about halfway through the year) to GREAT GOOGLY MOOGLY. This year's rankings: fourth in passing yards, 18th in rushing yards, 18th in pass efficiency, fourth in total yards and first in scoring (51.5 points per game lol).
So ... Dykes likee the pass but likee the points even more, as evidenced by the playcalling the last three years. BTW, Tech ran 1,054 plays this year (533 passes and 521 rushes), which is just an absolutely ridiculous number; for reference, Oregon ran 989.
Related quotes from from Cal athletic director Sandy Barbour ...
"Sonny Dykes is one of the brightest offensive minds in the country, running a high-octane style of football, one that I'm certain will allow our student-athletes to thrive and that our community will love on game day."
... and Dykes:
"We think what we will do on offense will put a charge into the program and give a spike in recruiting. We want excitement. I want to sell it to the alumni, boosters, players, families, fans and high school coaches. I want to hit the ground running."
Upshot: Cal will probably be entertaining for the forseeable future, and that will be different. Here's an excerpt from
my Jeff Tedford postmortem:
Cal's offense has been legitimately bad (by BCS-conference standards) for six straight years, during which time the program's collective record has been 39-37 and the conference record has been 23-31. The talent hasn't been an issue (just look at the running backs and total number of players Cal has sent to the NFL in that time ); the quarterback play has been, and that doesn't really make sense seeing as how Jeff Tedford is Jeff Tedford.

Basically, everything Tedford has tried to do with the passing game since '07 has been a bust. I have no idea what happened, but the Jeff Tedford who's running things now obviously isn't the Jeff Tedford who made first-round picks out of David Carr and Akili Smith and Joey Harrington and Kyle Boller (?!?), hence two losing seasons in three years and a sub-.500 record over the last five and a half years. Some context has to be included when citing his 82-57 overall record.
Yeah ... that. Tedford's offenses were largely the reason Cal was a legit national title contender with Aaron Rodgers, et al, and were also the reason Cal was a sub-.500 program over the last six and a half years, during which time Cal finished no better than 44th in total yards and no better than 68th in pass efficiency.
The offense will be better, which means Cal should be better to an undetermined degree. Whether Cal will be
good
is another matter. Dykes has zero background defensively and has never actually hired a D-coordinator; he retained Louisiana Tech's Tony Spangler, who'd been hired by Dooley, and that went OK but not awesomely, especially this year (120th in yards allowed, 116th in scoring). Keeping Clancy Pendergast would be advisable.
Beyond that, there's no reason Cal shouldn't be relevant again in the Pac-12 North. I said something to this extent when Tedford got fired but will reiterate it here: Cal is at worst an average BCS-conference program in one of the most desirable locales in the country with shiny new facilities (the renovated stadium and the High Performance Center), decent history/tradition, a lot of money and legitimate potential to be a lot better than average (again) when Chip Kelly leaves Oregon and Stanford regresses toward the historical mean, both of which will probably happen within the next few years. That said, the Washington schools and Pac-12 South exist, and there are other variables to consider (academics and recruiting and whatnot).
So I think Cal will be better and probably good-ish in the not-too-distant future as long as Dykes can identify and acquire a quality D-coordinator. I also think going 82-57 like Tedford did seems relatively unlikely given the quality of the conference as a whole. I guess the question is whether he can be consistently closer to the first-seven-years Tedford than the last-three-years Tedford, which would at least get the program back to the point where going to the Rose Bowl for the first time in 50 years (!) would be something other than incomprehensible.