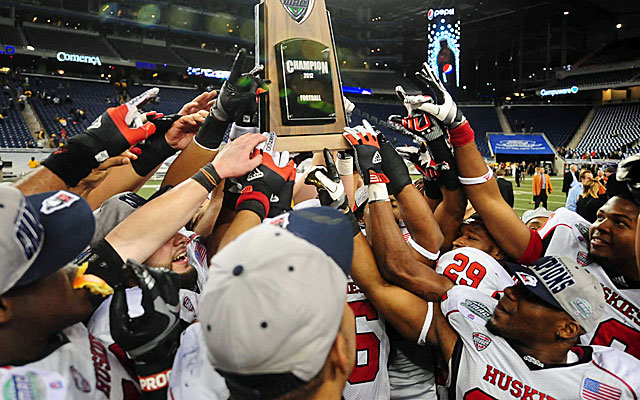 Northern Illinois decided not to hold out for a spot in the national title game and instead accepted an invitation to the Orange Bowl. Yay for the Northern Illinois athletic director.
Also yay:
Northern Illinois plans to offer one free ticket per student for the Jan. 1 Orange Bowl game against Florida State in Miami.

Students must pick up the ticket in Miami, according to NIU sports information director Donna Turner.

"We want our students to be a part of it," Turner said. "We'd love to see a huge group of students get down to Miami."
Wow. Those tickets average about $150 a pop, and the school was contractually obligated to buy 17,500 of them, most of which won't sell since NIU's typical attendance for a home game isn't even 17,500. So that's a pretty ridiculously generous gesture by an athletic department that presumably isn't awash in money (most in the MAC aren't).
What's stupid is that because of the aforementioned ticket obligation* that's attached to every bowl invite, NIU was going to lose money regardless of the free-student-tickets deal. Really, the above-referenced offer just changes the amount of the deficit from somthing like $2.5 million to something like $2.8 million, which is significant but isn't that significant in the grand scheme of things. Either way, NIU is taking a massive loss to play in a BCS bowl rather than the Nobody Cares Bowl, which ... like ... why? There's a gigantic pile of BCS-related money that has to go somewhere; why doesn't the largest part of it go to the teams with the largest expenditures? Fortunately for NIU, the guy who runs the MAC had
a light-bulb moment
featuring the same revelation and then somehow persuaded a bunch of conference presidents to (gasp) give up a little bit of money.
MAC commissioner Dr. Jon Steinbrecher told ESPN on Monday that he will present to the presidents of the conference a proposal to subsidize NIU's trip to Miami for the Jan. 1 bowl game.

"Northern Illinois will not be left on the hook like other programs have been," Steinbrecher said. "We've always discussed what we would do when we came to this point and it was clear that the opinion was we'd subsidize the school going so that this could be a conference celebration."
Wow again. Coherent leadership FTW.
FYI, the MAC will get a five-way split of $12 million (that's the non-BCS conferences' share every year) plus about two-thirds of another $12 million (that's the amount distributed when a non-BCS-conference team earns a BCS berth), which is to say about $10.5 million. With 14 teams in the MAC, an equal distribution would yield about a $740,000 payout. With NIU getting, say, $2.5 million off the top, the distribution for everybody else would be $615,000. That's a marginal difference considering that, without Northern Illinois going 12-1, most of that money wouldn't exist at all.
So yeah. Do what NIU and the MAC are doing, everybody else.
*The bowl system is a scam; there's no way for the bowls to lose money and almost no way for the schools to make money. I have no idea why the schools and the NCAA don't unilaterally mandate that bowls have to sell their own tickets. A game that isn't good enough to sell a sufficient number of tickets to support itself shouldn't exist anyway. /rant