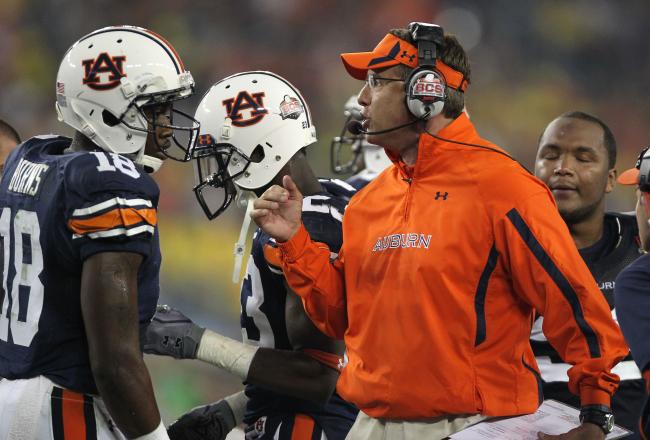 Hey, a not-totally-inexplicable coaching hire!
And by Auburn!?!
Whoda thunk it?
Auburn has hired former offensive coordinator Gus Malzahn as its new head football coach.

Malzahn was the Tigers' offensive coordinator during their national championship run in 2010 but spent last season at Arkansas State in his first college head coaching position. He led the Red Wolves to a 9-3 record, a Sun Belt Conference title and a berth in the GoDaddy.com Bowl.
So ... Gus Malzahn. It became more and more clear with every unwatchable and not-even-vaguely-competitive game this year that Auburn had retained the wrong guy from the 2010 staff. And unlike Gene Chizik, Malzahn has a resume that doesn't consist entirely of "won a lot with Cam Newton."
Actually, what he did in 2009 might have been even more impressive given the totally meh personnel (including the legendary Chris Todd at quarterback) at Auburn that first year: 13th in rushing offense, 56th in passing offense, 15th in total offense and 16th in scoring offense as Auburn went 7-5 despite being pretty far below average in all relevant defensive categories. And then there was 2010:
That was fun. And then there was 2011, which ... ummm ... didn't go so awesomely. The running game was fine (32nd nationally), but the passing game was blech due to a complete lack of competent quarterback play, which basically just continued into this year and was exacerbated by Malzahn not being there to do his thing with the running game.
The reason Malzahn wasn't there: He was at Arkansas State, which WUT? IIRC, Malzahn actually turned down the Vanderbilt job after the 2010 season; a year later, he took a 50 percent pay cut (no joke) to go to Arkansas State and coach in the Sun Belt.
I wrote this
at the time:
How did this happen? Why are presumably intelligent and successful people passing on Gus Malzahn to hire Tim Beckman and Jim Mora Jr. (?!?) and Todd Graham, and why is Gus Malzahn leaving Auburn to go to Arkansas State (State!)?

I'm not Gus Malzahn or Gus Malzahn's agent and therefore really don't have an answer. I have to assume he would have been considered for at least a couple of those jobs, so the lack of even tenuous rumored/sourced connections probably means he shot down any interest from the outset. My guess is that he really prefers to stay in the Southeast. Again, he nearly accepted the Vanderbilt job last year and was known to have talked with Arkansas in '07 and North Carolina at some point before Larry Fedora was hired. The extent of his job history also backs up the Southeast thing: Arkansas high school coach, Arkansas offensive coordinator, Tulsa offensive coordinator (after he left Arkansas amid the whole Mitch Mustain/Houston Nutt debacle), Auburn offensive coordinator. His entire life has been spent in about an 800-mile radius (all to the south) of Arkansas, which is where he grew up.
As for the better jobs, I'm curious as to whether the lack of head coaching experience was much of an issue. UCLA and ASU made a pretty big deal about that being a prerequisite, so maybe he figured he needed a rung-on-the-ladder type of job just to get it on his resume. Look at Hugh Freeze and Ole Miss: One year of successful coaching = many years of successful coordinator-ing. Speaking of Hugh Freeze, Arkansas State went 10-2 this year. Winning the Sun Belt next year with the senior version of Ryan Aplin looks totally doable, and that might be sufficient to bump Malzahn from "awesome coordinator" to "legitimate coach" and get him the non-blah coaching offers he presumably wants.
Well said, 2011 version of me. Malzahn went to Arkansas State, went 9-3, won the Sun Belt title and now has the Auburn job he presumably wanted rather than the Vanderbilt job nobody wanted (other than James Franklin, apparently). Granted, Arkansas State was already a very good program that had won the Sun Belt the previous year, but Malzahn (a) made what had been a good offense a borderline-elite one and (b) already had a crapload of relevant coordinator-ing that really just needed to be confirmed in an "OK, this guy is capable of running a program in some way other than into the ground" manner.
As for the former, Arkansas State went from 64th in rushing, 16th in passing, 24th in total yards and 31st in scoring in 2011 under Hugh Freeze to 21st in rushing, 41st in passing, 17th in total yards and 21st in scoring in 2012 under Malzahn. As for the latter, Malzahn's numbers have been similarly ridiculous everywhere. A brief summary of his pre-Auburn results:
2008 Tulsa: fifth in rushing, ninth in passing, first in total yards, second in scoring
2007 Tulsa: 41st in rushing, third in passing, first in total yards, sixth in scoring
2006 Arkansas: fourth in rushing, 108th in passing, 29th in total yards, 31st in scoring
Keep in mind that 2006 Arkansas had Casey Dick at quarterback yet won the SEC West (!), mostly because Malzahn invented the Wildcat with Darren McFadden and Felix Jones and thus got a combined 2,900 rushing yards out of them.
So yeah: Malzahn's an elite offensive coordinator. Whether he's an elite
coach
will be dependent on whether he can recruit and assemble a coherent defensive staff and whatnot. Considering that he was a high school coach in Arkansas and was involved in the recruitment of Cam Newton (out of junior college) and Kiehl Frazier and Michael Dyer and various other guys of note, it seems reasonable to assume that he'll be OK in the recruiting/networking aspect, but he hasn't been anywhere long enough for the on-field results to be indicative one way or another.
If nothing else, Auburn will be better (maybe
waaaaay
better) on offense. A Greg Mattison-at-Michigan-esque turnaround next year doesn't seem out of the question given Malzahn's typical numbers and Auburn's 2012 numbers: 115th in total yards, 112th in scoring, 78th in rushing, 112th in passing. Yeah, the quarterbacks were craptacular and Dyer was gone and all that; still ... I mean ... gack. Between Jonathan Wallace at quarterback and some combination of Tre Mason and Mike Blakely at running back, there will be a running game and something resembling a coherent offense going forward. Speaking of which, Malzahn's still only 47, which means there's plenty of "forward" to be had if things go well (and they might). The question is obviously the defense, and that's a question that can't be answered without any real data on his staff-building ability.
Here's the thing: Auburn is still Auburn and just won a national title two freakin' years ago. There will be five-star recruits (albeit of debatable validity if Trooper Taylor is involved) and opportunities to win things of significance if the coaching/development are comparable to the general levels of talent, even if the bar is set relatively low right now (somewhere in the vicinity of "be competitive in the SEC" since that'd represent progress from the last two years under Chizik). Considering that all available data indicates that Malzahn is basically an early-stages version Chip Kelly/Rich Rodriguez/Dana Holgorsen, that probably won't be a problem on one side of the ball, and that means the tire fire has been contained at the very least and extinguished at the very best.