So it's basically Thursday and I've written nothing about the actual games from last week (other than the two of obvious interest, of course). Boo-urns. This will be relatively short and uninformative since you'll probably skip it anyway just to watch more stupid Penn State riot videos.
Oklahoma State just keeps doin' its thing:
I was actually pretty impressed with K-State being able to make it a game. And it
was
a game: Kansas State led by 10 midway through the second quarter, tied it with about three minutes left before giving up an instant touchdown and then had three plays from the Oklahoma State 5-yard line on the final series with the score 52-45. Obviously, none of them resulted in a touchdown. The Oklahoma State offense is just destroying everybody right now. Brandon Weeden went for 502 yards and four touchdowns Saturday night, and that barely seems worth mentioning because he does something comparable every week. I really thought there'd be a drop-off after Dana Holgorsen left; I was wrong. Barring an Oklahoma-esque meltdown this week against Texas Tech, Okie State is gonna head into the Bedlam game at 11-0 and a win away from the national title game. This seems hard to believe. I still think Oklahoma's better, but the game's in Stillwater and ...
Oklahoma takes a major hit on offense:
Ryan Broyles tore his ACL against Texas A&M and is done for the year. It happened on his second catch of the game and obviously wasn't a huge factor since OU still put up 41 points, but Landry Jones ended up 18 for 38 for 255 yards against a pass defense that got lit up like a freakin' Christmas tree by Oklahoma State, Arkansas and Baylor. There's no way the passing game doesn't suffer from the loss of a guy averaging about nine catches and 120 receiving yards a game. Whether that's enough to stop Oklahoma from going 11-1 and winning the Big 12 (as per usual) remains to be seen; it'll probably come down to the Bedlam game, at which point the defense is gonna have to step up regardless.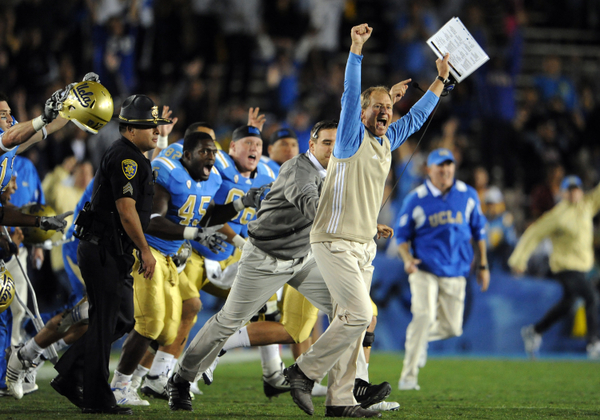 Rick Neuheisel continues to be a zombie coach:
UCLA rides the fine line between "disappointing" and "competitive" like nobody's business. The latest edition was a 29-28 win over Arizona State that featured ASU kicker Alex Garoutte missing three makeable field-goal attempts, including a 46-yarder at the buzzer that came up about 10 yards short. Side note: I wrote a training-camp piece on Garoutte being wildly inconsistent that resulted in a "don't write about anything Alex Garoutte does" mandate from the ASU media relations people. Wooo me! Anyway, ASU should still win out (seriously, the remaining games are at Wazzu, Arizona and Cal) but now needs help to reach the title game because UCLA holds the tiebreaker. Consider this: UCLA is 81st in scoring offense, 94th in scoring defense and the approximate equivalent (according to Sagarin) of Nevada and Vanderbilt yet is now tied for the Pac-12 South lead and can play in the title game with wins against Utah, Colorado and USC. What an awful division; NEEDS MOAR (ELIGIBLE) USC.
Nebraska reminds me why I was skeptical:
The reason Northwestern isn't very good is a secondary that's made of masking tape and carpet scraps and possibly some plastic stuff found in a dumpster. That obviously wasn't super helpful for a Nebraska offense that wants to run on first, second, third and fourth downs; outrushing Nebraska by a 2:1 ratio = win. And the stuff I wrote last week about Nebraska's defense figuring things out against Michigan State doesn't seem so accurate anymore after Dan Persa got hurt and Northwestern
still
racked up 468 total yards. Let's say it again: Nebraska's defense isn't very good (there is little to no question that I'll be infuriated by Michigan's offensive ineptitude in two weeks). In the bigger picture, Nebraska no longer controls its own destiny and now needs Michigan State to lose either at Iowa this week or at Northwestern in the regular-season finale to have any shot at the division title -- and that's assuming Nebraska wins out. If MSU loses at any point, chaos (on a divisional scale) will ensue and there will be a gigantic two-loss pile-up.
Probably overrated team beats definitely overrated team:
The teams in question are (respectively) Arkansas, which took a break from squeaking by the SEC dregs Saturday, and South Carolina, which has an offense that's roughly the equivalent of Northwestern's secondary. The result was a relatively comfortable but weird 44-28 Arkansas win in which Arkansas outgained South Carolina 435-207 and got four turnovers while only committing one and still need two fourth-quarter touchdowns to put it away. Not missing chip-shot field goals would have helped. As for South Carolina ... eek. Connor Shaw was 16 for 25 for a whopping 128 yards with no touchdowns and a pick and was also the leading rusher with ... ummm ... 24 yards. It's your mind that bends the spoon produces the touchdowns. Arkansas, meanwhile, seems like a typical Outback Bowl team but is probably gonna be 10-1 heading into the LSU game in Baton Rouge on November 25. Translation: Arkansas is probably gonna be 10-2 on November 26. That's not bad given the loss of Ryan Mallett and Knile Davis' mostly forgotten knee injury back in August.
I don't understand plz explain kthx:
Michigan State needed a late touchdown to beat Minnesota at home. Texas put up 439 rushing yards (Greg Davis wants to know what these "rushing yards" are) in an obliteration of Texas Tech, which might just be a bad team but is 5-4 and will always have that completely inexplicable win over Oklahoma. Florida got John Brantley back and still had to hold on for a five-point win over Vandy
in The Swamp
. Ohio State was tied with Indiana late in the third quarter at The Horseshoe. No comprendo.
Player of the Week:
I'm kinda glad I waited until after Tuesday's game to do this, because ... I mean ...
... yeah. Alex Carder's line from Tuesday night: 38 of 59 for 574 yards (!) with seven touchdowns (!!!) and no picks. He also had a rushing touchdown. That's a solid night ... and Western Michigan still lost 66-63 because Toledo put up 804 total yards (lol). Western only had 635. The MAC! Matt Barkley also set a USC record with six touchdown passes against Colorado; I'm undecided on the awesomeness of that feat since it was against a craptacular Colorado team but was also something no USC quarterback had ever done before against
anybody
.
Game of the Week:
I liked the whole "1,400 yards of offense and 129 points" thing. That was fun. Also fun (in a much, much different way):
Insert Gary Danielson/Paul Finebaum joke here.
Post-Week 10 top 10:
I've said
my piece
about the teams at the top. The next five-ish spots are a guess until the end of the month, and the bottom is the usual necessary mix of undeserving teams.
1. LSU
2. Alabama
3. Oklahoma
4. Oklahoma State
5. Oregon
6. Stanford
7. Boise
8. Clemson
9. Wisconsin
10. Arkansas