At some point either just before or just after halftime Saturday, I said something along the lines of "this is unwatchable." This was during a stretch in which Michigan had negative total yards in a span of 14 plays and had three straight turnovers on the Illinois side of the field, so the "unwatchable" part seemed fair ... except Michigan was winning by two touchdowns. It was 14-0 at halftime, and the lead never got below 10 in an eventual 17-point road win against an above-.500 Big Ten team.
After the past three years, it's pretty hard for me to wrap my head around the concept of a team that's actually, like,
good
on defense. I no longer understand
not
having to score on every possession in order to win, so when Michigan was blowing good chances and then blowing great chances and then blowing awesome chances and going into the half with a two-touchdown lead instead of a five-touchdown lead, I was somewhere between irritated and furious. Srsly, it should've been at least 31-0 and not even a game. ANGARR!
It wasn't a game. It wasn't a game because Illinois was incapable of running the ball or throwing the ball or doing pretty much anything other than taking sacks when the game was still in question. Illinois had 30 total yards in the first half and didn't cross midfield until the last minute of the third quarter (lol). I was briefly concerned when they scored to make it 17-7 and Michigan went three-and-out and I started having flashbacks to [2009 MEMORIES REDACTED], but J.T. Floyd did this a few plays later ...
... and it was over.
Let's get this out of the way: The Illinois offense is not good. Scoring 14 points or fewer in four straight games = not good. Still, I haven't seen the Michigan defense just completely and totally
dominate
an actual team (not Minnesota) like that since ... ummm ... 2006? That defense is and always will be the comparison point for awesome performances.
One of the most satisfying Michigan games in my lifetime was a 17-10 win at Penn State in '06 in which UM had the usual difficulty against a typically good Tom Bradley defense and finished with about 300 total yards. It was satisfying purely because this -- which wasn't even one of Michigan's seven sacks (!) -- is the entire game in a-picture-says-1,000-words form:
Anthony Morelli might have literally died that night; I don't think I ever heard from him again. The freshman version of Darryl Clark then came in and got knocked out after something like five passes. Some Italian-named third-stringer played the rest of the game and produced a garbage-time touchdown that wasn't even concerning even though it made it nominally a one-score game. Penn State finished with -14 rushing yards, mostly due to Morelli having an impressive -49. It wasn't even fair.
The Illinois game was just like that, but it was hard to recognize because the 2006 defense had ingrained "MANBALL DOMINATION" into my head and the RichRod era overwrote that with "OH GOD PLEASE SCORE MOAR POINTS." Here's a hilarious stat: When Illinois got its third
first down, it was 17-0. And when Nate Scheelhaase scored on a 13-yard run at the end of that drive, it more than tripled the Illinois rushing total (from 6 yards all the way up to 19). It was as laughable as the numbers say it was.
I cannot say enough awesome things about Greg Mattison.
This chart
pretty much tells the story (the numbers on the left are from 2011 and the numbers on the right are from 2010):
| | | | | |
| --- | --- | --- | --- | --- |
| Scoring Defense | 16.1 | 7 | 35.2 | 108 |
| Rushing Defense | 130.9 | 41 | 188.9 | 95 |
| Passing Defense | 191.3 | 22 | 261.9 | 112 |
| Total Defense | 322.2 | 17 | 450.8 | 110 |
Michigan has improved 111 spots in scoring defense! That has to be a record, right? And the 93-spot jump in total defense probably isn't too far off. This guy ...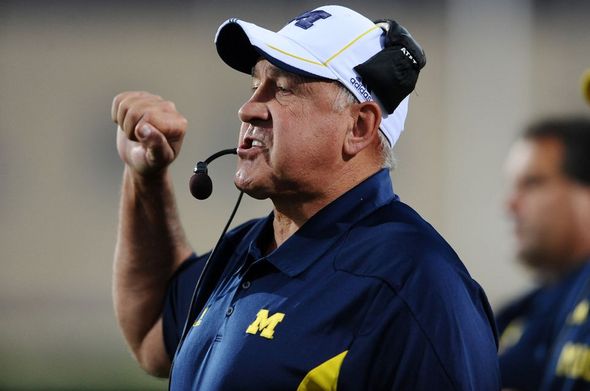 ... is a magician.
Not a magician: Al Borges. All the stuff I said before about a 17-point road win over a legitimate team (with a top-10 defense, no less) applies, but look at Michigan's starting points and drive results in the second quarter and you will totally understand the frustration:
Michigan 41 - Turnover on downs at the Illinois 1
Illinois 13 (!) - Turnover (strip sack on third-and-18)
Illinois 43 - Missed 38-yard field goal
Those first two possessions were what just about caused my head to explode. Michigan got to the Illinois 2-yard line, went backwards twice, got stopped on fourth-and-goal from the 1, recovered a fumble on the ensuing play, went backwards twice and then watched Denard get crushed on a third-and-18 dropback that included no blocking help for meh right tackle Mark Huyge against national sack leader Whitney Mercilus. Good times.
To be fair, a lot of the stupid stuff wasn't Borges' fault. The fourth-and-goal play from the 1 was a typically cash-money speed option that might have worked if not for a bad snap that blew up the timing, and that third-and-18 scenario was mostly due to Michael Shaw taking a second-down zone-read handoff and stupidly trying to get outside, then going backwards, then going backwards some more and finally taking a bazillion-yard loss. I yelled at him a lot. Also, Borges doesn't kick field goals.
But man ... this is the same offense (minus one lineman) that scored 67 freakin' points against Illinois last year. Everything looks harder because the blueprint against Borges' kinda-sorta-spread-n-shred system has been established: Put eight/nine guys in the box, jam the receivers, bring pressure on every play and make Denard put it in the air downfield. Part of what made the Rodriguez offense so good is that there were a whole bunch of constraint plays, stuff like this ...
... that made putting nine in the box stupid; an instant touchdown right in your face would be the result. That play doesn't really exist this year. The same holds true for bubble screens, which are designed entirely to force the overhanging linebacker/safety from crashing down on the running game. Just watch (look at where the playside linebacker is when the ball comes out):
That was fun. I just don't understand the aversion to some of that basic "they're
giving
us a big play" stuff. I still think Denard needs more carries -- leads, zone reads, veer options, whatever -- but I'm starting to accept that he's not gonna be a whole lot more effective than the running backs when there are nine defenders crashing and only seven blockers. This is a systematic issue that needs to be resolved, because Denard isn't gonna turn into Andrew Luck over the offseason. The players are what they are.
The reason I'm not busy launching FireAlBorges.com is this: It's a long-term business. Borges' passing game (backfield-to-split-wide motion, bunch sets, sideline floods, etc.) is
miles
ahead of Rodriguez's, and that stuff would be swell if this were a pre-RichRod offense with a rocket-armed quarterback headed for an NFL starting job and supermodels and whatnot. It probably will be that again in a few years. There's a lot of good stuff he's perfected throughout a 30-year career, and there's a lot of stuff this team was built to do. Unfortunately, those things aren't the same. Figuring out how to integrate the former but use as much of the latter is necessary to win (since that's typically the goal) is the hard part for him and the irritating part for me.
What's crazy is that (at least this year) it might not matter. Michigan is two home wins* away from probably playing in a BCS game. Nebraska
might
be good, but Ohio State just lost to Purdue and has the suckiest offense that's ever sucked; this is the year the streak has to end. Michigan is also 6-0 at home this year and has scored at least four touchdowns in all six games. Since 10-2 was
supposedly the best-case scenario
going into the year, having that still in play (realistically and not just pipe-dream-ically) with two games left is ... umm ... good?
One of my pregame conversations Saturday ended with me making a prediction (I picked Illinois, BTW) and then saying "I'll take a win by
any
score," which wasn't a joke. The in-game frustration goes away a hell of a lot faster than the post-loss anger. And I'm sticking with that philosophy for the next two weeks: A win of any kind = a beautiful win = happy times.
*I'd feel infinitely less optimistic about winning those two games if Denard's hand injury were anything serious, but word after the game was that it was just a bruise and he could've gone back in (albeit probably not very effectively) if needed. I should also mention somewhere in this post that Fitzgerald Toussaint is averaging 140 yards and a touchdown in his last three games and is becoming a legitimately good running back. Yay.