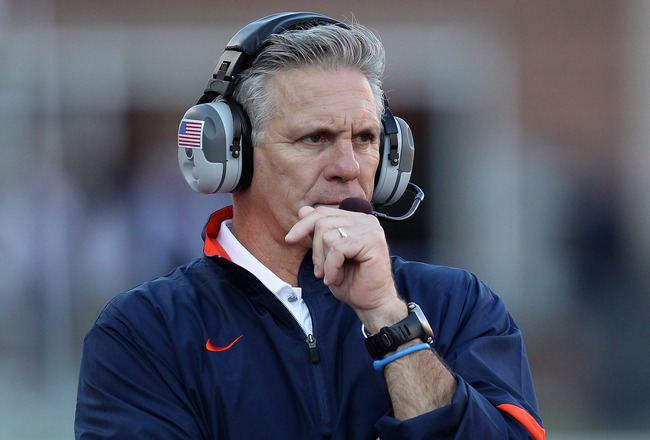 Ron Zook was fired the other day after Illinois completed a solid 0-6 finish capped by a 20-point loss to Minnesota (lol). That is truly a remarkable a collapse. How did this team start 6-0? Oh wait: two snackycakes, a three-point win over a clearly overrated Arizona State team, a three-point win over Western Michigan and a three-point win over Northwestern, with all of those games at home. The Not That Good Meter should've been registering about a 12 out of 10.
Ron Zook was basically the younger/waterskiing/Midwestern version of Dennis Erickson: He went 6-6, 7-6 (with a bowl win), 3-9 and 5-7 over the last four years. The '07 team somehow went to the Rose Bowl (which wanted a Big Ten replacement for No. 2 Ohio State) but rightfully got obliterated by five touchdowns by USC. And that was by far the high point of the Zook era.
Mandatory coach-firing question: What's realistic at
(insert school here)
Illinois? It's easy to say "Chicago recruiting blah blah," but Illinois is never gonna be higher than about fourth in the local recruiting pecking order as long as Notre Dame, Michigan and Ohio State are around (which will presumably be forever). Zook did what he always does, accumulating pretty good recruiting classes (at least by historical standards) and then not winning a whole lot with them. At Florida, the guys he left produced two national championships in four years. Illinois isn't Florida but does have some decent talent.
The problem is gonna be sustaining success with limited recruiting pull in a division with Ohio State, Penn State and Wisconsin. Is 8-4 a realistic year-in-and-year-out goal? Sure. Expecting somewhat-regular Rose Bowls? Not so much. Remember Ron Turner? He took Illinois to a Sugar Bowl in 2001 and had a total of one other winning season in eight years. Zook did only slightly better:
2005 Illinois 2–9 0–8
2006 Illinois 2–10 1–7
2007 Illinois 9–4 6–2
2008 Illinois 5–7 3–5
2009 Illinois 3–9 2–6
2010 Illinois 7–6 4–4
2011 Illinois 6–6 2–6
That one 9-4
mark seems like an outlier, yes? The program got marginally better but never really looked like a threat to get past the "meh" stage.
Hiring Vic Koenning as D-coordinator was a great move and probably the only thing that kept the 2010 and '11 versions of Illinois from being better than the '08 and '09 ones. The offense did have some good times under Juice Williams in '07 but definitely had some not-so-good times in a lot of other years. The one thing Zook did consistently well was
live up to his reputation
as a mind-bogglingly awful in-game coach. There's actually a segment in The Mathlete's weekly piece called "Ron Zook Dumb Punt of the Week." I'm sure that meme was more amusing for me than it was for people who, like, wanted Illinois to win.
It's entirely possible that the next guy will come in and win a bunch of games and look awesome because (a) there's talent and (b) it's been underachieving, at least on offense. But getting top-25 recruiting classes
and
producing a consistent bowl-caliber isn't something Illinois has had since ... ummm ... was John Mackovic a good recruiter? Hard to say since Rivals was about 10 years away from existence.
It is possible to have some success at Illinois. There's a hard-to-define threshold between programs that can have legitimate success and programs that can't. Vanderbilt and Washington State and Baylor are probably below that line; Illinois isn't. Zook had to go because a respectable BCS-conference program should be able to finish better than .500 more than once every five years or so. Good recruiting means nothing if the hypothetically good recruits aren't producing anything of value on the field.
Whether Illinois can actually find and hire a guy who's both a decent in-game coach and a decent recruiter remains to be seen; those guys aren't usually beating down the doors at mid-level programs (unless they're Rich Rodriguez or Mike Leach). Sadly for Illinois, those dudes are no longer available.
Rumor has it
that the top two candidates are Cincinnati's Butch Jones and Michigan State D-coordinator Pat Narduzzi, both of whom were at Cincinnati when current Illinois AD Mike Thomas was the AD there. The other names I've seen several places are Greg Schiano (highly unlikely since he has gobs of job security at Rutgers and wouldn't even be taking much of a step up to go to Illinois) and Toledo's Tim Beckman. To my knowledge, Beckman doesn't have any direct connection; he's just won quite a bit at Toledo and was a highly regarded D-coordinator at Oklahoma State before that. I suppose being in Toledo offers some Midwest recruiting connections and whatnot. There's
also a report
that Wisconsin O-coordinator Paul Chryst has interviewed (?) and that Steelers running backs coach and Illinois alum Kirby Wilson will do the same. I assume Kevin Sumlin's name will come up at some point.
The glut of available jobs would seem to be a factor except for the fact that almost none of those guys are being talked about in connection with any of the other openings. In that regard, Illinois should be able to get somebody desirable (in their eyes, not necessarily mine or yours).