Exactly five years ago today, I was driving home (and by "home" I mean "to my kinda-on-campus family-housing apartment") from a construction class in my excessively large crew-cab F-150 and flipped on Ann Arbor radio station WTKA, which was pretty much what I always listened to when I lived in Ann Arbor since it was almost totally dedicated to Michigan sports.
Anyway, I could tell right away that it wasn't the normal late-morning show. The guest was choking up and the host was obviously talking through tears, and it didn't take me long to figure out why. About two weeks earlier, there was a momentarily terrifying report that Bo Schembechler had collapsed on some local TV set; he had a pacemaker put in and seemed to be fine (by typical 77-year-old standards).
He wasn't fine on this day. He was gone. It got a little dusty on the drive home.
The worst part wasn't that he was gone. The worst part was
when
he was gone. There'd never been a week like the one leading up to The Game that year. I can't even describe the atmosphere on campus; I've never been good with stuff like that. All I can say is that I've never been more
everything
than I was for that game.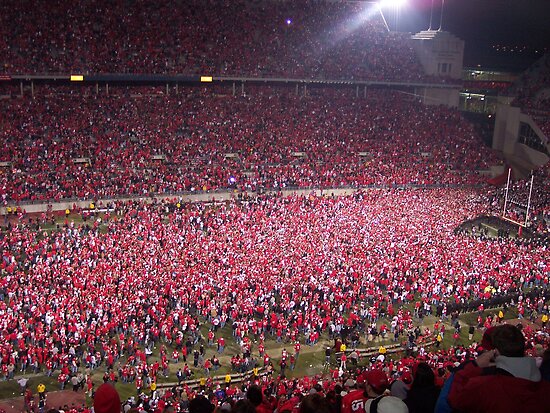 I've also never been more devastated after a loss. I didn't cry like I did when I was 10. I didn't throw anything like I did after the stupid Alamo Bowl the year before. I just sat there and wanted everything to be different, like maybe I would wake up all of a sudden and realize it was actually Friday morning and I'd just been stuck in some awful and disturbingly realistic nightmare. The loss just made
his
loss all the more painful, and vice versa.
It came out later that Bo talked to the team that Thursday night, which (as far as I understand it) was the norm. If Michigan was gonna lose anyway, I'm glad he wasn't around to see it. He went out with Michigan on top.
Nothing has been the same since then. In the span of a day, Michigan went from happy-times national-title contention and glory days to the beginning of the abyss. Michigan lost the next four games and has gone 32-28 in the past five years. Trying to establish a correlation seems ridiculous to anyone on the outside who doesn't realize how much of the stupidity during that time never would never have happened if Bo were still around. Bo was the dad, the guy who just told everybody what was happening and then made it happen and gave anybody who didn't like it a look that said "like it or GTFO." There were no questions, no controversies and no factions; just Bo.
I wish I'd never known the Bo-less Michigan and seen all the ugliness that came with it, but I'm glad I'm old enough to remember/understand the with-Bo Michigan. I have more appreciation for that now than ever before; I guess that counts for something.
And it's not insignificant that I hadn't even thought about the five-year thing recently -- until today, actually -- for the following reason: For the first time since that day in '06, I'm legitimately excited about the short-term
and
long-term future* of Michigan football. That's partially because people are actually, like, supporting the program (the preferable alternative to undermining it for stupid and petty reasons) and partially because of those "win" things. Those are fun.
Five years is a long time to stop a derailing. It's not that long, though. It can't be if I remember it like I do.
*I was dancing-in-my-living-room excited when RichRod was hired, but that was 100 percent long-term excitement. I had no short-term expectations because I had no idea what they were supposed to be. The in-hindsight answer: low.