Gary Pinkel pleads guilty to DWI:
No surprise here. What's interesting is that the legal punishment (two years of probation) is incredibly insignificant compared to the school's punishment:
Pinkel, who also will be suspended for this week's game against Texas Tech, will lose as much as $306,000 for the incident. Athletic director Mike Alden said the 11th-year coach won't get the $75,000 bonus his contract stipulates nor a $100,000 annual payment for meeting certain team academic and social goals. He also loses an automatic $50,000 raise at the end of the year, one week's worth of his base salary and guaranteed incentives and a $75,000 bonus should Missouri (5-5) earn a bowl bid.
Fair enough; money talks, right? Driving drunk is an incredibly stupid thing to do, but firing a guy with a squeaky-clean track record (both personally and within his program) for one not-that-unusual mistake would've been a little excessive, IMO, especially when he readily recognized the stupidity of what he did and seemed genuinely apologetic. Instead, he's getting docked about 15 percent of his projected income and essentially won't get paid for taking Mizzou to a bowl game, which is a certainty given that the season finale is against Kansas. Those "two glasses of wine" were pretty freakin' expensive.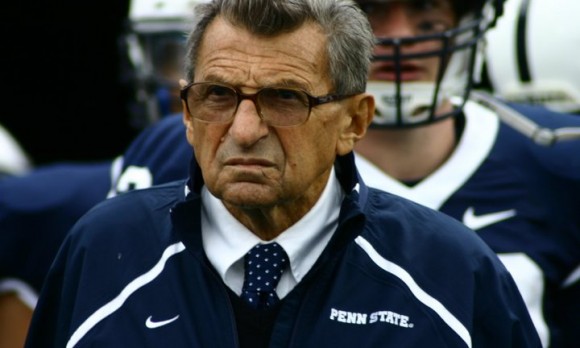 It's been a bad month:
Joe Paterno has lung cancer. The official statement from his son on Friday said the diagnosis was made last weekend, presumably the day after Penn State lost to Nebraska. To answer the obvious question, a Penn State spokesman said Paterno never smoked. Maybe that's why it's considered a "treatable" form; I'm not sure. No other prognosis was given. I really have nothing to add here. The guy is 84 and is having undoubtedly the worst month of his life, and while he obviously brought some of that upon himself, I don't think that applies to cancer.
The news isn't much better for Penn State:
The wording of this letter is particularly relevant:
STATE COLLEGE, Pa. -- The NCAA will examine whether Penn State broke any rules with its handling of a child sex abuse scandal that has shocked the campus and cost the school's former president and coach Joe Paterno their jobs.

NCAA president Mark Emmert sent a letter to Penn State president Rod Erickson saying that the governing body for college sports will look at "Penn State's exercise of institutional control over its intercollegiate athletics programs" in the case of Jerry Sandusky, the former defensive coordinator accused of 40 counts of child sex abuse.

"We have to examine those facts and make a thoughtful determination of what is covered by our bylaws and what is not," Emmert told The Associated Press on Friday.
Emphasis on the bolded section: There's absolutely nothing worse at an NCAA level than a "lack of institutional control." The result is usually massive and devastating punishment. I'm really not clear how/why the NCAA thinks it has any jurisdiction over a molestation case that included no apparent NCAA violations, but maybe there's something I'm missing. I dunno.
This quote
from former NCAA Committee on Infractions chairman David Swank takes the words right out of my mouth:
"This isn't an NCAA matter — at all," he said. "This is a matter of criminal law. There are no moral turpitude rules in the NCAA manual. There are rules that deal with how much financial aid you can get but no rules dealing with criminal (activities). It would be really inappropriate under these circumstances to take any action."
On a related note, the Rose Bowl says it would "welcome" Penn State if it wins the Big Ten, which duh. The bowls have contractual tie-ins that aren't gonna get thrown out just because a bunch of overpaid bowl officials will be uncomfortable with all the uncomfortably uncomfortable Penn State storylines in the three weeks leading up to the game.
The Big Ten does the obvious:
As you might have heard, the Big Ten is renaming one of its stupidly named trophies to something a little less stupid and a lot less controversial. I'd be happy if this were a voluntary decision, but Joe Paterno made it not so voluntary. The takeaway:
The Big Ten has taken Joe Paterno's name off the conference's football championship trophy.

Commissioner Jim Delany said Monday that it is "inappropriate" to keep Paterno's name on the trophy that will be awarded Dec. 3 after the first Big Ten title game.
Yeah, pretty much. So what was supposed to be the Stagg-Paterno Championship Trophy will instead just be the Stagg Championship Trophy, which sounds slightly less awkward anyway. FYI, I'm still on the Schembechler-Hayes Championship Trophy bandwagon.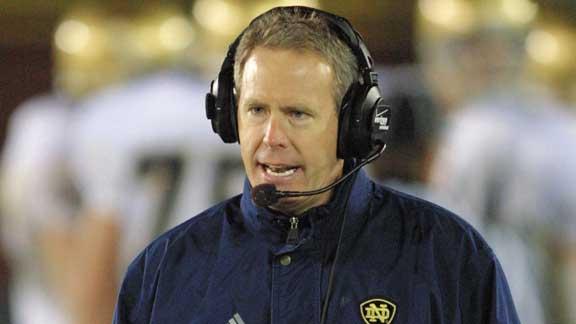 New Mexico hires ... umm ... Bob Davie?
Yes. I'm thoroughly puzzled. Davie was actually OK at Notre Dame -- he went 35-25 but was never super popular for a variety of other reasons --
but he's approaching 60 and hasn't been involved in coaching in any way in over a decade. He's also spent the relevant portion of his career at two places (Notre Dame and Texas A&M) that have almost nothing in common with New Mexico. What's the upside?
The only logical explanation: Davie was an outstanding defensive coordinator using (IIRC) an uber-pass-rush-happy 3-4 and has repeatedly said that he'd go back to the triple option if he ever got back into coaching. That sort of not-really-normal stuff is usually what allows successful lower-tier programs to be, like, successful. Just look at the service academies or that one school that had Rocky Long as head coach and was consistently good because of a wildly effective 3-3-5 that's now working out quite well at San Diego State.
Whether Davie can actually implement that stuff and build a program is an entirely different matter. If it takes him the typical three to four years to get everything in place, he'll be 61 and it'll have been seven or eight years since New Mexico even played in a bowl game. I'm a little skeptical that he can do more than make the job slightly more palatable for the next guy.
Also,
read this.
You'll laugh.
Syracuse suspends Phillip Thomas for a long time:
Phillip Thomas is gonna end up as a first-team All-Big East safety this year (his junior year) since he leads Syracuse in tackles and leads the conference in interceptions. He's also probably done at Syracuse:
Syracuse safety Phillip Thomas has been suspended for one year for a violation of athletics department policy.

The university offered no further explanation in a one-sentence email.
The
knowledgeable interwebz dudes
are speculating about drug tests, which would make sense given the severity of the punishment (I'm guessing it wasn't a first offense either). And because of that, he's almost certainly done with the Syracuse football team; there's no point coming back for a senior year in which he could only play in two games. I defer to
Troy Nunes is an Absolute Magician
for the Syracuse-centric relevance:
It's a crushing blow to a defense already reeling and it's a massive loss for Syracuse football in general.
Ouch.
Mmmm, offensive coordinator brains:
Quarterbacking is so easy, amirite?
My favorite part: "That's about as basic as I can give you." Alrighty then.