So ... that was fun. By the middle of the fourth quarter of a game against one of the few legitimately good teams in the Big Ten, the question was no longer whether Michigan would win or by how many but whether it was the best all-around performance since pre-apocalyptic 2006.
The answer: probably. The '08 Capital One Bowl win over Florida is the only thing that makes that a "probably" instead of a "that's not even a question."
The past three years were spent waiting/hoping for
anything
that would definitively say, "yup, this is Michigan football"
(Notre Dame games notwithstanding since Notre Dame was never unquestionably good during that time). That had nothing to do with style and everything to do with Michigan football doing this ...
... and this ...
... and this:
Hey, domination. It's been a long time. You should stay awhile.
I'm a pretty critical person in general but have basically zero complaints about anything that happened in that game. I guess Michigan could have taken control earlier -- it was 17-10 at halftime despite the stats being way more lopsided -- but that's just picking nits because I'm a typically cranky Michigan fan and that's what we do. At some point, the degree of domination (somewhere between "thorough" and "total") isn't that important.
I don't even know what to say about Greg Mattison anymore. My man crush is approaching unhealthy levels. His spectacularly shiny noggin and oddly shaped body emit a warm-and-fuzzy defensive goodness that's like a drug for me. The satisfaction is so satisfying.
This is pretty much everything you need to know about the game Saturday: Taylor Martinez and Rex Burkhead had 26 carries for 87 yards (3.3 a pop). Do that to Nebraska and you'll win, especially when your secondary doesn't suck since that means Martinez will do things like go 9 of 23. Take out the one awful busted coverage in the first half (Nebraska's first touchdown) to get a better picture of the game as a whole and you get a picture of patheticness: 8 of 22 for 68 yards. Also, Nebraska didn't convert a third down until the final drive of the third quarter, at which point Michigan was winning by three touchdowns. At no point was Nebraska's offense doing
anything
consistently enough to make me seriously concerned.
Weekly mind-blowing statistical update: Michigan is now 14th in total defense and eighth in scoring defense. If the Western Michigan game had counted (stupid NCAA), those numbers would be 13th and sixth. And this is allegedly the same defense that finished 110th last year in yardage and 108th in scoring. Based on my highly scientific method of skimming the NCAA database, Michigan is gonna pretty easily make the biggest one-year jump* in either category in recent history. In other words: Mattison 1, GERG -78,943.
As for the equally bald and lumpy guy who's been slightly less of a magical unicorn dream this year, Al Borges gets no criticism from me this week. Without the benefit of charting formations, I'm guessing at least 80 percent of Michigan's non-garbage-time plays this week were out of the shotgun, and most of of the ones that weren't were either short-yardage blasty blasts or screens that were pretty obviously intended to take advantage of the dropback-specific pass rush off the edge. Denard had 23 carries, with roughly 20 of them designed (mostly either zone read, veer or speed option). He was actually contained reasonably well on most of those (the one stroll-into-the-endzone-while-enjoying-tea touchdown being the obvious exception), but the other side of the quarterback-containment coin is this (watch the four in-the-box defenders toward the top of the screen):
There's a hidden reason Fitzgerald Toussaint has been putting up 140 yards a game for the last month; that reason is the guy handing off and then doing nothing while five defenders freak out about the idea of him
not
doing nothing.
Speaking of Toussaint, stuff like this ...
... has nothing to do with Denard. The guy is legitimately good and is only a redshirt sophomore.
I kinda threw the baby out with the bathwater last week when I ranted for a while about Borges not doing so many of the things he should be doing and then added at the end, "I should also mention somewhere in this post that Fitzgerald Toussaint is averaging 140 yards and a touchdown in his last three games." That's not a Borges-independent development; a large part of it is Borges' discovery/remembrance that deploying Denard as a run threat out of the shotgun has some fantastically entertaining byproducts. This is a very good thing for the offense as a whole. FYI, I still hate his weird aversion to bubble screens but am greatly enjoying his never-ending screen package and use of crazy stacked-receiver sets that lead to guys running hilariously wide open underneath.
After the Minnesota game, I wrote this:
For the first time all year, the offense looked fully coherent, mostly because Borges has finally figured out what Denard can/can't do and what this offense is good/bad at. Hitch-corner combos and counters and tunnel screens and QB sweeps? Yes plz. I-form power and under-center play-action and jump balls to Roy Roundtree? Nay. Borges is finding his happy place.
I'm starting to feel that way again. I don't understand what happened in the Iowa game (the Michigan State game, IMO, had less to do with Borges being a lunatic than Denard being incapable of completing a forward pass), but I'm hoping it was an anomaly and that Good Borges will show up again next week and next year and forever and ever and ever. Although when Denard does this ...
... Borges becomes mostly irrelevant, because there's no chance Michigan's getting held under 30 points when Denard is hitting on the deep stuff. There's no way to stop the run game and put two safeties over the top; not possible. Hitting those slightly open guys 40 yards downfield is something Denard is never gonna do consistently, but doing so = victory.
And Brady Hoke ...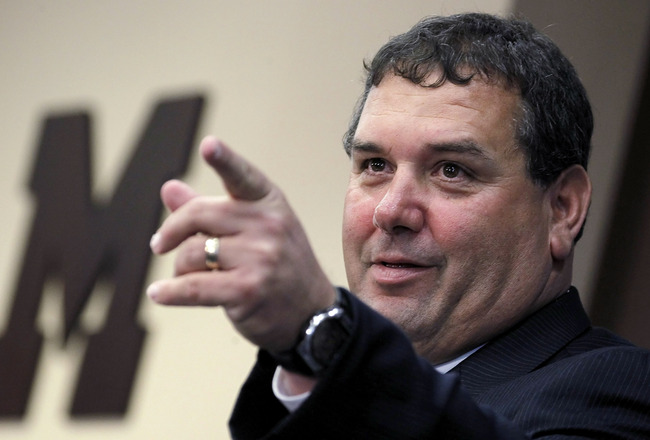 ... yes, you. I heart you. Michigan led by 14 midway through the third quarter and had a fourth-and-1 at the Nebraska 5. The Les Miles in me said "
mmmm, grass
eff it, let's go," but the common sense said "take the field goal and go up three scores." The field-goal unit came out. Awesomeness ensued:
Yesssssssssss. Please keep being that guy instead of Kirk Ferentz kthx. Your game theory is schwingtastic and your ability to point at stuff is legendary; I will fight anybody who continues to complain about your hiring.
So (this sentence is going to be ridiculous) Michigan is 9-2 and heading into The Game as an 8.5-point favorite (!) on the verge of a BCS** berth. LOLOLOLOLOLOL wwwwhhheeeeeeeeee!!!!! I have a lot of thoughts about Ohio State but will save those for later in the week. I'll just repeat here what I've been saying and will continue saying for the next five days: This is the year it has to end. It's time.
Whether or not Michigan is a great team or even a very good one is irrelevant at this point. The wins keep coming, and even the hypothetically great teams are losing to Iowa State or Baylor or a good-but-not-vintage version of USC or whatever. I saw three bowl projections yesterday, and all three had Michigan playing in the Sugar Bowl.
Laissez les bons temps rouler, please. This is the good stuff.
*The defense has a whopping two or three senior starters (depending on your definition of "starters" -- Will Heininger nominally starts but really only plays in the base 4-3 under). Mike Martin should be an All-American and Ryan Van Bergen is pretty good, so the D-line is definitely gonna take a hit next year, but this is not a one-year anomaly based on a bunch of experienced guys finally putting it all together as seniors. The back seven will return entirely intact next year; there are currently three freshman starters. Yay future.
**The BCS insanity means the not-that-great Big Ten is almost definitely getting two bids this year. The only plausible at-large alternatives to a 10-win Michigan team would be the loser of the ACC championship game (either a three-loss Clemson or a two-loss Virginia Tech) and the loser of the Oklahoma-Oklahoma State game (either a three-loss Oklahoma or a two-loss Okie State). There's no way Michigan doesn't get that spot with a 10-2 record.