It probably says something that I knew Dennis Erickson was getting fired about 48 hours ago yet felt no immediate need to write about it despite nominally covering ASU for most of the year. It says two things, actually:
1. It was inevitable and totally unsurprising given the wholesale collapse that started with the UCLA game.
2. ASU has gone from "barely relevant" to "nonexistent" in the national consciousness via the past few years of crappiness.
Full disclosure: I thought Erickson should have been fired after last season (even though he seems to be a genuinely good guy who's probably hilarious to play golf with). He's 64, does minimal recruiting and has a mild form of Lloyd Carr Cronyism Disease when it comes to his coaching staff. ASU is an OK program but is never gonna win much with a caretaker-type coach just sort of coaching out the string with an average staff and no true football-specific selling points. More on that momentarily.
There's also this: Erickson went 21-27 in his last four years and did nothing better than go 6-6, which was particularly pathetic this year given the returning talent and cupcake-tastic division. He had no intention of stepping away (duh) and needed to be fired, even if the school refused to call it a firing and instead issued a ridiculous press release referring to a "change in leadership" and listing Erickson's career accomplishments like it was his hiring rather than his firing. The school wanted to let him off easy; maybe he earned that. The guy's got a Hall of Fame legacy regardless of what happened the past four years. He also doesn't want to be done but might not have a choice since it's hard to envision any legitimate program giving the job to a guy who'll be 65 by the start of next season.
I'm not sure what would've happened if Alex Garoutte had made one freakin' field goal against UCLA. ASU would have been 7-2 and division champions with three weeks left. Maybe the collapse plays out in exactly the same fashion and ASU ends up firing Erickson in the same awkward way UCLA just fired Rick Neuheisel; maybe everything goes differently and Erickson's signing a contract extension right now. Given the consistently irritating results over the last four years, I'm not sure the latter scenario would've been a good thing in the big picture.
I refuse to buy "confidence" or "will" or (insert journalistic buzzword here) as an explanation for losses to Washington State and Arizona. I watched both those games and saw (a) the defense get outschemed up and down the field and (b) the offense put up below-average performances because of its complete inability to run the ball and directly related inability to consistently get seven points out of quality drives. The overall offensive production has been good enough that some of those issues can be written off as system byproducts; not so much for the defensive issues. Erickson needed to go because this team couldn't complete a season -- regardless of how it started -- as anything other than mediocre. His 10-3 first season means just about nothing since it came with the previous guy's players and has never come close to being duplicated.
There's a lot of debate among the people in/around the program about how good of a job ASU really is. I think it's an above-average one. The local recruiting base is OK but not deep, there's not much booster money and the weather is overrated; it's hot for nine months a year, which isn't a big draw to anybody not on the West Coast. That said, there's some tradition/history, there's a ton of available talent in California, the campus (uknowwhatimtalkinbout) is a legitimate selling point, the academic standards are relatively low and the expectations are actually pretty reasonable because of the lack of uberfans. The Pac-12 South also sucks right now outside of USC, so winning more than half the time in conference play (rather than a third of the time like Erickson the past four years) should be totally doable.
Somebody in my office threw out an interesting stat the other day: Erickson averaged 6.2 wins a year. Dirk Koetter averaged 6.7. Bruce Snyder averaged 6.4. Since Frank Kush retired in 1979, the 32-year average is 6.7 wins. The mediocrity: It's stifling.
Going back to what I said earlier, ASU isn't USC. An average-ish coach will produce average-ish results since there aren't any obvious program advantages. This program
can
be better -- just look at what Mike Bellotti did at Oregon (although he had Phil Knight pulling some strings) and what Rich Rodriguez did at West Virginia and what Mike Leach did at Texas Tech and what Joe Tiller did at Purdue and what Art Briles is doing at Baylor (Baylor!). None of those last four schools has any more geographical/financial/historical advantages than ASU; they succeeded/are succeeding because they found a coach who did/does some
systematic
thing really well and used it to win a bunch of games and get things figuratively snowballing.
ASU needs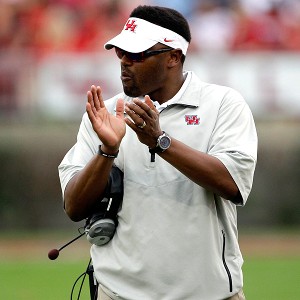 to do something similar and has enough appeal as a coaching spot to pull it off. A couple
influential people
are saying Kevin Sumlin is at the top of the list. Sumlin would work. He throws the ball like a mofo and has done so with good success at both Houston and Oklahoma (as O-coordinator). He has a track record as an assistant that makes him more than just a flavor of the month.
I will continue advocating for the hiring of Mike Leach until I'm blue in the face even if it'll never happen because uninformed people still think he did something horrible at Texas Tech. The guy went 84-33 at Texas freakin' Tech and had 10 straight winning seasons. Image is everything, I guess. I've also heard from one reasonably credible person with connections that Lisa Love has contacted Leach; whether that actually happened is anybody's guess. Maybe she'll take a hint from Washington State AD Bill Moos, who came out today and said Leach is on the "short list" to replace Paul Wulff.
SB Nation
summarizes my thoughts nicely:
He said the list could include five to seven names, making one wonder just how short it really is, but still. Mike Leach! Somebody's talking about Mike Leach! Internet, right this way!
Lol exactly. ASU not hiring Leach would be somewhat understandable if Sumlin is locked up; hiring Larry Fedora or Ron English or 61-year-old Mike Bellotti would be far less justifiable, even if all of those guys have done something that makes them plausible candidates. Finding a coach who can win games without the good-program benefits has been the starting point for a lot of now-good programs.
FYI, the only name that's come out as
actually
mentioned among the relevant people at ASU is Sumlin, so everybody else is just a throw-a-dart guess based on having some tenuous connection with the school or the state or whatever.
I'd also like to point out that ASU loses most of its O-line, its top two receivers and a chunk of its back seven but will have Brock Osweiler, Cameron Marshall, Jamal Miles, Will Sutton, Junior Onyeali, Brandon Magee and possibly Vontaze Burfict* back next year. There's also a pretty good recruiting class that shouldn't be impossible to keep largely intact. So there are some pieces in place for a decent first year under whoever the next guy is. Erickson did that with Koetter's players, though, and then fell off a cliff; the important part is actually doing better than 6-6 for more than just the first year. Find that guy, plz.
*Burfict's thoroughly mediocre year (at least part of which was due to his inexplicably huge gut) makes returning for a senior year a much more viable option than it appeared at the beginning of the season. And it's not irrelevant that best bud Brandon Magee blew out his Achilles in training camp and is coming back for a fifth year on a medical redshirt; Burfict might stick around just to hang with Magee for another year. He also does a lot of things that make no sense, so take that with a ginormous pile of salt.