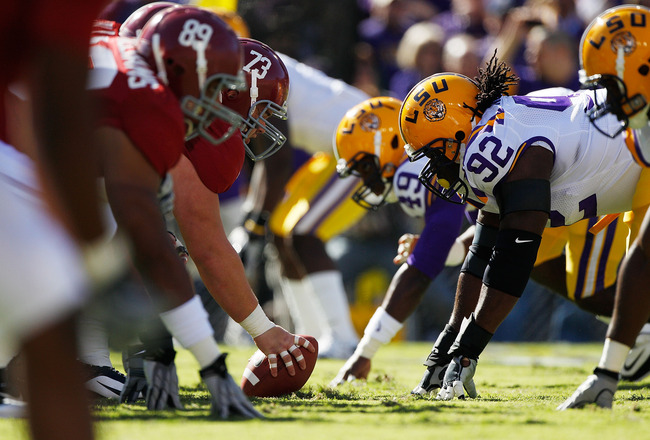 I've somehow made it all the way to Friday without a Gary Danielson joke. I'm both disappointed and impressed. Woo?
Anyway ... yes. The outside world will cease to exist Saturday night when a media black hole the size of Gary Danielson's crush on Mike Slive (there it is!) engulfs Tuscaloosa for LSU-Alabama, which is clearly THE BIGGEST GAME IN THE HISTORY OF EVER. Man the battle stations.
I don't do predictions anymore because (a) all the games worth predicting are closely contested enough that the things that determine the outcome are generally unpredictable and (b) it's surprisingly difficult for me to finalize coherent predictions each week before Saturday, which is kinda the cutoff date. Still, I've had a few thoughts and stumbled across some items of interest regarding this year's version of TBGITHOE (a better acronym would be helpful) that are worth posting, so this is where they go.
Long story short: Defensez is in ur base dominatin ur offense. Also, Trent Richardson is filthy good. We know.
The thing we don't know is whether either team has a quarterback who can throw the ball to his own guys more than the other guys, which will be significant since there'll be a third-and-4 on basically every series.
I have slightly more faith in Jarrett Lee since A.J. McCarron has even less experience doing anything other than hand off, but Lee hasn't had to do anything of note for LSU to win a game this year. The last time he was tasked with doing something other than throwing easy touchdown passes in four-touchdown wins, he was being unwatchably awful three years ago before losing the starting job to Jordan Jefferson. The Alabama game in Baton Rouge that year was possibly the worst-quarterbacked game in the history of quarterbacking. Video? Video:
He went 13 of 34 (gack) with four interceptions, one of which was returned for a touchdown and one of which was in overtime to basically give Bama the win. Just as a reminder of how bad Lee was in general that year, he had eight pick-sixes (!!!), which means he produced about 60 percent as many points via interceptions as he did via his 14 touchdown passes. Hoo boy. LSU fans were not impressed:
Improvement over a three-year period seems like a given, but the only thing that's really been established so far this year is that he's not a complete disaster in situations featuring minimal pressure. I mean, that's definitely improvement, but improvement to the degree of being good is mostly a theoretical thing at this point. I will give him some credit for not making any terrible mistakes this year despite facing some relatively good pass defenses; the relevance of that is debatable since Alabama is infinitely better than "relatively good."
Speaking of which, I stumbled across a poll on ESPN the other day that I can no longer find but asked a question along the lines of "Do you think Les Miles or Nick Saban is a better head coach?" This made me laugh, kind of like if somebody asked, "Do you think Mack Brown is the best coach in college football?" Is this a trick question? Recruiting hilariously talented classes (mostly within about a 200-mile radius) year in and year out is swell but not the same as great coaching. I stand by this assessment no matter how much Rick Neuheisel disagrees.
This seems like an appropriate spot for
this thing
from the Wall Street Journal:
Alabama has signed 137 players over the past five years, for an average of 27.4 per year. It signed 32 in 2008—a class that included nine starters on this year's team, plus Heisman Trophy winner Mark Ingram. This total places Alabama among the top five nationally in oversigning.

LSU has signed 126 players over the same period, which works out to 25.2 per year. That number is considerably lower than Alabama's but higher than many other top teams.

(Les Miles) said LSU has "in no way benefited from signing more players than other programs."
Errr ... what? The comparison point in that WSJ article is Texas, which has signed 112 players in the past five years. Michigan has signed 103. Good luck convincing me that signing an entire extra class over a five-year period isn't an advantage. Ridiculous. BTW, that article is appropriately titled "The Super Bowl of Oversigning," which yeah. These are the things that get overlooked when dumb analysts say dumb things about SEC
speeeeeeeed
.
So Alabama and LSU are both pretty awesome. It's pretty easy to say that now, even if neither one has played any very good teams other than Oregon (I'm far more impressed with LSU beating Oregon, West Virginia and Auburn than by Alabama beating Arkansas and Penn State). There's limited data in the college football world, so you take what you've got and make it big. The downside of this is that people
are already stupidly determining
whether there should or shouldn't be a BCS championship game rematch. I'm not gonna try to argue either way; my point is that the argument itself is dumb because we don't know which team is better, we don't know by how much, we don't know whether either team will look exceedingly different over the final four games and we don't know whether Stanford and/or Oklahoma State (not to mention Boise) are better than either one. There's still a third of the season left, and the game hasn't even been played yet! I'd like to have a little information about how LSU and Alabama actually stack up before turning into this soothingly calm dude ...
... and
stating
yelling a case for anything. I suppose that need for relevant information is why I don't get paid half a million dollars to spew crap into the airwaves and onto the interwebs by ESPN/FOX Sports/insert major sports media company here. Anyway, no matter what happens in this game and over the next month, the two best teams should play at the end for the title. Period. It's not that complicated.
Oh, and the thing that's been talked about surprisingly little the past few days given all the OMG GAME OF THE CENTURY stuff is the Heisman and the fact that Trent Richardson can
probably
win it or lose it with a great or terrible performance. It's a Richardson-Luck race at this point, although Landry Jones could probably get back in it if Bama and Stanford get knocked off while OU runs the table and gets back in the championship game discussion. Richardson gets his showcase game this week; Luck goes against Oregon next week. If only one of the two still plays for an undefeated team as of next Sunday, we could probably hold the Heisman ceremony three weeks early and just get it over with.
As for the game itself,
these comments from Urban Meyer
(who obviously has pretty extensive experience against both teams/coaches) were pretty interesting, especially if you read between the lines:
"(Saban's teams) take your top five plays and really do a good job defending them. Usually, (they have) very good special teams and ball control offense. And they play field position with that great defense.
Seems reasonable, and I'm not surprised about the top-five-plays thing. There's a reason Saban gets paid something like $7 million a year. What about LSU?
"When you think of a Les Miles team at LSU, you're talking about one of the top three most talented teams in the nation."
Oh. Umm, yeah. Talented. Anything else?
"LSU is more traditional now. They have big backs and they're going to turn and hand the ball to them, and that's going to play right into Alabama's hands. So I think they're going to have to come up with a trick play or two."
Translation: Les Miles lacks functioning portions of his brain and wins with talent despite a laughably simplistic offense. I'd call that a pretty harsh coaching endorsement if I could justifiably disagree with any of it, which I can't. And this is a guy probably one win away from his second national title. Insanity.
So ... I think that pretty much covers it. Did I mention that ESPN has an LSU-ALABAMA 2011 COVERAGE page, where you can gorge yourself on mediocre analysis that will tell you little you don't already know if you've watched these teams more than twice this year? I also count 11 related stories on the main college football page, not including the totally unnecessary "All-Access" segments on both schools that have been aired this week and are posted on the aforementioned game-specific page. Seriously, it's out of control and yet probably worth it because ... I mean ... have you ever been to Louisiana or Alabama? Yeah.
One last tidbit, this one from the New York Times: There have been 12 one-versus-two matchups in the past 40 years. The No. 1 team has won seven times, which makes sense, but what's far more interesting is that the winner has gone on to win the national championship only four times out of 12. And it's not because the games were too early or the teams were overrated or whatever: All three of the one-versus-two games in the past 20 years took place in November, and the three winners produced a combined zero national championships (let's just pretend 2006 never happened plzkthx). Take that for what it's worth.

Regardless, I'll be watching (duh) and then eagerly anticipating LSUFreek's inevitable and guaranteed-to-be-spectacular reactionary GIF (thank God for the internet age, amirite?). Let's see some well-played FOOTBAW, please.