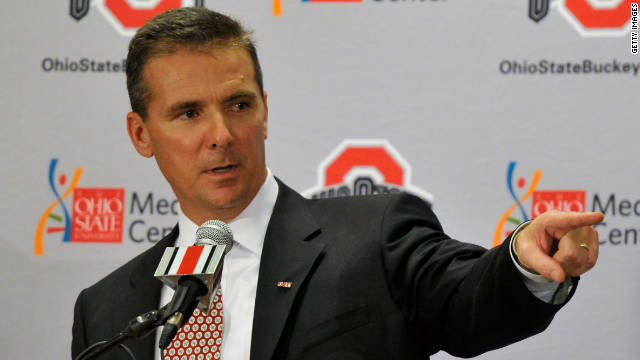 So ... Urban Meyer. He's the coach at Ohio State. This is both odd and not at all surprising given the unending string of tweets/rumors/debatably credible reports for the last two weeks.
This is the spot for a joke about family time and his (apparently) incredibly relaxing year off; I don't feel like going there. I'm a fairly cynical person, but I'm willing to take everything at face value here and assume that Urban Meyer was having legitimate heart/health problems and needed to step away at the risk of inadvertently killing himself. Whether he's any "better" or "healthier" or whatever is unknowable to everyone except Meyer and his doctor and probably irrelevant. At the end of the day, a guy who'd done nothing but coach since he graduated college probably just couldn't stay away. This is not surprising in the least, even if his life was legitimately in danger 17 months ago. Some people need to do what they do.
I'm not gonna sugarcoat this from a Michigan fanboi point of view: Meyer is a legitimately great coach. He's statistically one of the best in college football history and is only 47. Numbers:
2001: Bowling Green 8-3
2002: Bowling Green 9-3
2003: Utah 10-2
2004: Utah 12-0
2005: Florida 9-3
2006: Florida 13-1
2007: Florida 9-4
2008: Florida 13-1
2009: Florida 13-1
2010: Florida 8-5
Overall: 104-23
Good Lord. The success: It's everywhere. Meyer could've gone anywhere he wanted (Michigan included) and named his price. He picked Ohio State. The celebratory couch burning is totally logical.
Ohio State is a great job. It's basically Michigan with slightly less history, tradition and money (from an overall standpoint, not necessarily an athletic one) but a slightly better recruiting base. The reason I called the whole thing "odd" a few paragraphs ago is
this:
Meyer accepted the job without knowing the severity of the looming penalties but said he had "great faith and trust" in Smith and school president E. Gordon Gee.

Meyer said he did his own research on the case and asked a lot of questions during his interview process with the Buckeyes and came away convinced that the penalties would not hamper his ability to rebuild the program.
"Great faith and trust" are swell things to have but mean nothing since Smith and Gee aren't the guys deciding the penalties (sadly for them). There are serious NCAA sanctions coming. Bowl ban or not, the scholarship slashy slashy will be significant and hampering. A bowl ban would be unquestionably hilarious in a karmic sense for a program apparently getting penalized for years of cheating by upgrading from Jim Tressel to Urban Meyer. Not even Urban Meyer can pull in top-10 classes at a place with no postseason hopes and win 10 games a year in the Big Ten with 65 scholarship players.

That's probably a big part of why I'm not overly concerned* about Ohio hiring a guy with an absurd track record and two national titles in his last four years. Another reason: He can't possibly do any better than the last guy. Jim Tressel went 94-22 overall and 8-1 against Michigan (guh). Urban Meyer would have to actually improve his career winning percentage and never lose a single game against Brady Hoke to do better. That seems highly unlikely, especially given the current state of the offense, the impending NCAA stuff and the tricky part about figuring out exactly how he can run a program without making his heart explode in the next three years.
That last part is probably the biggest variable. The guy is known to be a 24/7 obsesser and has never run a program any other way. Whether he can do it is anybody's guess and won't be known until he's either doing it successfully several years from now or or retiring again because he couldn't.
It's also worth noting that his truly successful seasons at Florida were all aided to various degrees by good/very good/awesome defenses, depending on the year. The 2006 defense was sixth nationally in scoring and the 2008 and '09 defenses both finished fourth. Having Greg Mattison (hey, I know that guy) and Charlie Strong was presumably somewhat helpful. The "down" years were directly related to the defense being something other than dominant (18th and 44th). There's also a large contingent of Florida-loving people who think Dan Mullen's influence on the offense was significantly underrated; that's debatable since the '09 offense (minus Mullen) finished sixth overall and the 2010 offense (minus Tim Tebow and Percy Harvin) was basically a tire fire. Meyer's cumulative numbers suggest to me that the 2010 debacle had more to do with the offensive turnover than it did Mullen's departure. Then again, Tim Tebow was pretty good and is all out of eligibility, and it's been a while since Meyer's offense wasn't just 87 variations of Tebow Power. As with every other coach in the history of coaching, his coordinator hires will be of some importance.
Word on the interwebz
is that Mike Stoops is the guy at DC. My question: why? Jim Heacock has been running ridiculous defenses for the last decade, during which time Mike Stoops has been a mediocre head coach with defenses ranging from decent to bad to
horrible
. Anybody who watched Arizona play attempt to play defense the last couple years would wonder how Mike Stoops ever got a head coaching job. Keep in mind that he was only co-defensive coordinator at Oklahoma (under Bob Stoops, obviously) before getting the UA job. What I'm saying is that there's some definite
GERG potential
with that hire, which seems like an absurdly unnecessary risk given the pool of candidates who should be available to a guy like Urban Meyer at a program like Ohio State. Mike Stoops is not Charlie Strong or Greg Mattison.
There'd be some irony to Ohio State ending up with an uber-spread offense and a sieve-like defense and Michigan becoming a less boring (and less cheaty) version of Tressel-era Ohio State. Speaking of which, all the "SPREAD WON'T WORK RABBLE RABBLE BIG TEN TOUGHNESS RABBLE" talk should have died last year when Michigan was running for 5.6 yards a carry but should definitely die when Meyer is doing similar things (but with more wins) in a couple years. Despite Gary Danielson's idiotic insistence otherwise, the spread works everywhere when run effectively.
Stoops aside, Meyer is an
ace-king gamble.
Again, the record. It's ridiculous. Whether or not the Ohio State version of Urban Meyer < the pre-Ohio State version of Urban Meyer doesn't even matter for now; his image* alone guarantees (a) a lot of generally positive stuff being written about a program that just went 6-6 and is about to get hammered and (b) the directly related pull with recruits that wasn't gonna exist for Luke Fickell amid the post-Tressel-and-NCAA-poopstorm apocalypse. There are hundreds of thousands of truck drivers (Eleven Warriors notwithstanding) momentarily convinced that all is once again right in the world and Ohio will win the next 27 national championships. Gene Smith wins (in a very temporary sense, anyway). I'm still having a hard time believing he'll have a job when all is said and done, but hiring Urban Meyer is a nice bullet point on the ol' resume.
The Michigan message boards are filled right now with both Urban Meyer-related defiance and Urban Meyer-related concern. I have neither one. The past year has been totally satisfying and schadenfreude-tastic but would have meant little to nothing if Ohio State had won The Game, and under normal (for lack of a better word) circumstances, there's something to be said for both teams being, like, good. There's a small, possibly disturbed part of me that wants Meyer to succeed exactly the same way John Cooper did, by which I mean winning basically every game except the Michigan one every year. Beating a 6-5 version of Ohio State was utterly fantastic for reasons that had nothing at all to do with the quality of this particular Ohio State team; beating an 11-0 version of Ohio State is
awesome
. I won't be upset if that happens from time to time.
I also won't be upset if Urban Meyer goes back to rocking a spectacular mustache:
Do it. You will have a mustache and Brady Hoke will
point at things
spectacularly. The War will be epic.
*Watching the bloom come off the RichRod rose after
Peanut Butter Jelly Time
gave me a slightly different perspective on coaching hires. Good coach + good program =/= inevitable awesomeness. There are variables. Urban Meyer is in a totally different situation in terms of fan/booster support (infinite) and inherited talent (a lot instead of practically none) but could still be something less than great. Stuff happens.