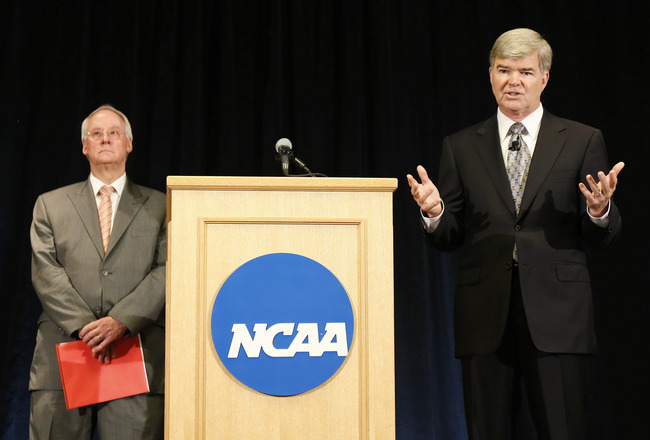 So ...
that happened.
You already know the details since they came out like 36 hours ago: They're bad. They're not "death penalty" bad but approach "total decimation" bad.
Obligatory summary:
$60 million fine
Vacation of wins from 1998-2011 (112 wins)
Four-year postseason ban
Four-year scholarship reduction (10 in initial recruiting class; 20 each year thereafter)
Players may transfer and play immediately at other schools
Yeah. Bad.
I was gonna start with the worst part but don't even know which part that is and therefore will just start at the top. The money thing is money (money!). A lot of money. An amount of money that's supposedly comparable to the football program's annual revenue but is actually closer to its double its recent
profits
and must be paid in full within five years. Translation: About 40 percent of Penn State's football-generated profit for the next five years will go not to the athletic department but directly into a fund for child abuse awareness.
The immediate reaction from the outragees was "THINK OF THE NONREVENUE CHILDREN"; the NCAA took care of that by specifying that the budgets for other sports (most of which are funded by football, obviously) cannot be reduced/eliminated in order to generate said $60 million. That money's coming straight out of either (a) athletic department profits or (b) the school's general fund, which will be in awesome shape after the armored trucks show up to enforce the inevitable lawsuit damages. I have no idea whether the NCAA really has the authority to reallocate football revenue but, if so, should definitely do so more often. Win. And the Big Ten added to the awesomeness by eliminating Penn State's distribution of bowl payouts (about $3 million a year) during the postseason ban; the TV revenue payout of about $22 million won't be affected.
The money won't destroy the endowment the way the on-field-related stuff will destroy the on-field-related product, though.
A little detail
on the scholarship situation:
Penn State can offer only 15 scholarships per year, 10 fewer than the maximum allowed, beginning with the 2013 recruiting class and continuing through the 2014, 2015 and 2016 recruiting classes. The team can resume offering 25 scholarships per year with the 2017 class. The scholarship reductions don't impact the 19-man recruiting class Penn State signed in February.

Penn State will have to play with just 65 scholarship players, 20 fewer than the maximum allowed for FBS programs, beginning with the 2014 season and also in the 2015, 2016, and 2017 seasons.
Note the bolded section: Welcome to the FCS. The per-year recruiting-class limits are the same as USC's but are more devastating because of the accompanying overall cap, which lags a year behind. And the actual number won't even be 65 for most of that four-year period; once they get to 65 (which will be soon given the impending transfers and the 2013 class limit), they'll be graduating 20-ish guys a year and replacing them with 15-dude freshman classes for three years, which means they'll really be at about 60 scholarships in 2014 and 55 in 2015 and 50 in 2016 before they get to replenish with a full recruiting class in 2017 to get back to around 60 -- and that doesn't even account for typical non-graduation-related attrition that'll likely knock the number down to about 40 (!!!) by the end of 2016. That's half a team.
And it's reasonable to assume that the quality of the recruits during that time will be slightly lower than usual and thus a couple levels down from the Michigan/Ohio State tier; exactly how much lower depends on Bill O'Brien's recruiting ability and Penn State's ability to stay reasonably relevant/competitive over the next few years. I'm not gonna bother with a guesstimate on the former but have pretty low expectations regarding the latter.
The Whatever Division
writers' poll
from Big Ten media day* on Tuesday:
1. Wisconsin (19)
2. Ohio State (5)
3. Purdue
4. Illinois
5. Penn State
6. Indiana
The good news: There's nobody on the current roster who's definitely out the door (yet; I'll be surprised if a couple freshman-y types like Anthony Zettel and Ryan Nowicki don't end up elsewhere given that they have four years of eligibility left and zero chance of ever playing in a meaningful game if they stick it out at Penn State). The bad news: The team probably won't be very good this year anyway with a mediocre-at-best quarterback, no particularly great players other than
maybe
Silas Redd and/or Gerald Hodges and wholesale systematic changes on both sides of the ball. Any short-term improvement will be heavily dependent on the young guys (pretty much all of them) panning out since there will be almost no depth/alternatives in a couple years. Since that odds of that happening are pretty much nil unless said guys are all five-stars like at USC, the odds of Penn State (which hasn't recruited at a USC level since recruiting sites came into existence) being competitive at its traditional level are also pretty much nil. And it won't matter if they are in the short term since the Big Ten title game and meaningful bowls and whatnot aren't in play; by the time they are in play, the team will be so devoid of meaningful talent and depth that ... I mean ... yeah. See ya in 2018.
But that's kinda the point.
I made my stance pretty clear
about a week ago: The death penalty would have been totally appropriate for a mind-blowing lack of institutional control related to a competitive-advantage-type coverup of horrifying criminal activity. The lack of NCAA-specific violations was irrelevant; the reason for having penalties is to maintain a level playing field via the deterrent of competitive-advantage-related things that shouldn't be allowed to happen.
The things that did get handed down obviously weren't the death penalty but were pretty close in terms of overall devastation. Six years of mandated irrelevance (and limited revenue for the next five years) ≈ one year of nonexistence. The difference is the lack of the cultural reset/reprioritization I hoped would be implemented via the loss of The Most Important Thing at Penn State. Maybe a decade of crappiness will do something similar; probably not but maybe.
Speaking of which, the vacating of wins is a largely meaningless revisional-history gesture in all cases except this one. Joe Paterno spent his last seven years (after being
asked to resign
in '04) as a figurehead doing almost nothing other than allowing children to be raped in order to literally outlast Bobby Bowden and put one more block in the JoePa facade. That facade was totally destroyed by the Freeh bomb but now officially never existed; there's something moderately satisfying about that given the previous sentence.
I don't have much else to say/write here that hasn't been said/written in the past day and a half and don't have much interest in all the jurisdictional/precedence-related rabble; IMO, anything that allows the NCAA to implement meaningful penalties is a good thing. Victims, big picture, etc. I guess I just felt obligated to right
something
about the unequivocal reality that Penn State is no longer PENN STATE but is something closer to Indiana with way fewer scholarships, way better uniforms and a bigger stadium. Again: See ya in 2018.
*The Leaders Division (argh) will have only one relevant team this year and only two relevant teams going forward unless Purdue or Illinois gets
way
better in the next three-ish years. The balance of power has shifted pretty significantly to the Other Division, which has Michigan, Nebraska, Michigan State and a typically respectable Iowa. I don't know if a realignment is necessary but could see it being a consideration if Wisconsin goes back to being pre-Barry Alvarez Wisconsin and Ohio State wins eleventy billion straight division titles.