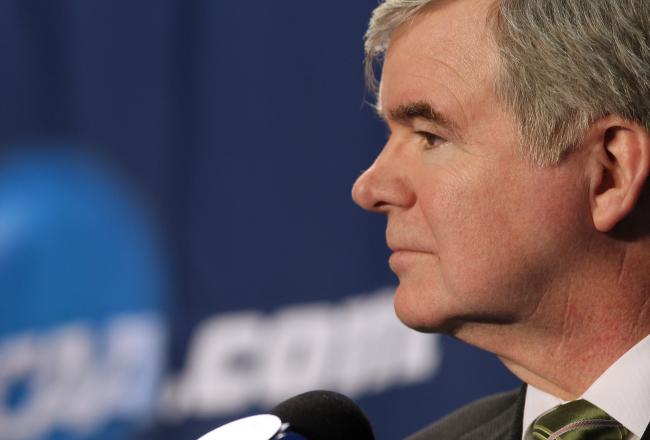 The NCAA
will be announcing something
Monday that I will not be readily available to react to. That something will not include the death penalty for Penn State:
NCAA president Mark Emmert has decided to punish Penn State with severe penalties likely to include a significant loss of scholarships and loss of multiple bowls, a source close to the decision told ESPN's Joe Schad.

But Penn State will not receive the so-called "death penalty" that would have suspended the program for at least one year, the source said.
So that's that. Insert SMU-comparative complaint here; everything else is just scholarships and (relatively meaningless) postseason bans and media rabble. Everything else
with precedent
, anyway:
CBSSports.com's Dennis Dodd has reported Penn State will face "significant penalties that could severely damage the football program's ability to compete" when the NCAA announces sanctions against the football program at a 9 a.m. news conference Monday.

A source told CBS News correspondent Armen Keteyian that Penn State will suffer "unprecedented" punishment.

"I've never seen anything like it," the source told Keteyian, indicating that both the football program and the school itself would face sanctions.
"Unprecedented" is a relatively unambiguous term by definition but is a totally ambiguous term within the context of this report. Translation: I have no idea what's gonna happen to Penn State. This anonymous comment implies something devastating:
Penn State, the source said, may prefer the death penalty.
That's pretty much incomprehensible to me based on the established NCAA scale that ranges from "probation" on one end to "death penalty" on the other. I started plugging numbers into an "X lost scholarships + Y-year bowl ban > death penalty" equation and couldn't come up with a definitive answer. Would a 40-scholarship reduction spread over four years and a 10-year bowl ban be worse than total short-term decimation? What about a mandated charitable donation (if possible) of all football revenue for those same 10 years? I dunno. That's a subjective determination but, IMO, enters the realm of "reasonably comparable" since money is money is money.
The relevant people at Penn State presumably know the specifics and are reacting exactly as expected:
"Unbelievable," said a Penn State trustee informed of the NCAA statement, speaking to ESPN.com senior writer Don Van Natta Jr. "Unbelievable, unbelievable."
Malkovich Malkovich.
"Emmert has been given full reign by the pansy presidents (at other universities) to make his own decision," said the trustee, who spoke on condition of anonymity. "He has been given the authority to impose these unprecedented sanctions. It's horrible."
+1,000,000 for the use of "pansy" in a unofficially official statement. -1,000,000 for the use of "horrible" to describe the punishment necessitated by literally horrible things.
The predictable OUTRAGE emanating from the OUTRAGED OUTRAGEES apparently
doesn't mean a whole lot anyway:
David Jones of the Patriot-News reported that regardless of the severity of the sanctions, "they will not be appealed or substantively challenged." According to Jones, the university is "desirous of a positive relationship with the NCAA in the future" and won't jeopardize that relationship with an appeal.
An appeal would actually be uber interesting (woo legal arguments) but probably not a wise investment given the ... ummm ... other things Penn State is dealing with right now. There also wouldn't be a lot of administrative support; Emmert only had the authority to implement whatever is being implemented because the 21-president Division I Board of Directors gave it to him in order to avoid a superfluous investigation and a
reeeaaalllyyy
awkward season (as opposed to just a
really
awkward season). That vote is what renders all the jurisdictional arguments irrelevant.
There's also
this:
Emmert's discussion of defending the NCAA's constitution is expected to focus at least in part on Article 2.4 of the NCAA's constitution, which Emmert excerpted in his letter to Penn State on Nov. 17, 2011. In that letter, Emmert cited the passage that "for intercollegiate athletics to promote the character development of participants, to enhance the integrity of higher education and to promote civility in society, student-athletes, coaches, and all others associated with these athletics programs and events should adhere to such fundamental values as respect, fairness, civility, honesty and responsibility. These values should not only be manifest in athletics participation, but also in the broad spectrum of activities affecting the athletics program."
Slippery slope yadda yadda yadda.
I'm with Emmert
on this one: It was "a football scandal ... but much more" at a place that's made it blatantly obviously that a cultural reprioritization is a necessity. The death penalty would've provided said reprioritization via brute force; the about-to-be-implemented penalties probably won't but probably
will
make the program a lot less relevant (in an on-field sense) for a while. Exactly how less relevant will be determined by exactly what "unprecedented" translates to in NCAA terminology; I guess we'll find out in about 12 hours.