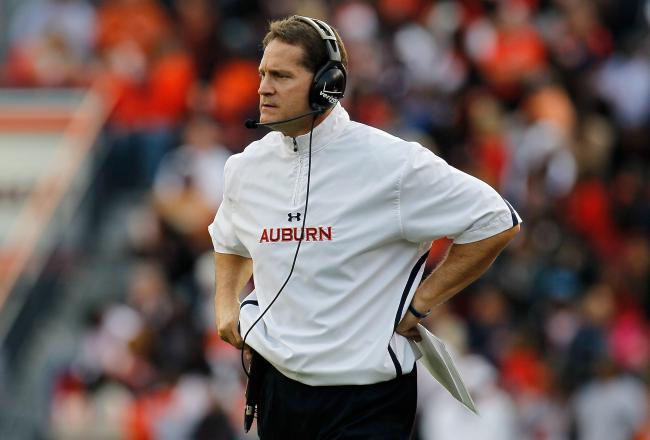 And so it begins (via
a 247 Sports story
that's now paywalled):
Auburn president Jay Gogue has informed some members of the Board of Trustees that he is preparing to possibly dismiss coach Gene Chizik, multiple sources told 247Sports.com. ...

Gogue has contacted board members about forming a committee to help with the process of possibly removing Chizik and naming a new head coach "within days after the end of the season should the decision be made that Chizik will not be retained."
Level of surprise on a scale of 1-10: -27. That said, there are a lot of qualifiers in that lede, specifically "preparing to," "possibly" (twice) and "should the decision be made." Those were probably included in the event that Auburn somehow pulls its head out of its collective lower-extremity crevice and beats either Georgia (unlikely) or Alabama (hahahahaha) to finish 3-1 down the stretch, which
might
be sufficient for Chizik to not get fired.
But considering that said 3-1 finish (a) is laughably unlikely and (b) still might not qualify as "good enough" for a guy whose team will have gone 11-13 over the last two years and finished in the bottom quartile of the SEC in every major category on both sides of the ball this year, it's probably safe to assume that the assembly of a search committee isn't busy work. There will be candidates; one of them will probably become relevant in the near future.
Speaking of which ...
Louisville offensive coordinator Shawn Watson has been named as a potential candidate.
LOLWUT? I'm serious right now:
Shawn Watson??? The Shawn Watson who got let go as O-coordinator at Nebraska in 2010 after four years of his West Coast-ish offense produced a crappier passing game every year? The Shawn Watson who took over the Louisville O-coordinator job
almost by default
four games into last year and has overseen very modest improvement thanks largely to having by far the most talented quarterback (one who's gone from freshman to sophomore) in the craptacular Big East? The same Shawn Watson whose head coaching experience consists entirely of three years and an 11-22 record at Southern Illinois in the mid-90s (and who's now 53)?
No. There is no possible way Shawn Watson is a realistic candidate. There is nothing on that guy's resume that would warrant him getting serious consideration for a head coaching job anywhere outside the MAC/Sun Belt (or
maybe at Vanderbilt
). He'd be the 2009 version of Gene Chizik except if Chizik had no recent head coaching experience and had been fired as D-coordinator at Texas rather than being so good that he moved directly into a Big 12 coaching job.
Then again, considering that Auburn
did
hire Chizik four years ago and once
tried to hire Bobby Petrino
while Tommy Tuberville was still employed, trying to figure out anything that happens there is a pointless endeavor. Just
read this
and draw your own conclusions.