Colorado concedes defeat:
Because a 1-11 finish is inevitable regardless:
Colorado head coach Jon Embree has not named a starting quarterback for Saturday's game at Arizona, but he has ruled out one candidate.

During his weekly press conference on Tuesday, Embree said Nick Hirschman and Connor Wood would battle for the starting job this week. Jordan Webb, who has started all nine games, will not factor into the competition for the Buffaloes.

"Jordan has won the competitions every week," Embree said. "We just want to get a different look at some guys. Sometimes when you're doing that ... especially at that position, you can learn more and see more when you're on the sideline. We'll see what (Wood) and (Hirschman) do. We'll make a decision toward the end of the week."
That decision (or at least a public announcement of it) is still pending. Webb hasn't been totally terrible relative to the rest of the team; he's just been regularly blah. He's completing about 56 percent of his passes at an awful 5.6 yards an attempt with eight touchdowns and eight picks. He also hasn't been on the field for a Colorado touchdown since the first half of the game against ASU almost a month ago, which wow.
Wood and Hirschman have been similarly uninspiring -- both are 14 for 29 this season in nothing but garbage time -- but hey why not. Both are also redshirt sophomores (Webb is a redshirt junior), with Hirschman being the bigger/stronger-armed guy and Wood being the one-time highly touted Texas transfer who was the presumptive 2012 starter from the day he showed up last year (not so much).
I won't bother repeating Colorado's offensive numbers here; suffice it to say they're mind-blowingly awful. Can they get any worse? Let's find out! Speaking of which, Colorado's offense + Arizona's defense = toddler pillow fight.
Marqise Lee is good at various things:
USC's defense is pretty mediocre but not so mediocre that stuff like this is necessary for anything other than a Heisman campaign:
Trojans coach Lane Kiffin said Thursday that Marqise Lee might get a look on defense against Arizona State this weekend.

"We've looked at some defensive situations for the first time this week with him out there," Kiffin said. "That may present itself Saturday."

Kiffin did not specify the position that Lee could play at, but Lee has previously petitioned his coach to play corner. Kiffin also has praised Lee's corner skills, saying last month he'd be a "first-round corner if he wanted to play on defense."
I don't doubt that last statement given Lee's ridonkulous speed and skillz; the guy is a legit 6-footer with Reggie Bush athleticism, although I'm skeptical that he can take on blocks or tackle anybody without having done either of those things for at least the last two years. But considering the value Lee has on offense, is it worth risking injury via a handful of snaps on defense knowing that he probably won't represent any tangible upgrade over the guys who are actual corners? It seems unlikely that he's gonna turn into Charles Woodson on defense
and
be Marqise Lee on offense. That said, given that USC's season is basically done (in terms of actually achieving anything of significance), any sort of positive/non-controversial press at this point is probably a good thing.
Best headline ever:
I think the deflated-footballs thing at USC has gotten way more attention than it warrants but had to include this headline (which has since been changed, unfortunately) from FOX Sports:
USC manager fired for balls issue
Errr yeah.
Anyway, do I think it's possible the guy had some direction from Matt Barkley/Lane Kiffin/whoever? Yeah, sure. Why else would he randomly deflate game balls? But Kiffin's explanation actually makes some sense inasmuch as a deflated ball would be a definite problem for the kickers, so I dunno. The real problem is that Kiffin has established himself as a guy who will bend the rules to the point that
they actually break
, and that causes every slightly controversial-ish thing to turn into a definitely controversial thing, thus incrementally increasing whatever the chances are that he'll lose his job if/when USC finishes 7-5 or whatever. I don't think it'll happen given that the circumstances at USC (sanctions and whatnot) would make finding a legitimate upgrade difficult; it definitely could, though.
Honorary decals FTW:
Texas is going above and beyond this week to honor Darrell K. Royal, which makes sense since the guy basically made Texas football what it is and has the freakin' stadium named after him: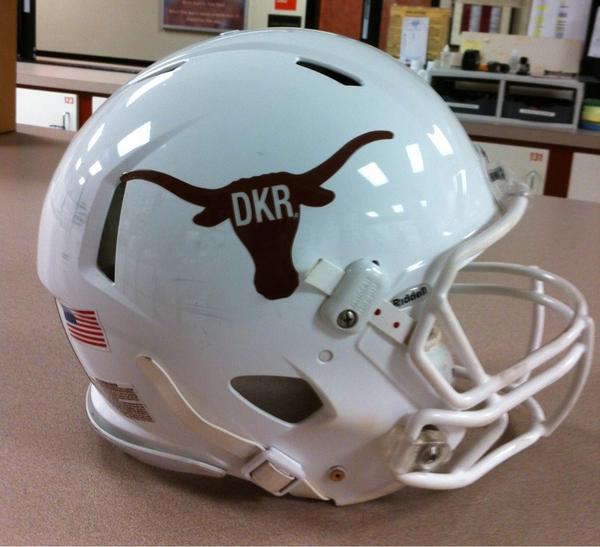 Very cool.
Worst injury ever:
Houston cornerback D.J. Hayden, the Conference USA leader in interceptions with four, tore the major vein in his leg in practice the other day and is now in "critical but stable condition" at a hospital:
Team physician Dr. Walter Lowe said in a statement from the school Thursday that the senior was taken by ambulance to Memorial Hermann Hospital after the collision late Tuesday afternoon. Hayden was rushed into immediate surgery for a tear of the inferior vena cava, the large vein that carries blood from the lower half of the body to the heart.

Lowe says that type of injury is fatal "95 percent" of the time. He says such an injury is usually linked to high-speed motor vehicle accidents.

"This injury has never been seen or reported in association with a football injury," Lowe said.
Good Lord. Hopefully it's never again seen or reported in association with a football injury.
Good times (except for Kentucky):
This happened exactly 10 years ago today:
I'd totally forgotten about Guy Morriss -- probably because that slightly-too-early Gatorade bath was about the most notable moment of his Kentucky coaching career -- but hadn't quite forgotten about the Kentucky students climbing the goal posts and then going "oh wait wut." Thank you, random this-day-in-history reminders on Twitter.