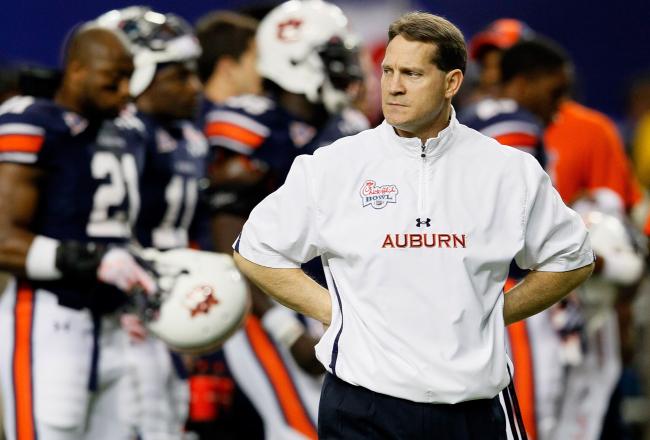 The last in an ongoing series titled,
"Oh I'm so surprised, Auburn":
Auburn announced Sunday that coach Gene Chizik was dismissed two years after leading the Tigers to their first national title since 1957. The Tigers closed with a 49-0 loss to No. 2 Alabama that was the second-most lopsided Iron Bowl game ever and worst since 1948.

The move came after a 3-9 season without any Southeastern Conference wins. It was the most losses by an Auburn team since an 0-10 season in 1950.

Chizik had three years left on a contract worth $3.5 million annually.
And so it is. As mentioned above, Chizik won a national title two years ago; based on my research, no other coach had ever been fired faster fewer than four years after a national title (Larry Coker pulled off that impressiveness). But that's probably because nobody had ever turned a national-title-worthy team into a tire fire in fewer than four years; Chizik did it in two (and how!).
Let's marvel at some numbers: Auburn got shut out in its last two SEC games, lost its last three SEC games by a combined score of 150-21 (!), didn't score more than 21 points all year against a major-conference team (and that was in a six-touchdown loss to Texas A&M) and finished 12th or worse in the SEC in basically every significant category other than scoring defense, which was aided significantly by November obliterations of functional byes New Mexico State and Alabama A&M. And zooming out a bit shows that in the last two years -- since Cam Newton left, to be specific -- Auburn went 4-13 in the SEC and didn't finish higher than 66th nationally other than rushing yardage last year, and that was a byproduct of employing Gus Malzahn and therefore not replicable since Malzahn is now coaching elsewhere. In all, Chizik went 7-18 in the SEC and 19-20 overall at Auburn when not in possession of the most laughably dominant college player since Vince Young (and the validity of those Cam Newton wins remains ... ummm ... questionable).
The 8-5 years would've been fine given the current awesomeness of the SEC West if there had been any tangible signs of progress; going winless in conference play and being awful at everything doesn't qualify as progress, obviously. I think a lot of the tire-fire-ness had to do with bringing in Scot Loeffler, a widely respected quarterbacks guy who had one good year as an O-coordinator at Temple and then got brought in and tasked with taking Gus Malzahn's assortment of spread dudes and turning them into a pro-style thing. That was never gonna go well given Auburn's lack of viable quarterbacks and skill-position guys weighing more than 170 pounds, and the results bore that out. I actually thought Chizik did reasonably well bringing in coordinators with meaningful histories of success other than that. He replaced Ted Roof after last year's craptacularity with former Falcons defensive coordinator Brian Van Gorder, which seemed pretty swell at the time but ended with Auburn 96th in rushing defense and 101st in pass-efficiency defense this year. Whether that was more an issue of talent development or playcalling is debatable, but in hindsight, Van Gorder obviously wasn't an optimal short-term hire (and a short-term hire was a necessity considering what everybody knew the offense was gonna be and what everybody knew Chizik's job status was gonna be).
So every Auburn message board loonie is now posting some version of an "I told you so" since the Auburn message board world exploded when Chizik got hired away from Iowa State with a 5-19 record and general uncompetitiveness in two years. To be fair, Iowa State was in pretty crappy shape at that point but actually regressed from five wins in Dan McCarney's last year to three in Chizik's first year and then two in his second and then immediately improved under Paul Rhoads, who's about to go to his third bowl game in four years. The thing about Chizik was that he'd been a good defensive coordinator at Texas before that and was a next-big-thing coaching candidate for a couple years before Will Muschamp got his job and became the same thing. So it wasn't a certainty that Chizik was a bad head coach just because he failed at Iowa State with little talent; it's pretty much a certainty now. I honestly don't even know whether Chizik's legacy will be that of a guy who won a national title or that of a guy who took a national-title-caliber program and absolutely ran it into the ground (both on and
off the field
) to the point that he was no longer employable by the time the sophomores on that championship team were seniors.
And here's the super-duper-depressing part for Auburn (well, other than the part about the NCAA investigation that might saddle the next guy with some not-insignificant penalties):
Auburn said the total buyout for Chizik and his assistant coaches is $11.09 million. Chizik's buyout will total $7.5 million and be paid in monthly installments for the next four years.
That is amazing. Michigan's entire staff is getting paid something like $2 million this year via relatively short contracts that could probably all be bought out for somewhere in the ballpark of $6 million (with most of that being Brady Hoke's). Auburn's gonna be paying out twice that amount for Chizik and his various terrible hires to
not
coach and no longer has the benefit of Bobby Lowder just writing huge checks to cover everything since his bank is not doing so well (and by "not doing so well" I mean "no longer exists"). That said, it is the SEC, which means the money will be found somewhere.
Who will it be found for? Depends what/whom you're willing to believe.
The 247 Sports story
a couple weeks ago that reported that Jay Gogue was "preparing to possibly dismiss" Chizik included the following line ...
Louisville offensive coordinator Shawn Watson has been named as a potential candidate.
... that seemed/seems so patently absurd that, like, I don't even know, man. My reaction at the time:
LOLWUT? I'm serious right now.

Shawn Watson??? The Shawn Watson who got let go as O-coordinator at Nebraska in 2010 after four years of his West Coast-ish offense produced a crappier passing game every year? The Shawn Watson who took over the Louisville O-coordinator job almost by default four games into last year and has overseen very modest improvement thanks largely to having by far the most talented quarterback (one who's gone from freshman to sophomore) in the craptacular Big East? The same Shawn Watson whose head coaching experience consists entirely of three years and an 11-22 record at Southern Illinois in the mid-90s (and who's now 53)?

No. There is no possible way Shawn Watson is a realistic candidate. There is nothing on that guy's resume that would warrant him getting serious consideration for a head coaching job anywhere outside the MAC/Sun Belt (or maybe at Vanderbilt). He'd be the 2009 version of Gene Chizik except if Chizik had no recent head coaching experience and had been fired as D-coordinator at Texas rather than being so good that he moved directly into a Big 12 coaching job.
Yeah. I'd be much more likely to believe that Bobby Petrino (a) is at the top of the list and (b) has already been contacted, which is more or less what
this Louisville Courier-Journal piece
implies. Petrino is slightly crazy, moderately unpredictable and extremely egotistical, with those issues cumulatively being the reason one of the better coaches in the country apparently can't even get an interview at Kentucky. He'd like a job, preferably a decent one; Auburn is probably the one decent place utterly desperate enough to win at this point that all the aforementioned stuff could be overlooked.
The other obvious guys out there: Malzahn, who has Arkansas State at 8-3 and in the top 30 nationally in both total offense and scoring offense since that's what Malzahn does, and Kirby Smart, who's run Alabama's defense (kind of; Nick Saban does some of that) for the last five years and would be a doubly nice hire since, you know, he's Alabama defensive coordinator. He's also only 36 and, if I'm not mistaken, is the second-highest-paid assistant in the country. He's got Muschamp-esque stability at this point and is only leaving for a legit job; Auburn is that but also happens to be suffering directly from Alabama's awesomeness, so switching sides at right now would seem to be a suboptimal career move.
Regardless, he's worth a call. Same for Malzahn and Petrino and every other viable candidate who isn't Shawn Watson. I have to believe that Auburn can get somebody capable of winning a lot since Auburn is Auburn and just won a national title two freakin' years ago. I also have to believe that Auburn's administration is pretty much insane based on recent coach-hiring ridiculousness and that the job is pretty significantly less desirable than it was two years ago; how insane and how much less desirable are kinda hard to say, but the proof will be in the hiring pudding.