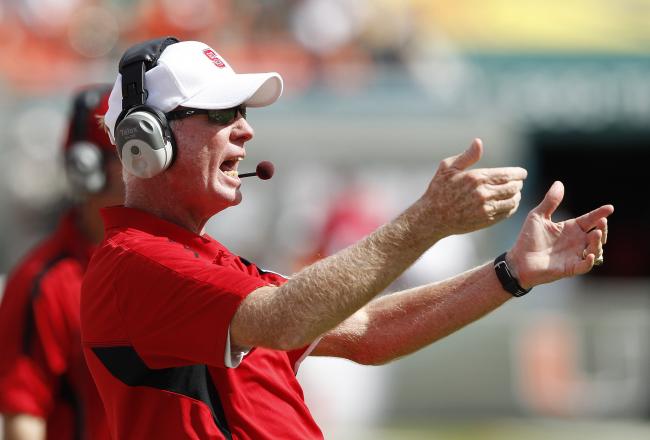 So Tom O'Brien got fired Sunday, which was not a good day for coaches whose jobs were generally being brought into question but was also the day after NC State beat Boston College to finish 7-5, thus guaranteeing a third straight bowl berth. So O'Brien's firing was a relatively surprising one; consistently going a little above .500 at NC State seems, like, pretty decent.
That said, this season was pretty indicative of O'Brien's six-year tenure as a whole: NC State beat Florida State (in maybe the most inexplicable game of the year) and had no problems with middle-of-the-pack ACC teams Wake Forest and Maryland but also lost to a Tennessee team that went 1-8 in the SEC, gave up 149 points in losses to Miami, North Carolina and Clemson and got killed by a pretty bad version of Virginia to finish 4-4 in conference play. In other words, NC State was only consistent at being inconsistent enough to finish somewhere in the middle of the ACC, never terrible but never better than tied for second in the division.
O'Brien's records during his six-year tenure: 5-7, 6-7, 5-7, 9-4, 8-5, 7-5. His overall record: 40-35. So he was almost as exactly as mediocre as predecessor Chuck Amato, who went 49-37; the difference was really Philip Rivers, who took NC State to an 11-3 season and then left as the program cratered to 3-9 before Amato got fired. O'Brien didn't really have the highs or lows, instead consistently gravitating toward 7-5 overall, 4-4 in the ACC and a spot in the Blah Bowl.
One amazing state brought up by ESPN's Heather Dinich that pretty well encapsulates NC State's inability to sustain any kind of meaningful momentum: When they beat Maryland this year, it was their first road win under a divisional team since O'Brien took over. Think about that. It's pretty hard to win anything meaningful without being able to win any relevant games on the road.
There was also the Russell Wilson thing. Refresher: Wilson wanted to play baseball over the summer; NC State wasn't on board with that, and when he basically said, "I do what I want it's my hot body," NC State said "see ya" and released him from his scholarship a couple months before the start of his senior year. As you probably remember, Wilson ended up at Wisconsin, where he led the country in pass efficiency and played in the Rose Bowl; NC State ended up 8-5 and 94th nationally in total offense. So that kinda looked back ... but it wasn't the RABBLE RABBLE BIG DEAL a lot of people made it out to be. The reason: Mike Glennon, who was a relatively big-time recruit a few years ago and was really ready to be a starter regardless of what happened with Wilson. He proved as much in 2011, completing about 63 percent of his passes for 3,054 yards with 31 touchdowns and 12 picks. NC State's problems on offense weren't at quarterback last year and weren't at quarterback this year, when Glennon put up almost identical numbers in a similarly one-dimensional offense.
The problem: everything else. NC State's running game never finished higher than 87th nationally in O'Brien's six years, and the defense was above average in both yards and points allowed
once
, that being 2010, when NC State (not coincidentally) finished 9-4. Having a productive quarterback is swell; having a productive nothing else is problematic, hence consistent mediocrity despite five of O'Brien's six seasons featuring an All-ACC-ish quarterback.
The other problem wasn't so much a problem as just a reality of life: O'Brien is about to turn 60, and a guy who's shown few (if any) tangible signs of progress probably isn't worth keeping around into his (alleged) golden years.
I remember thinking at the time of O'Brien's hiring that going from Boston College to NC State seemed like a very lateral move from a competitive standpoint, and I might have been right. He went 75-45 at B.C. and left to take over a program that, as mentioned above, averaged 7-5 under Chuck Amato. Six years later, it's still averaging 7-5. NC State is basically the ACC version of Purdue/ASU.
The big difference between Purdue/ASU and NC State: the competition (or lack thereof). The ACC is imminently winnable as long as Florida State is the only elite-ish program. Georgia Tech, Wake Forest and Maryland have been to BCS games in the last decade, which is pretty much all that needs to be said. Clemson and Virginia Tech are really the only other programs that fall into the "consistently above average" category, so there's obviously some opportunity to do better than 7-5 every year.
Whether NC State is a desirable job beyond the "plays in a hilariously mediocre conference" thing is debatable. This is from an ESPN Insider article that I can no longer find:
"Have you seen the facilities in Raleigh?" a West Coast coordinator asked. "If you were at that stadium 15 years ago and then you were there over the last year, then you can see how committed they are to the program. That fan base is a sleeping football giant. And there is a ton of talent in North Carolina that leaves every year. O'Brien is a good X's and O's guy, but he's never taken to recruiting. Get a real recruiter in there and he would mop up."

From the outside, the idea of taking an ACC job might seem like the wrong direction. But everyone I talked to said the opposite -- as long as it's the right ACC job.
So ... yeah. Take that for what it's worth.
As for who might actually get/want the job, Vandy coach James Franklin became everybody's favorite candidate five seconds after O'Brien got fired since he had been named coach-in-waiting at Maryland when NC State athletic director Debbie Yow was there; he's
reportedly declined interest
, though, which has made Clemson O-coordinator Chad Morris
the new favorite candidate.
I have learned that Clemson offensive coordinator/quarterbacks coach Chad Morris is a strong candidate to replace O'Brien. Morris is currently the highest paid assistant in college football, earning $1.3 million annually at Clemson.
FYI, Morris is basically Gus Malzahn: He was scorching the earth three years ago as a high school coach in Texas, got the O-coordinator job at Tulsa under Todd Graham, obliterated Conference USA in his first year and then went straight to Clemson, which improved massively on offense last year en route to the Orange Bowl and is gonna finish in the top 10 in both total offense and scoring offense this year en route to a second straight 10-win season. A lot of people (me included) think Morris is to Dabo Swinney what Malzahn was to Gene Chizik; NC State might be willing to find out.
Beyond that, Sonny Dykes might be available if he doesn't get one of the SEC jobs, and various reporter types have mentioned Kent State coach Darell Hazell (a former Ohio State assistant who would've been the interim coach last year if he hadn't left for a MAC job at a super-inconvenient time), Colorado School of Mines coach Bob Stitt (maybe the next Chip Kelly), Stanford O-coordinator Pep Hamilton and Notre Dame D-coordinator Bob Diaco, who inexplicably isn't being brought up for every job out there.
That isn't a totally awesome list of candidates but isn't a bad one, either, which is somewhat indicative of everything about NC State. It's hard to avoid the inevitability of 7-5; there are guys who can do it, but whether NC State (even given the above-referenced praise) can find and acquire one -- especially given the other vacancies that exist right now -- remains to be seen.