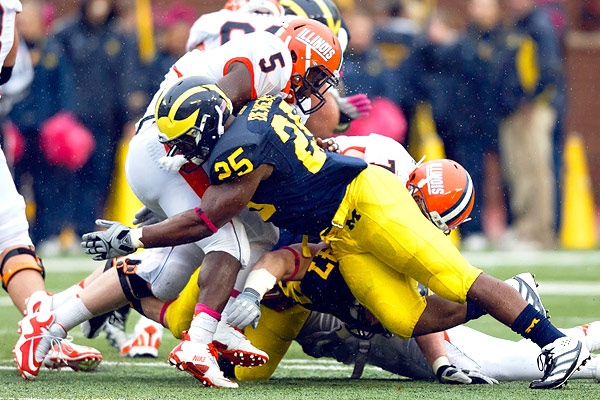 There was a game once in which there were 1,237 total yards and Michigan needed 67 points to win. Defense was a fanciful thing that existed only on the plantations. Fedoras were all the rage. Ron Zook's job was secure. This was obviously many, many years ago. I don't even know how many years ago. Many. A lot more than two.
. . . . .
I just watched a non-Minnesota Big Ten team get held to 134 total yards, 29 passing yards (!) and seven first downs. I stopped paying attention five minutes into the third quarter because it was obvious that there was no chance whatsoever that Illinois was going to make it competitive.
Michigan could have taken a knee on every play after the first quarter and won comfortably. No joke. Illinois got three first downs on its opening possession, punted from midfield and then had a total of two first downs in the ensuing 33 minutes of game time, a span in which Michigan scored 38 points. Illinois averaged 2.4 yards a play. Total yards were 527-134. The majority of Michigan's starters (on both sides of the ball) didn't play for the last 19-plus minutes of the game. Illinois had -2 yards in the second half and never crossed the Michigan 30. I'm running out of numbers/stats that are indicative of the paddlin' that just took place.
Paddlin'.
It was the Purdue game with MOAR DESTRUCTION. I felt nothing by the end except amusement that Jack Kennedy had completed a pass, which at seven yards gave him almost as many passing yards as Illinois and infinitely more total yards than Illinois managed on six second-half drives, three of which were against Michigan's backups. It really wasn't a game as much as a beating that felt almost gratuitous after three hours.
This is the spot where I fellate Greg Mattison. I heart Greg Mattison. In the last three games (UMass not included for obvious reasons), Michigan's defense has held three legitimate BCS-conference teams to 19 total points and an average of 195 total yards. Granted, all three of those teams are something other than good on offense, but 6.3 points and 195 yards a game lol wwwhheeeee!!!
It was exactly 35 days ago when
I wrote this:
Yikes. Air Force averaged 4.1 yards per carry (which isn't that bad defensively), racked up 417 total yards and went a ridiculous 14 of 25 on third- and fourth-down plays (fake field goal excluded). It was infuriating/horrifying/pick an anger-based adjective. The stuff that happened against Bama apparently wasn't a fluke or just O-line awesomeness; it was indicative of a problem (quite possibly more than one) that was exploited again by Air Force and will be exploited again going forward without some not-insignificant development and/or adjustments: That problem: The interior of the line can't hold up and the linebackers either can't or won't fill (and thus account for the interior gaps) with any competency.
Yeah ... about that. All Illinois-related caveats apply (331 yards and 16.6 points a game against the five vaguely competitive teams on the schedule prior to Michigan, etc.); that said, Michigan more thoroughly dominated Illinois than any other team had (by far) and now has three games of data that indicate that the defense is actually good. Numbers: Michigan is now 12th in total defense and 25th in scoring defense, and that's with a 41-point, 431-yard anchor at the front end of the schedule.
This was pretty much the typical Illinois pass play:
The rest were rollouts that were totally covered and thus ended with Nate Scheelhaase trying to dump it off at the last minute to a guy standing along the sideline three yards downfield, which (a) wasn't effective even it "worked" and (b) whatever. Illinois did manage 103 rushing yards (woo) but needed 37 carries to get there, one of which was a 23-yarder by Scheelhaase on a pass play that should have been a sack, required a miraculous escape and ended with Scheelhaase getting his shoulder/head destroyed, ending any chance Illinois had of finishing the game with something other than a "0" next to Michigan's much, much larger number.
There's really nothing I can criticize after a game in which the other team (a real team) ends up with seven first downs and never comes close to scoring. Jake Ryan should be an All-American this year; he's that good (as a redshirt sophomore YES). Quinton Washington and Craig Roh have become legitimately effective starters on the line. Kenny Demens is filling with authoritah, making a couple big third-down stops a game and almost totally eliminating the relevance of any/all tight ends in the passing game). The secondary is giving up nothing. Summary: I know what it's like to be a Bama fan (except with literacy and stuff lol zing) just two years removed from 67-65 and fedoras and whatnot. Mind blown.
The only thing comparably impressive to the defense: the run game. The Illinois front seven is the one aspect of that team that isn't terrible, as evidenced by Illinois coming into the game 38th in the country in rushing yards allowed at 124.5 a game; Michigan went for 353 at 6.9 yards a carry. A lot of that was just Denard being Denard, but a lot of it wasn't. Fitz Toussaint and Thomas Rawls had a combined 20 non-garbage-time/non-short-yardage carries and went for 82 yards, which at 4.1 yards a carry is about a half-yard per carry more than Illinois had been giving up coming in. And it was the consistency that was ... uhh ... consistent: Three up-the-middle plunges in short yardage notwithstanding, Denard and Toussaint had a combined two carries that went for fewer than three yards in the first two and a half quarters, at which point it was 31-0 and I stopped counting. Basically alternating 4-yard and 9-yard runs results in the numbers above.
I'm gonna give Al Borges some credit* for turning off his brain and taking 6.9 yards a carry over and over and over and over and over. Nick Saban would've had an orgasm watching this:
Boredom FTW. Denard threw nine passes in the competitive-ish portion of the game, one of which was an I-form tunnel screen (a play that literally always works, for some reason) on the fourth play of the game that went 71 yards for a touchdown and only one of which was situationally unnecessary. Again: Saban orgasm.
There was a brief glimpse of a horrifying future** (on offense) when Denard went out with some kind of injury to his right hand that looked not enjoyable based on my admittedly amateur interpretations of facial expressions. Russell Bellomy came in, handed off three times for a total of a yard, threw two good passes that were dropped and produced the aforementioned one yard in a series and a half, causing me to swallow loudly and uncomfortably several times before Denard came back in, produced the drive broken down above and then completed three of his last four passes, with two of those being of the actual-downfield-pass variety. Yay for Denard and yay for Denard having a functioning throwing hand.
Also yay for this:
YESSSSS. More of that plzkthx.
The question at this point is whether Al Borges will continue doing
that
against defenses that won't give up 6.9 yards a carry (say, Michigan State's defense) rather than trying to turn Denard into Cade McNown and then being shocked and appalled when it doesn't work out spectacularly. The last two and a half games have been encouraging in that regard: 74.6 percent of Michigan's plays since halftime of the Notre Dame game*** have been designed runs, and those plays have averaged 6.1 yards a carry against rush defenses currently ranked 17th, 58th and 38th in the country. That's good. That's also largely due to the return of the veer that crushed fools for most of the second half of last season. And it's worth noting that Borges has pretty liberally used the bubble screen, the tunnel screen and the quarterback draw of late; Michigan has three touchdowns on those plays in the last two games, which hopefully will encourage their continued use seeing as how they're easy ways to get lots of yards and touchdowns because of the way defenses have to be aligned to not get crushed by the veer (that whole 6.1-yards-a-carry thing) and because of the way Denard is Denard.
Beyond that, the only takeaway from a game that wasn't a really game: Michigan didn't have to do anything out of the norm for the second straight week and thus should have a couple things in the playbook that neither Michigan State nor anyone else has seen. Given Sparty's sometimes-hilarious obsession with beating Michigan at the expense of everything else and Pat Narduzzi's irritating pwnage of Al Borges last year (and RichRod before that), I'm considering that a win and incrementally increasing my expectations for the offense next week. And based on the general craptacularity of Michigan State's offense, it might not even matter; I'll be seriously disappointed (SRSLY) if State gets to 20 points next week since that offense-type thing is averaging 16.6 points a game against real teams this year and has gone on the road road for all of one game, with that being a four-point win over Indiana that required a 17-point comeback and two fourth-quarter touchdowns.
There will probably be a game (another game) filled with inexplicable awfulness on offense since there's always a game filled with inexplicable awfulness on offense immediately after a game that make me assume there
won't
be any more inexplicable awfulness on offense; just don't be against Michigan State. Or Iowa. Or Nebraska. Or Ohio State. Or at least be against only one of those teams since Ohio State is irrelevant (from a standings standpoint) and every other team mentioned in this paragraph will almost definitely end up with at least two conference losses. I'd be satisfied with 9-3 this year; 9-3 this year would mean roses.
I WANT ROSES.
*I'm also gonna give Brady Hoke some credit since I have seen that Michigan-against-a-crappy-team-in-crappy-weather game many times and have seen it be closer than preferred similarly many times.
**To be fair, Bellomy actually has looked pretty good in his limited playing time this year. He's a very accurate passer with very good touch and a pretty good runner; assuming that the offense becomes something more similar to what Borges was running at San Diego State (or Auburn before that or UCLA before that), I could see the passing game taking a significant step forward next year. BTW, I'm assuming that Devin Gardner sticks at receiver and Bellomy gets the starting job at QB given Bellomy being a better passer than Gardner and Gardner being a far better athlete/receiver than anybody else who'll be on the roster next year.
***Denard has thrown zero picks in those 10 quarters. Just sayin'.