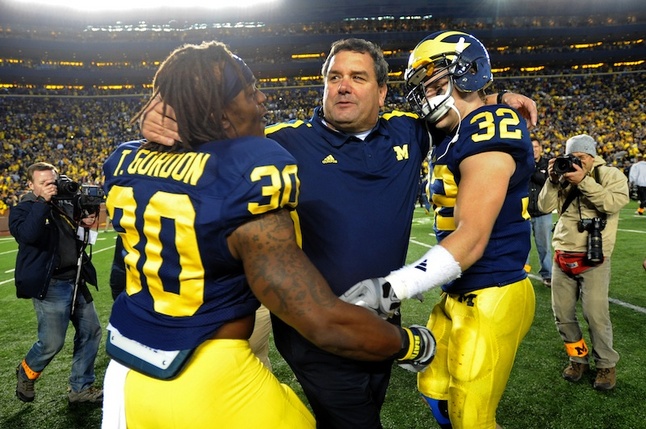 When I was about 15 and playing enough hockey that practicing on my own time seemed like a reasonable thing to do, I started begging/bribing my little brother (who would've been 13) to take shots at me since shots are kind of a necessity for practicing as a goalie. There was really nothing competitive about it in any sense; my brother has mild cerebral palsy and has never been coordinated/skilled enough to be what would normally be considered athletic outside the Special Olympics, where he destroys all comers in softball. He couldn't skate and couldn't shoot hard enough to present a legitimate challenge (except inasmuch as a moving ball/puck was more of a legitimate challenge than a not-moving ball/puck) and generally had little interest in putting in any more effort than was absolutely required because it was Michigan in the winter and I mean obviously. So it wasn't ideal. It was something.
My other brother was 2 when I graduated high school. It probably goes without saying that I never experienced the emotion produced when competing against somebody who wants exactly what you want and has to go through you to get it and can't because you are you and he is him and that's just the way of the world. That's not something that can be manifested; it has to just
be
(IT'S SCIENCE).
That emotion-type thing didn't exist for me when I was growing up but definitely exists; I know because I'm pretty sure I experienced it in 2003, I might have experienced it in 2005 and I definitely experienced it Saturday at approximately 5:13 p.m.
There is a natural order. Things assemble themselves and
everything is right.
"It's an in-state rival. But we have bigger expectations."
Everything is right.
. . . . .
In 2010 -- which was two years ago according to the Roman calendar but approximately four centuries ago according to the Hoke calendar -- Michigan made four field goals. Four. All season. Yeah. Brendan Gibbons was a true freshman that year who won the job out of camp, made one of his first four kicks, got replaced by some guy whose name I couldn't possibly spell without looking up and didn't try another kick all year until a totally random and inexplicable Gator Bowl attempt that was about as successful as most of his others that year, which is to say not successful. He finished the year 1 for 5 and should never have been heard from again. He went 13 for 17 last year.
Only
four times
in the 100 billion years that Michigan football has existed has Michigan won via a field goal in the final two minutes of a game that determined in and of itself the outcome of said game (make it and win or miss it and lose). Four times. I remember the last three (1989 was a little before my time), probably because remembering three hyperbolically memorable things is involuntary. I just remember because my brains says, "yeah hang on to that for the endorphins plz," and lo it is so.
. . . . .
Words: I don't have them. I seriously don't know where to start. That was an awful, awful game that would've ended with neither team getting to double digits if not for a fake punt and then a bunch of horrifying/irritating things and then Denard and then AAAHHHHHHHHHH!!!!! Everything else has been lost in the AAAHHHHHHHHHH!!!!!
I guess I'll start with the defense since, ya know, 12-10 and BIG TEN FOOTBAW and all that. The defense: It is the defense. It stops offenses from doing stuff, especially crappy offenses like Michigan State's. State finished with 278 non-special-teams total yards; LeVeon Bell had 68 on 26 carries, which wow. The passing game was slightly more effective thanks to Andrew Maxwell becoming a pretty good quarterback (I know!) and Aaron Burbridge making about three OMG WTF catches; still State had to throw 34 times to get to 192 yards, which means a lot of said passes went for not a lot of yards. And what really matters is that State had one legitimate scoring drive and needed (a) a miraculous fumble recovery inside their own 10-yard line and (b) a that-is-so-Sparty fake punt on fourth-and-9 from their own 23 that went for about 30 yards just to get the would-have-been-game-winning field goal in the fourth quarter. I'll take seven effectual points allowed forever and ever (praise be to Mattison).
There's not really much more to say personnel-wise that hasn't been said at some point in the last month; Michigan's defense is good. The defensive line (especially Craig Roh and Quinton Washington on the strong side) physically dominated, the linebackers filled everything that needed filling, Jake Ryan killed somebody on every play and finished with 10 tackles and a sack (which hopefully will start getting him the All-America talk he deserves) and the cornerbacks gave up almost nothing other than some irritating underneath stuff (third-down slants, mostly) that Sparty couldn't execute very well anyway. Numbers that probably shouldn't be believed: Michigan is 10th in total defense, 16th in scoring defense, 49th in rushing defense (stupid Air Force) and 15th in pass-efficiency defense. Insert maniacal laughter here.
And then there's the offense. There's apparently a limited amount of goodness available to Brady Hoke that he has chosen to allocate entirely to the defense, because ... I mean ... yeah. This would normally be the spot where I breathe fire upon Al Borges for nonsensical things and Y U NO RUN DENARD and all that; I can't really do that this week. I can't do that because he did exactly what I implored him to do by running a ton of veer, running a little play-action off of said veer (or zone-read action of some variety) and doing nothing nonsensical. The result: 12 points.
It's worth providing some context here: Michigan State is allowing about 277 total yards, 100 rushing yards and 15 points a game. Michigan finished with 326 total yards and 163 rushing yards at 5.1 a carry (!), with Denard almost hitting 100 and Fitz Toussaint going for 52 on 14 carries in probably his best game of the year, all of which really should've generated more than the aforementioned 12 points (three of which were obviously of the desperation variety). The problem: ughghgh the passing game arghghgh. Throwing and catching seem like relatively fundamental things that I'm pretty sure are successfully executed on the regular; Michigan couldn't do either one against State, which led to two shoulda-been-touchdown drives ending with field goals and what could've been a pretty comfortable win instead being
that
. In other words, Al Borges produced 20 points against an elite-ish defense without the benefit of a short field (lucky Sparty fumble recoveries rabble rabble); Michigan executed 12.
I mean, this ...
... is a touchdown. This ...
... is also a touchdown. The plays are there; that they're not being made has nothing to do with Borges and everything to do with Denard and a group of wideouts who were brought in to run jet sweeps and whatnot and instead are learning the intricacies of a pro-style passing game and doing about as well as expected, which is to say not very. There comes a point (against good defenses) at which executing the not-totally-easy stuff is a necessity; that point has been every game against State for the last four years. Thank God for the defense.
All that said, Denard (a) had the aforementioned 96 rushing yards despite running into a nine-man front all game and (b) was the
balls
on the final drive, which was extended by this ...
.... and ended with this:
WOW. That's five seconds of pure patience followed by a leaning-to-his-left throw directly over a moving-into-the-passing-lane defensive lineman into an NFL window 16 yards downfield. Clutch? Clutch. And brunettes everywhere rejoiced (in Brendan Gibbons' mind).
My only Borges-related complaint: There was nothing resembling a new look or a new thing off a familiar look despite having basically three weeks to prepare for one game (the starters could've left at halftime against both Purdue and Illinois). That's somewhat of a long-term concern, obviously, especially being against a team that spends time it should be using to prepare for the Eastern Michigans of the world to prepare for Michigan. There's really no longer any uncertainty about whether Borges can make effective use of Denard's legs as the world's greatest play fake; he can't or maybe
won't
after the Notre Dame blergh. Either way, in a situation in which points are kind of a necessity (like, say, the fourth quarter against Michigan State), it'd be nice to have some constraint stuff or that back-pocket thing that won't show up on game tape (at least not any recent ones) and therefore
might
get a ton of yards and a touchdown. So the offense will be the offense and will either work or won't. It probably will for the most part given (a) Denard's uber-fast-ness being independent of everything, (b) the defenses left on the schedule being not good and (c) Brady Hoke pooping gold in every way.
So ... Michigan is 3-0 in the Big Ten. Northwestern just picked up its second conference loss; Iowa just got obliterated at home by Penn State. Beat Nebraska next week and the division race is over, which means a game against Wisconsin for roses and good times. Lose to Nebraska and things get considerably more difficult. I might have mentioned this before but will repeat it here (every week) for emphasis: I want roses and good times.
I mean, yeah, the Michigan State stupidity is done and WOOOO, but we have bigger expectations. This is Michigan, fergodsakes.