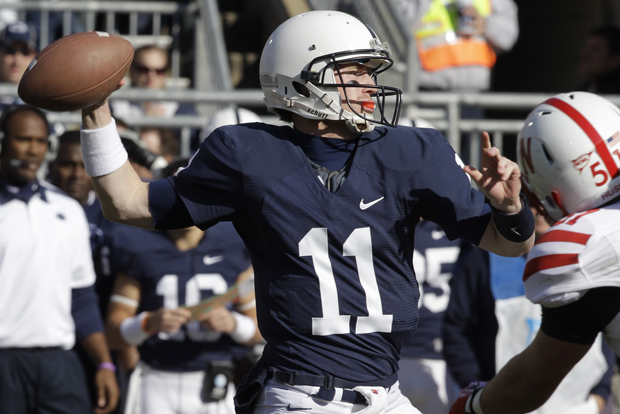 Because they had to pick somebody:
Matt McGloin will be Penn State's (probably crappy) starting quarterback this year. I know because Bill O'Brien announced it at a golf event (?) on Friday:
Penn State coach Bill O'Brien has named senior Matt McGloin the starting quarterback.

O'Brien announced his decision Friday at a charity golf tournament. McGloin, a redshirt junior, will top a depth chart that will also include Paul Jones and Rob Bolden. The Nittany Lions open the season on Sept. 1 vs. Ohio.

"We'll probably release our depth chart on Tuesday morning," O'Brien said. "There won't be too many surprises on there, I'm sure. But Matt McGloin will be our starting quarterback next year."
McGloin would fall into the "won't be too many surprises" category. He was the nominal starter for all but the first two games last season and was mediocre, which put him about three standard deviations ahead of Rob Bolden. Here are some numbers: 54.1 percent passing for 134 yards per start with eight touchdowns (three of which were against de facto bye week Eastern Michigan) and five picks. The latter ratio is fine but doesn't acknowledge that he went for under 100 yards three times in the last four games of the year despite averaging just over 23 attempts per game. That's pretty awful, especially for a guy with no real running ability, which is why he ended up 89th in the country in efficiency.
I thought Jones -- who was academically ineligible last year but was a relatively highly touted recruit in 2010 -- might get a shot based on potential; apparently not (not yet, anyway). McGloin is the most accurate of the three, which presumably will be of some benefit in an O'Brien passing game that shouldn't be as laughably bad as Penn State's recent versions.
It's not like there are traditions or anything:
The SEC approved a new scheduling format Saturday that demonstrates exactly why superconferences suck. Here are the details:
The SEC announced Friday that it approved the 6-1-1 playoff format, which means each SEC team will play six divisional games, one cross-divisional rivalry game and one rotating cross-divisional game.

While the length of the 6-1-1 scheduling format has yet to be determined, commissioner Mike Slive said it will be around for at least three or four years, which opens a future door for a nine-game conference schedule.
Translation: SEC teams will play only one cross-divisional game each year other than their locked-in rivalry games, which means non-rivals that aren't in the same division will play once every six years. Georgia will play in Death Valley once every 12 years. Arkansas will play in The Swamp once every 12 years. Etc.
Going to nine conference games would make things better since at least you could rotate two non-rivalry cross-divisional games a year, allowing you to play everybody once every three years rather than once every six, but it still wouldn't be optimal and probably won't happen anyway since it would eliminate one of the sacrificial-lamb home games everybody wants.
Really, anything beyond 12 teams basically stops being a conference and becomes two conferences that share a name and little else (like games). There will be a point at which expansion's monetary benefits plateau because interest has done the same with meaningful games fewer and farther between. I'm not sure all the guys running various conferences realize this but am honestly thankful
Jim Delany does:
"One of the most underrated qualities about any conference is its stability and the glue that holds it together," he said on Monday's league conference call. "And I think whenever you go beyond a certain level, you're running into possible dilution issues. ... The larger you are, the less you play each other. The less you play each other, the less tradition you have and the less those games tend to mean, if they can't be repeated over and over."
That's ... like ... yeah. Yeah!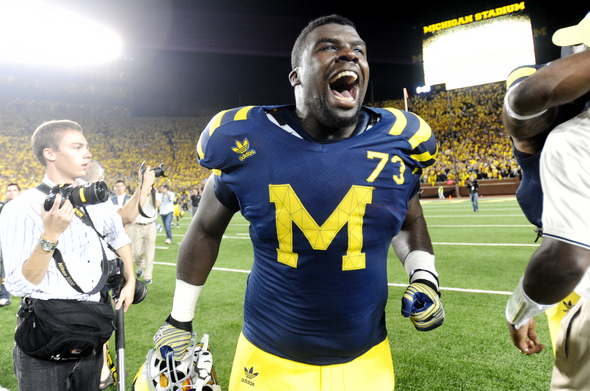 Best arrest ever:
Michigan defensive tackle Will Campbell was arrested in the wee hours of some morning last month, which would normally be cause for concern since he's a projected starter but instead has caused me to laugh continuously for about the last four days. This is why:
Michigan senior defensive tackle Will Campbell is facing one felony and one misdemeanor charge of malicious destruction of property stemming from an April 7 incident, according to court records.

According to Ann Arbor police, Campbell was arrested after attempting to slide across the hood of a vehicle at 2 a.m. on April 7 in the 600 block of Church Street. An officer in the area could hear the sheet metal on the hood of the car buckle under Campbell's weight — he's listed at 322 pounds — and arrested the senior, police stated.
I'm speechless. It should not be a surprise that the police report lists him as "intoxicated." That's probably the most concerning part since he doesn't turn 21 for another month.
Campbell was an uber-recruit four years ago who's done relatively little to date but will be starting (probably at the nose) this year as a senior, mostly because there are no other experienced options but maybe/hopefully because he's finally had a light-bulb moment under Greg Mattison and has figured out how to effectively use his ginormousness. Fortunately for me and Michigan's horrifyingly thin D-line, serious discipline sounds unlikely at this point since Brady Hoke has announced that there'll be
no change in Campbell's status.
A slightly more amibiguous arrest:
Ohio State's Jake Stoneburner (starting tight end) and Jack Mewhort (starting left tackle) were arrested outside Muirfield Village over the weekend for "interference with official business." That doesn't mean anything to anybody who's not a lawyer; word on the interwebs is that they were caught relieving themselves in a rather public location, and since it's on the interwebs, it must be true.
Anyway, whatever they were doing has resulted in this:
Ohio State issued a statement Monday saying that Meyer had suspended senior tight end Jake Stoneburner and junior offensive tackle Jack Mewhort after they were arrested by police on a misdemeanor charge of obstructing official business. The school said it had no further comment.
It probably goes without saying that indefinite suspensions for the starting left tackle and last year's leading receiver -- with 14 catches (!) for seven touchdowns (?!?) -- could be problematic. It also probably goes without saying that a suspension for a misdemeanor charge that stems from urinating on the outside of a building probably won't remain an indefinite suspension for very long, especially with Urban Meyer being the guy handling the discipline.
In the unlikely event that this actually produces something resembling missed playing time, Ohio State will probably survive the season opener against the Ohio version of Miami.
I will now go back to being amused by
this response
from Dominic Clarke, a potential starter at corner who got kicked off the team back in January following his second arrest in three months:
Sooo...lets see how urban meyer's bitch ass handles this one?
Yesssssss.
Jesse Scroggins to transfer:
The lede pretty much says it all:
Redshirt sophomore quarterback Jesse Scroggins will be leaving the USC football program and intends to transfer to another school.
Scroggins was the No. 2 QB recruit in the country three years ago and was supposed to be Matt Barkley's backup/heir apparent last year before breaking his thumb and missing most of the season. He was still the nominal backup heading into spring practice but couldn't participate at all because he was academically ineligible; at that point, Lane Kiffin started saying ominous things about his future as Max Wittek and Cody Kessler (both former five-star-ish recruits, obviously) took most of the second-team snaps. Translation: This news surprises nobody since Scroggins was apparently losing his job and might not have been eligible anyway.
Assuming he gets his grades in order, he'll have some options; guys with his level of ability aren't typically available to schools that aren't USC. The limiting factor will be his class standing: He's already used a redshirt year, so if he transfers to another D-I school, he'll have to sit out the 2012 season and then will have two years left starting in 2013, at which point he'll basically be a juco transfer who has never played a meaningful down. No word yet on potential destinations.
Avert your eyes:
Maryland has designed and is considering installing a black, turtle-shell-patterned field. I am not making this up. Here's a photo that may or may not be the unofficial rendering:
AAAHHHHHHHHHH!
And
here's a little detail
from the Washington Post:
This week, WUSA reported that "the turf being applied to the field will be either black or pewter," according to "a source within the program."

A Maryland spokesman Friday disputed this report, saying that no decision has yet been made on the color or design of the field.
So it's not yet official, although that makes it no less disturbing. I'm assuming this is an UnderArmour project since I can't imagine anybody else (other than Nike) coming up with
that
. I mean, that thing (a) is literally painful to look at and (b) is gonna be SO FREAKIN' HOT in August/September; it'd be like playing football on a softer version of asphalt. No thanks.
My understanding was that the NCAA had passed a field-color rule back when Eastern Washington and Central Arkansas started doing
inexplicably awful things
with stripes and bright colors and whatnot; that apparently didn't happen, which means schools are free to do whatever stupidity draws attention.
Amazingly, installing a black field would not be the worst decision made by Maryland's athletic department in the last year and a half.
#andmikeleachwasavailable
I like you if you like me:
Andy Haggard is still openly begging for a Big 12 invite for Florida State. This is not newsworthy in and of itself but is made newsworthy by this comment:
"We have not heard a thing, and we have not approached them and they have not approached us," said Haggard. "If anybody approaches us, we are certainly going to listen to them. We have an obligation to Florida State to listen. You can't close the door."
Interesting. Whether that means the Big 12 is not particularly interested in expanding or is just waiting until all the TV stuff gets finalized is impossible to know. It would seem that there's TV money to be had, but that money might not be super enticing if it comes at the expense of potential playoff revenue/access (in terms of fewer undefeated winners of a stronger conference). We'll see.
Dr. Saturday (no longer writing as Dr. Saturday) is back!
Matt Hinton is now writing for CBSSports.com. I discovered this was going to be happening a couple weeks ago and forgot to mention it; he published his first column the other day, so I'll mention it now.
An excerpt from said column, which of course includes some useful data about the pointlessness of the ALL CAPS possible-playoff-scenario arguments:
For all of the head-butting and maneuvering and even my own personal preferences, I'm not really convinced that the eventual decision is going to make any difference. Since the inception of the BCS, the best four teams and the best four conference champions tend to be one and the same.
Read it.
This is so accurate:
It's the Michigan State edition of Black Heart Gold Pants' ongoing series of this-is-how-they-should-look Pro Combat mockups:
This is, without question, the best thing that has ever been posted on the internet. I will not debate this. It has everything.
Just because:
This is from EDSBS (of course it is):
I have no explanation. And this is from the comments underneath that thing:
I dunno. I'm just giving you stuff.