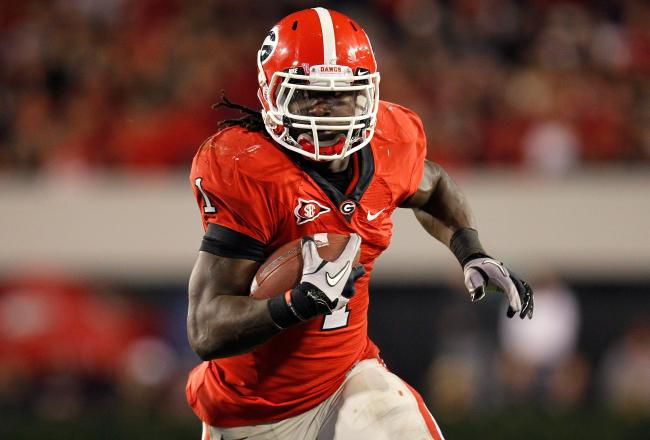 Oh hey look Isaiah Crowell
is in trouble again
oh wait he's freakin' gone:
ATHENS, Ga. -- Georgia running back Isaiah Crowell, who was in and out of Bulldogs coach Mark Richt's doghouse as a freshman, was dismissed from the team Friday after being arrested on weapons charges by Athens-Clarke County Police overnight.

Crowell, from Columbus, Ga., was arrested and charged with two felonies and a misdemeanor, according to the Athens-Clarke County Jail booking report. Crowell, 19, was charged with a felony count of possessing a weapon in a school zone, a felony count of altered identification mark and a misdemeanor count of possession/carrying a concealed weapon. He was arrested around 2:20 a.m. ET after being stopped at a vehicle checkpoint near the Georgia campus and booked at 3:37 a.m.

Crowell was dismissed from the team in the late afternoon.
Least surprising police-report tidbit ever: The gun was found after one of the cops smelled marijuana (which wasn't found since it presumably had already been smoked, hence the smell) and requested a search. This would seem to go without saying but obviously doesn't: smoking weed + cruising at 2 a.m. + carrying an illegal weapon = guh.
Crowell was
easily
Georgia's leading rusher last year as a freshman after being a top-10-overall recruit, although his usage varied quite a bit thanks to various malfeasances. He had 185 carries for 850 yards (4.6 a pop) and five touchdowns, with almost all of that production coming in the first eight games. He then sat out the first quarter of the Vanderbilt game for an "academic-related issue" before being suspended two weeks later for all of the New Mexico State game for
failing a drug test.
He returned with an awesome game against Auburn (141 yards and a touchdown) but tore a ligament in his ankle and got a total of 15 carries in the final four games.
So ... the guy has legit talent/ability when he's not injured or doing stupid things. I'd pencil him in as
North Alabama's next salvation project
if not for two things: (a) He's only a sophomore and hasn't taken a redshirt, which means he could transfer anywhere and still have three years of eligibility after sitting out this year, and (b) he's got some
serious
legal issues right now that will probably preclude him doing anything immediate.
From the ESPN story:
According to a police report issued Friday, the serial number on a 9-millimeter Luger found under the driver's seat had been scratched off completely, but Crowell denied knowing a gun was there, saying other people drive his car.

Police said the altered ID-mark charge stems from the tampered serial number.

Crowell could face a fine of up to $10,000 and a jail sentence between two and 10 years if found guilty of weapons possession on school property, while a guilty verdict for criminal use of an article with an altered ID mark carries a sentence between one and five years.
The "I didn't know it was there" argument is a hilarious one but (non-lawyer disclaimer) might at least get him a plea deal down to a misdemeanor since he wasn't using the gun and it presumably can't really be connected to him without a serial number. I'll be surprised if he ever serves significant time -- unless/until he violates his probation, anyway -- and not being incarcerated is pretty much the only requirement to play at most jucos
and Michigan State
(zing!). We'll see.
As for Georgia, the returning backs were pretty uninspiring last year save for maybe Ken Malcome, a redshirt freshman who didn't play at all until the final four games but took over the nominal starting job late and finished with 42 carries for 173 yards. A pretty good performance against Michigan State in the Outback Bowl and
a reportedly impressive spring
(he was named Georgia's most improved player) got him listed as co-starter alongside Crowell on the post-spring depth chart, for whatever that's worth.
I will not be entirely surprised if true freshman Keith Marshall, arguably the top running back in the country
who had offers from literally everybody
and enrolled early to go through spring ball, wins the starting job coming out of camp. Georgia people
were saying superlative stuff
about him ...
"You can tell why he was the No. 1 running back in the country," senior receiver Tavarres King said. "That kid is impressive."

Said running backs coach Bryan McClendon: "Just a super guy, just very conscientious. He's smart. He's a sharp kid who wants to to do well at everything. Obviously he has all the ability to match it. When you say the sky's the limit for a person, I really think that phrase it made for him."
... before he tweaked his hamstring and missed the spring game, and I don't see his freshman-ness as an issue since Crowell got 15 carries in the opener against Boise last year and never fewer than that until the suspension-shortened Vandy game.
So the problem isn't so much a lack of a guys -- Marshall might be good, Malcome might be good and Carlton Thomas and Richard Samuel are acceptable backups -- but a lack of an obvious No. 1 guy who could've gone for 1,500 yards this year if he had just stopped doing stupid things. Marshall might be that guy down the road but probably won't be better this year than the sophomore version of Crowell would've been.
Feel-better caveat: Aaron Murray exists. That is all.