Dan Guerrero kinda backed UCLA into a corner when Rick Neuheisel was fired and he insisted that he'd hire somebody with the resume of Bear Bryant except better and younger. He talked about there being "more resources" because of the Pac-12 TV deal and said UCLA was "in it to get the coach we want" and then offered a ginormous pile of baby-blue cash to Chris Petersen and Al Golden and Kevin Sumlin and possible Steve Sarkisian.
And then he hired Jim Mora Jr. because he was the only plausible guy with head coaching experience (a stated requirement) who actually wanted the job. Since UCLA wants and always has wanted to be USC, the company line is uber obvious: "He's Pete Carroll!" He's a relatively young guy (50) with zero meaningful college experience but some respectable NFL years and the right level of desperation/enthusiasm to try something totally different, so sure. He's Pete Carroll.
The odds of him
actually
being Pete Carroll are microscopic. A couple things to consider: Jim Mora Jr. hasn't done any recruiting since I was 2 years old (!), hasn't really been visible* as a coach since this year's high school juniors (guys he'll be recruiting) were in sixth grade and has never run/built/hired a college staff. The fact that Pete Carroll was in a similar situation isn't a good thing; correlation does not equal causation. Those are not insignificant obstacles.
This
made me laugh:
True, Mora isn't exactly the splashy, big-name hire many UCLA fans were hoping to land, but there are reasons to believe his hire makes a lot of sense.

First, he has no UCLA ties in his past. Second, he is a defensive-minded coach.

Third, he has no noteworthy experience as a college coach.



That bucks the trend of the past three UCLA coaches who are seen as the holy triumvirate of mediocrity. Bob Toledo, Karl Dorrell and Neuheisel were all Bruins assistants at some point before they became head coach; Dorrell and Neuheisel were UCLA players.
Guh. Translation: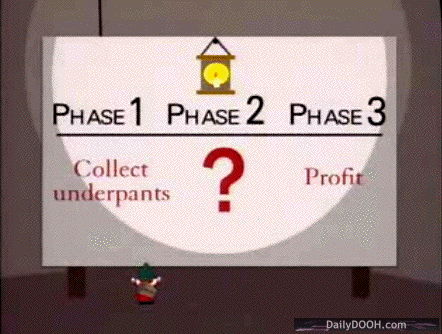 I'm pretty sure Neuheisel didn't fail
because
he was previously a successful head coach, and I'm pretty sure Dorrell didn't fail
because
he was formerly a UCLA assistant. That doesn't make sense.
As for Mora, let's be realistic here: UCLA isn't USC. USC was down but was still USC when Carroll got there. The players who went 11-2 in '02 were already on campus. UCLA has had extremely sporadic success since about the peak of the Terry Donahue era in the mid-'80s and wasn't exactly a powerhouse before then. The Bob Toledo/Al Borges/Cade McNown teams in '97 and '98 were about the only signs of Pac-whatever relevance in the last 15 years; there's been
one
eight-plus-win season in that time. Yes, the campus is awesome and the girls are hot and the academics are pretty good and yadda yadda yadda. USC will still get more/better talent and have all the football-related big sticks to swing.
Rick Neuheisel's problem was never recruiting. Just the opposite, actually: His first three classes (eighth, 13th and 14th nationally on Rivals) were regularly
waaay
better than anything UCLA had seen since people started paying attention to that stuff. Neuheisel's problem was taking those guys and turning them into good players who would actually win games. I mentioned this in my
coachpocalypse post
, but it's worth repeating here: Neuheisel never had a decent quarterback and didn't have very good coordinators (unless you want to count Norm Chow, who seemed like a good hire but never produced a competent offense since he never had a competent quarterback). His offenses went from terrible to bad to decent while the defenses went from average to bad to terrible. That's how you go eight games under .500 in four years and get fired.
Neuheisel basically blamed UCLA for not ponying up the cash to get a decent staff. I'm not so sure since Chow was getting paid about $550,000 a year. Regardless, having good coordinators is obviously important, especially for a head coach who doesn't call plays (or totally dominate the coaching) on one side of the ball. Mora has been a pretty good D-coordinator, but I have a really hard time envisioning him handling every aspect of the defense while also trying to figure out literally
everything
about being a college head coach. At the very least, he'll have to find a competent defensive assistant while making a serious upgrade at O-coordinator and finding a whole bunch of good recruiters, preferably with SoCal experience. His NFL connections should help some in that regard, but keep in mind that Carroll's staff was filled with successful college guys and young recruiter types. He had the still-good version of Norm Chow (who'd been at NC State), Lane Kiffin, the barely-out-of-college Steve Sarkisian, Nick Holt, Ed Orgeron and probably some other guys I'm forgetting. Again, college guys. We'll see whether Mora tries to go that route or the Jim Harbaugh-at-Stanford route (Vic Fangio, Greg Roman, et al).
There is a non-zero chance that Mora is somewhere between successful and Pete Carroll II. There's some talent and tradition and a promised increase in money available for assistants, and I can't think of any particular reason why UCLA can't regularly have the eight- and nine-win teams that are getting produced about once or twice a decade right now.
I just don't see what the evidence is that Mora's the guy to do that, probably because there isn't any. All analysis is anecdotal and based on some tenuous similarities to the one guy who won big despite despite having no college experience and looking at the time like a terrible hire. There are infinite not-that-great NFL coaches who just, like, aren't that great and would look like bad hires. Not all of them are Pete Carroll.
UCLA is banking on the duplication of a perfect confluence of events in the perfect place at the perfect time. I'm skeptical. If I'm betting on either the non-zero chance that Mora is Pete Carroll or the way-greater-than-non-zero chance that Mora fails to make UCLA substantially better and leaves as a not-as-easy-to-laugh-at version of Charlie Weis, I'm going with the latter.
*I'm not counting his one 5-11 season with the Seahawks in 2009 before getting fired.