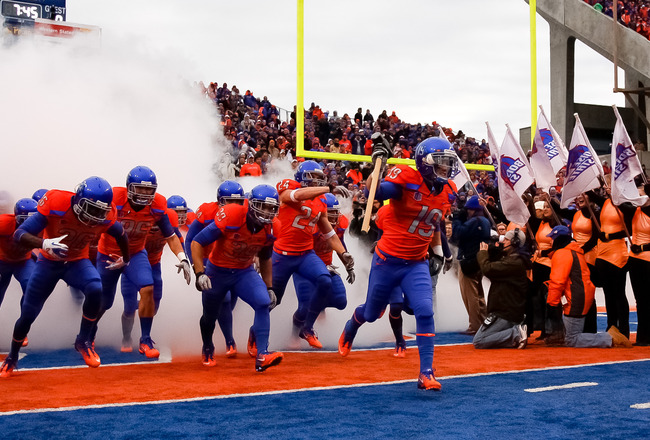 This was obviously expected
but is still noteworthy:
Boise State, San Diego State, Houston, SMU and UCF will join the Big East Conference in 2013, sources told CBSSports.com. The announcement is expected to be made on Wednesday.

With the addition of those five schools - minus the departures of West Virginia, Pittsburgh and Syracuse - the Big East will have 10 football members.

With those five schools on board, Navy is expected to join as a football-only member -- possibly as soon as next week -- to boost the football membership to 11 schools.

The Big East hopes to add Air Force as its 12th school, but the Falcons still remain undecided. If the Big East can not get Air Force, Temple would be a likely candidate to become the Big East's 12th member.

Upshot: The Big East now makes absolutely zero sense geographically but (most importantly) is alive as a football-playing conference.
UCF was a no-brainer addition from the beginning; the others all had legitimate concerns about hooking up with a totally unstable conference featuring no schools closer than 1,000 miles away. Those concerns apparently weren't enough to turn down both the financial boost (probably not huge but still significant) and the shot at a BCS autobid.
What's funny is that there's no chance the Big East leftovers could have salvaged an autobid based on the current BCS formula, so getting Boise State was an absolute necessity to maintain AQ status. I wasn't sure Boise would join since it wouldn't have been ridiculous to look at the Mountain West and then look at the stripped-to-the-bones Big East and say, "eh, I'll stick with the Mountain West." That obviously didn't happen, and I'm sure the autobid was the reason. See the Orange Bowl and the Las Vegas Bowl.
I've been calling the Big East the WAC East for a while now; that's a little unfair. It's actually the Mountference UWestA East. Your full dossier of Big East football programs once the realignment ridiculousness finally gets resolved: UConn, Rutgers, Cincinnati, Louisville, South Florida, Boise State, San Diego State, Houston, SMU, UCF and presumably Navy and Air Force. That's, like, not a good conference after Boise State. It's a slightly improved Conference USA/WAC/Mountain West/pick a non-AQ conference. But since this is 2011 and the BCS is what it is, that conference will still get an autobid and TV deal for like $300 million.
The winners: all of them, especially Boise State and its de facto contract to appear in the next 10-ish Orange Bowls. The losers: everybody who wanted the Big East to be something other than a sampler platter of pretty good mid-major schools, although that was probably a secondary concern given that the options for the Big East were (a) getting Boise State and some fillers and (b) dissolving entirely.