OK, so let's start with a caveat: I didn't think Andrew Luck would be the awesomest quarterback in the history of awesome, and by proxy, I didn't think Stanford would go 11-1 last season after losing Heisman runner-up Toby Gerhart to the draft.
The following not-so-memorable excerpts are from a post I authored last April titled
"Let's settle down about Andrew Luck"
(which pretty much says it all):
I just think people are seriously jumping the gun if they're expecting him to become a dominant, top-tier QB this year.
I'd bet dollars to doughnuts (mmmm, doughnuts) that Luck doesn't finish in the top 10 in pass efficiency this fall.
I'd even go a step further and predict that he doesn't garner first-

or

second-team Pac-10 honors; I think those spots will go to Matt Barkley and Jake Locker (not necessarily in that order).
In summary: derp, derp and derp. He would have been the top pick in the draft by a mile had he left school, and this was after he finished third in the country in pass efficiency and was named the All-Pac-10 first-team quarterback. Good call, me.
So anyway, my recent record when it comes Stanford predictions is less than spectacular. But I have nothing against Luck -- I'm willing to recognize when I'm wrong, which is more than a lot of writers can say -- and this post really has nothing to do with him. It has a lot to do with the following two fellows:
The one on the left you might recognize as Jim Harbaugh, who is now running the San Francisco 49ers. The one on the right is Vic Fangio, who you probably don't recognize despite his role in Stanford's dominance last year as defensive coordinator. He's also now working for the 49ers.
David Shaw, who was the nominal offensive coordinator but reportedly
didn't call plays
(that task belonged to associate coach Greg Roman, who -- wait for it - is now with the 49ers), is the new head coach. So the guy who ran the show is gone, the guy who called the defensive plays is gone and the guy who called the offensive plays is gone. Wwwwhhheeeeeeeeee!!!
I'm actually not so concerned about Shaw taking over for Roman, mostly because (a) Luck really is the uber quarterback everybody makes him out to be and (b) having relative system continuity will be helpful. If Shaw is more competent than Cam Newton and can just read plays off the sheet on his clipboard, Luck can probably do the rest well enough to at least come close to replicating last season's numbers in yards (about 3,300) and touchdowns (32).
That's the good news on offense. The bad news is that three starting O-linemen have graduated, and so have top receiver Doug Baldwin and fullback (also linebacker) Owen Marecic. That's basically half the offense, including a bunch of the most relevant pieces. Chris Owusu is getting some pub as the next breakout receiver, but the guy has never been able to stay healthy and has all of 67 catches heading into his senior season. In other words, there's a good chance Luck's efficiency and the overall offensive production will both take a hit this season (although if he responds to my criticism the way he did last year, he might set the all-time efficiency record while throwing for 87 touchdowns).
But just for argument's sake, let's say the offense is similarly effective over the course of the season because Luck ascends to God-like status and wins the Heisman in his downtime between earning the Mr. World title and curing cancer (he's like the new Tim Tebow).
I say Stanford
still
won't go 11-1 or really come close to being as good as last year, and this is why:
2007: 98th, 65th
2008: 75th, 71st
2009: 90th, 69th
2010: 21st, 10th
Those were Stanford's rankings in total defense and scoring defense during Harbaugh's tenure. See that massive leap in 2010? That came immediately after the hiring of Vic Fangio, who had spent his career making buckets of money as an NFL defensive coordinator and/or associate head coach until Harbaugh lured him away from the Baltimore Ravens (and big brother's staff), presumably with the promise of lovely NorCal weather.
Just to expand on those numbers a bit, Stanford finished last season ranked 19th in rushing defense, 35th in passing defense, 16th in pass-efficiency defense and 15th in sacks. The previous year -- under D-coordinator Andy Buh -- those rankings were 55th, 90th, 98th and 78th. We're talking about a
massive
turnaround, the kind that doesn't just happen by Owen Marecic getting a little grittier or Sione Fua eating an extra bowl of whatever it is Samoan guys eat to acquire their ridiculous girth. Fangio was earning his (presumably large) paycheck.
In case you're wondering, the offensive numbers during that stretch were as follows:
2007: 107th, 105th
2008: 67th, 54th
2009: 19th, 11th
2010: 14th, 9th
As Stanford went from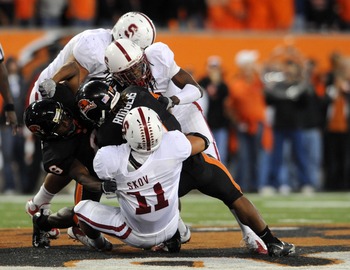 1-11 to 5-7 to 8-4, it was pretty clear that Harbaugh's influx of talent, understanding of how to manage an offense and general golden touch were primarily responsible (quantifying things for a head coach who doesn't call plays is kinda difficult). He took Stanford from "really bad" to "pretty good" in three years -- but the offense was basically just as good in 2009 (when they went 8-4) as it was in 2010 (when they went 11-1), which was somewhat overlooked amid all the Luck-related fawning. The thing/person that took them from "pretty good" to "borderline elite" was Fangio. He came in and made the defense not only a non-embarrassment but a legitimate strength, and that was enough to make games against teams like Arizona and Cal blowouts rather than shootouts.
The new D-coordinators are former secondary coach Derek Mason and former 49ers linebackers coach Jason Tarver (oh, the irony), and to say that neither of them have Fangio's track record would be a hilarious understatement. Stanford's defense will be noticeably worse this season -- the question is whether it will be 2009 worse or somewhere closer to average.
When I started this post, my intent was to break it down into three overarching reasons as to why Stanford 2011 < Stanford 2010. Those reasons were going to be: Harbaugh, Fangio, loss of a bunch of starters. But really, there's no way to quantify Harbaugh's loss or the hypothetical drop-off to David Shaw (who is a complete unknown as a head coach), and the same holds true for the graduated players and their likely replacements. All we can do is say, "Well, it'll probably be tougher without a senior leader/two-way player, half the offensive line and a guy universally regarded as the most coveted coach in the country back in January. Duh."
But those things are secondary to my argument because of the numbers I pointed out above. The jump to overall awesomeness was primarily due to Fangio; he's gone now and can't be duplicated with two guys who have never even been D-I coordinators.
Fortunately for everyone involved, the schedule is pretty manageable this year -- there are only four games in which Stanford should be seriously challenged -- so the margin for error is wide. If the defense can sustain respectability and the offense can be something close to what it's been the last two years, 10-2 isn't an unreasonable goal and might be sufficient (depending on the two losses) to make another run at a BCS game, which wouldn't exactly qualify as "suck" like my headline implies. On the other hand, going back to crappiness on defense might be enough to flip those games against USC and Arizona and Notre Dame, and 8-4 is suddenly much less exciting after crushing fools en route to the Orange Bowl, hence "suck relatively."
Now that you made it all the way through this post, I'll summarize in five words: Vic Fangio gone, Stanford worse.
NOTE: This was the second post in a completely irregular series about randomly selected teams. Also see "Why Auburn won't suck."