Travis Lewis has a broken foot:
No bueno for Oklahoma, as preseason Big 12 defensive player of the year Travis Lewis broke his foot on the first day of practice in pads and will be out roughly two months.
I suppose it's better to have that kind of injury on the first day of camp rather than the last, but it's still problematic: Lewis has led the team in tackles in all three of his seasons and might be the best outside linebacker in the country (he's easily OU's best defensive player. There will be some significant depth-chart shufflin':
Stoops said sophomore Corey Nelson will take over Lewis' outside linebacker spot on the weak side. An experiment to move Tony Jefferson from the Sooners' hybrid nickelback/outside linebacker to free safety will end, and Javon Harris will move to the top of the depth chart at safety.
That's probably not exactly what Bob Stoops had in mind heading into a surprisingly difficult first month: Oklahoma plays at Florida State on September 17 and at home against Mizzou on September 24, and the Texas game is just eight weeks and four days away. The guess here is that if Lewis is anywhere close to 100 percent, he'll find a way to get on the field in Dallas. But that won't help against FSU, and heading into Tallahassee without one of the best defensive players in the country will be collar-tightening. We'll see how ready some of those young guys on defense are.
JoePa cheats death again, gets out of hospital:
In case you missed it, Joe Paterno got bowled over on the sidelines at practice Monday (as he's been known to do) and was hospitalized, reportedly with a hairline fracture in his hip. Sadly, he's at the point where any sort of serious physical situation brings up talk about the end of his life rather than the end of his coaching tenure, but I guess that's the way it goes when you're 84. It sounds like he'll be fine going forward but might need a golf cart or wheelchair or perhaps a
Hoveround
(which you can now take to the Grand Canyon!).
Joe Schad from ESPN tweeted earlier today that Paterno prefers to be "in the middle of the action" and therefore plans to remain on the sideline, which is a little surprising but probably better for the program. It was an obvious distraction when all the talk was about him being in the booth as an almost-literal figurehead, although that's really all he's been for about a decade. At some point in the future, it'd make a lot of sense to give de facto coach Tom Bradley some sort of appropriate title and contract clause to guarantee that he keeps the job whenever JoePa ... ummm ... does what he's gonna do next.
But I'm under the assumption that he'll be running the program (more or less) until he's literally no longer capable of taking the field, especially as he continues to deflect attention from his health with spectacularly coach-speak-tastic comments like this:
"It's time for everyone to turn the attention to the team," Paterno said in a statement. "We have a lot of hard work ahead in order to be as good as we think we can be."
That's 50 years of media relations right there.
Ahhh, Vontaze Burfict:
So ...
Sports by Brooks reported the other day that Arizona State's Vontaze Burfict punched walk-on receiver Kevin Ozier last Wednesday as part of a " blindside attack" in the locker room after a pretty mild on-field practice incident between the two. ASU acknowledged that some sort of "altercation" happened but called the report "95 percent false": Their version of events is that Burfict said something to Ozier in the locker room, Ozier said something back, Burfict threw a punch that missed and then a bunch of teammates separated the two before anything crazy happened (which is a legitimate concern any time Burfict is involved).
If you've never met or been around Burfict, I can offer a little insight: He's absurdly intense and honestly wants to hurt people on the field, but he's eerily quiet off the field and has no interest in talking or socializing with anybody outside his small circle of high school buddies. He doesn't care if you want an interview or the school wants him at Event X -- if you're not his friend, you're nothing. The chances of him showing up at media day were zero.
With that out of the way, here's what I think: I wouldn't be surprised if Burfict jumped (depending on your definition of "jumped") Ozier in the locker room if he felt that he got disrespected or whatever. But if he actually landed a punch, it wasn't much of one: Ozier -- a 6-foot, 203-pound guy who's not exactly tiny -- was reportedly knocked "unresponsive" yet hasn't missed any practice time and hasn't shown any physical effects from a hypothetical fight. There's no way he was knocked out, so in that regard, the school's version of events is probably reasonably accurate.
And with that being the case, Burfict won't end up getting punished. Dennis Erickson seemed thoroughly unconcerned about the situation Monday (I think he waved the white flag on Burfict a long time ago), and the Arizona Republic reported via a source -- probably either Erickson or media relations director Mark Brand -- that the incident was "addressed" by ASU's senior leadership panel. If anything happened, we'll never know. The only tangible effect of whatever happened last week will be the official end of Burfict's media availability; I was told earlier this week by somebody who knows stuff that Burfict said he's "done" with interviews and the media in general. The NFL is gonna be rough on this guy.
Michigan to redshirt receiver Daryl Stonum
: If you're familiar with the Daryl Stonum saga, you know that this has nothing to do with Stonum's play on the field and everything to do with his shenanigans off it. Stonum has been arrested twice on DUI charges and then failed to submit to probation-required testing in the spring, and that was pretty much the last straw -- he was suspended indefinitely, and it seemed pretty likely that his career was over.
Apparently he's been cleaning up his act since then, but Brady Hoke isn't Mark Dantonio and therefore wants to maintain some semblance of discipline within his program:
"While it would be great to have Darryl on the field this season, we feel it is in his best interest and the best interest of our program for him to redshirt," Hoke said in a press release.
Stonum, Junior Hemingway and Martavious Odoms -- all of whom have very different skill sets -- rotated into the lineup last year depending on the formation (Roy Roundtree is the one guaranteed starter), so Stonum's absence won't be devastating as long as there aren't multiple injuries. There will have to be some adjustments, though, like Roundtree taking more snaps at wideout rather than in the slot, and depth is now a definite issue. After the obvious top three, there's a drop-off to the talented but inexperienced Je'Ron Stokes, the completely unknown commodity that is Jerald Robinson and a whole bunch of little slot guys.
Stonum is also a pretty good kick returner (
just ask
Notre Dame), but there a handful of guys who should be able to fill that role at least competently.
The silver lining for Michigan is that the 2012 depth chart at receiver was looking terrifyingly bare, with Hemingway, Stonum and Odoms all set to graduate and just the aforementioned mystery men as potential replacements. If Stonum can avoid doing anything dumb for the next year, he'll take care of at least part of that problem by stepping in as the clear-cut No. 1 guy at outside receiver for the undoubtedly awesome senior version of Denard Robinson.
Given his issues in the past year, the current receiver situation and the aforementioned 2012 black hole, the fact that he's still with the program -- and will be next year -- more than outweighs the disappointment of not seeing him on the field this year, which was basically a given after his string of stupid decisions.
Ohio State needs a quarterback:
The realistic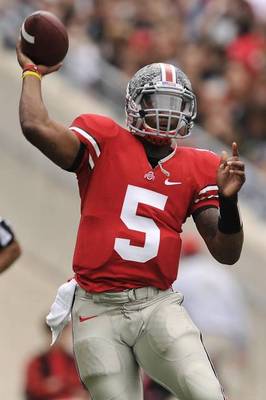 choices for OSU at quarterback this year are the following:
True freshman Braxton Miller
Senior Joe Bauserman, who has thrown 47 career mop-up-duty passes
When the team opened fall camp Monday, Luke Fickell made the shockingly honest admission that he hasn't seen much of either QB because he was busy in spring ball with coaching the linebackers, which was kinda his job at the time. Beat writer Doug Lesmerises of the Cleveland Plain Dealer said the other day that Miller is "probably the most likely option," but he didn't offer any specific evidence other than this quote from Fickell after being asked whether he thinks Miller will be ready to play early:
"I hope so," Fickell said. "I think he has a lot of similar qualities to (Pryor) in what he can do as a football player."
That seems to be an endorsement, but it's not clear to what degree. And this has to sound utterly horrifying to anybody hoping to see a reasonably dangerous offense this year:
"I'm got most of the running plays down pat," Miller said. "The passing plays, I get confused sometimes on the routes because there's a lot of them."
Talented or not, that sounds to me like a guy who should probably (both for his sake and the team's) start his career on the sidelines. And I found it interesting that senior center Mike Brewster said he has "a good idea of who the quarterback will be" -- given Miller's extremely limited exposure thus far, it seems pretty doubtful that whatever he did in spring ball has been deemed by one of the senior leaders to be more impressive/significant than Bauserman's experience, even if most of it is irrelevant.
If I had to put money on it (and I'm glad I don't), I'd bet that Bauserman gets the starting job coming out of camp and holds onto it until either the offense becomes unwatchable or Miller shows enough potential in a part-time role to warrant handing him the reins.
Speaking of Ohio State quarterbacks:
Terrelle Pryor (you know, that one guy who used to be at Ohio State but is now and forevermore a "fake Buckeye") still thinks he's gonna be eligible for the supplemental draft.
ESPN reported
Tuesday that Pryor plans to hold a pro day Friday -- with the Cowboys (obviously), Redskins and Browns interested in taking a look -- and that there will be a supplemental draft on August 17.
But
wait
:
Former Ohio State quarterback Terrelle Pryor's name was not on the first list of eligible players for the NFL Supplemental Draft, The NFL Network reported Tuesday.

The supplemental draft is the former Buckeye's only shot of gaining entry into the NFL this season after deciding to forgo his senior year in June.

The NFL is still assessing his situation, according to The NFL Network.
So yeah ... nothing has changed. If there's no ruling by next Thursday, the draft will go on and Pryor will be headed to Canada or the Arena League or somewhere equally irrelevant.
As for the supplemental draft, the only guy known to be on the list is Georgia running back Caleb King, who was declared academically ineligible back in June. He's probably a sixth- or seventh-round pick.
Texas is making bank:
When the rest of the Big 12 bent over at the conference-realignment negotiating table in an effort to save itself from oblivion, the result was
a weighted television contract
that gave Texas, Oklahoma and Texas A&M the biggest chunk of the pie -- a guaranteed annual return of $20 million -- and left each of the other schools with around half that amount.
Then came the Longhorn Network, a looming inevitability and the thing that (according to Pac-12 Commissioner Larry Scott) kept Texas from bolting to help create the Pac-16 megaconference. Nobody knew exactly what the financial details looked like until this week, when everything came out as part of an open records request. The takeaway:
Texas receives $10,980,000 per year, with an annual increase of three percent. However, once ESPN recovers its initial $295 million investment, Texas receives 70 percent of the profit.
And boom goes the dynamite. Texas gets about $11 million a year right off the bat, and once ESPN recoups its investment a few years down the road, the school rakes in 70 percent (!) of the profit.
For comparison's sake, Notre Dame currently gets around $15 million annually (depending on which numbers you want to believe) from NBC, and the Big Ten Network
dishes out
about $22 million per school (that's after FOX takes its 50 percent cut but in addition to the $7 million each school gets from the ABC/ESPN deal). In other words, Texas will immediately be making more than any other school ($11 million + $20 million = $31 million) and will have filthy growth potential if the Longhorn Network is anywhere near as successful as the BTN. Hell, even if it's 10 percent as successful (just to pull a number out of my ass) and makes about $50 million a year instead of the roughly $500 million the BTN produces, that $50 million would equal a $35 million annual paycheck to the Texas athletic department
on top of
the $20 million from the Big 12's TV deal.
If you think this is great for Texas, you're right. If you think it's bad for the long-term viability of the Big 12 that one school can market its own rights and make three times what everybody else does, you're right (I don't think it would take much of a sales pitch from the SEC to get Oklahoma and A&M to jump ship and completely obliterate the conference). If you think Texas cares at all about the rest of the Big 12, you're wrong.