Tulsa suspends Damaris Johnson indefinitely:
Damaris Johnson, the best return man in the country and a pretty good receiver (he was a second-team All-American last year with over 2,600 all-purpose yards), was suspended indefinitely Friday for his apparent role in some thefts/embezzlement from a local Macy's.
Speaking of which, this seems like a brilliant scam except for the part about ... well, pretty much all of it:
Tulsa police spokesman Leland Ashley says Johnson was questioned Thursday after his girlfriend, Chamon Jones, was taken into custody in an embezzlement scheme.


Ashley says Jones, who works at a local Macy's, is accused of selling more than $1,500 worth of merchandise to Johnson for just under $13 on one occasion. She also is accused of only charging him 34 cents for merchandise totaling $1,283.
Additionally, the charges were (allegedly) on her credit card -- like Macy's wasn't gonna notice that. There haven't been any arrests thus far, but Tulsa obviously sees the writing on the wall.
To quantify Johnson's overall value to a Tulsa team that finished No. 24 last year and should be among the favorites in Conference USA again this season, here are his relevant stats:
Johnson had 872 yards receiving, 560 rushing, 904 on kickoff returns and 292 on punt returns last season while scoring 13 touchdowns. He is also the NCAA's career record-holder with 3,417 kickoff return yards.
His loss would hurt. A lot.

Thayer Evans takes the words right out of my mouth: I've been telling people throughout the whole Ohio State saga that the only way to truly penalize schools for being dirtier than dirt is to take away the money they made from being dirty, the money they'll make in the future or both. Schools would actually be compelled to police themselves if the NCAA were to come out with punishments like "No home nonconference games for two years" or "Give us all the TV and gate money from all the games you never technically played."
FOXSports.com columnist-type guy Thayer Evans is apparently in agreement, because his article from Friday on how to fix college football (although that's a bit of a stretch) pretty much echoes my thoughts:

Continue with reducing scholarships and postseason bans, but change the rules to allow the NCAA Committee on Infractions to also penalize schools the next fiscal year by seizing the money they receive from their conferences, just like the DEA takes illegal proceeds from drug dealers.

That's millions of dollars for BCS conference schools. Let the seriousness of the violations determine how much money is seized. ...


In the case of the Ohio State saga, take all $22.6 million from the Buckeyes that each Big Ten school reportedly receives annually.

And if the allegations of payments, prostitutes and an abortion for a girlfriend financed for University of Miami players by convicted Ponzi scheme architect and booster Nevin Shapiro are true, seize the reported $13 million the Hurricanes receive from the Atlantic Coast Conference for years.
Bingo. He also suggests redistributing the money to the other schools in the conference, but I think that's a little unrealistic -- the tattling would be out of control. Still, the general idea is the right one.
The other thing that has to happen: Show-cause penalties for coaches should be
way
more common. If a head coach commits or is aware of major violations and doesn't do anything about it, he should be banned from coaching forever. The same basic premise should apply to athletic directors, compliance directors, etc. It's ridiculous that the people who commit the crimes can just move along and leave their former employers and/or players to take the brunt of the punishment.
Iowa considering heart-wrenching team entrance:
I'm not really an animal person -- just ask my wife -- but this isn't your typical animal story:
A former player proposed Friday that the Iowa football team be led onto the field this season by Hawkeye — the dog seen in a widely viewed photograph lying near the casket of his fallen Navy SEAL owner.

The touching photo of Hawkeye exploded in popularity earlier this week, depicting the close bond between the Labrador retriever and his owner, 35-year-old Rockford, Iowa, native Jon Tumilson.

Tumilson, a Navy SEAL, was one of the 38 soldiers killed Aug. 6 when their helicopter was shot down in Afghanistan. His funeral was held Aug. 19, and according to those who attended, the dog laid near the casket throughout the service.
Man ... that photo is utterly heartbreaking. Iowa needs to make this happen, although I'd still take
Adam Taliaferro
and
Brock Mealer
in a "most emotional team entrances ever" pool.
On a lighter note:
The people of Ohio just can't let Jim Tressel go, which is funny for us but should be embarrassing for them. Buried in this ESPN story about Tressel "apologizing" (not really) to OSU fans is this tidbit:
The Ohio High School Football Coaches Association suggested to its members in July that they might honor Tressel by mimicking his typical game attire in their season openers.

Some said they planned to do so; others see no reason to honor a coach who was pushed out of his job for breaking NCAA rules and covering up his knowledge that several of his players had accepting improper benefits.
Some of those people sound logical. Hint: It's not the first group.
LSUFreek wins the internet:
Message-board lurker LSUFreek is the widely recognized king of college-football-related gifs, many of which I stumble across and mean to post here but never do. I finally remembered (these are both a little old, but it doesn't matter):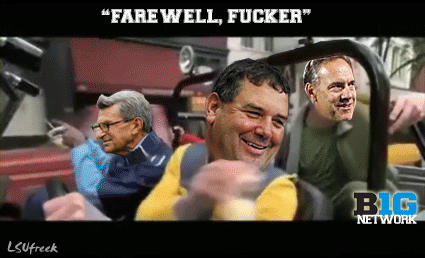 JoePa's shoulder shimmy is comedy gold.
SMU wants to join the Big 12:
Good luck with that. If the Big 12 gets desperate, there are probably other schools available that are known for more than the worst scandal in NCAA history and have more than one winning season in the past 30 years.