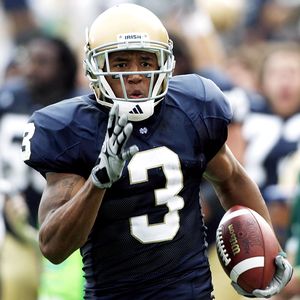 Michael Floyd reinstated:
This was pretty much a formality barring yet another alcohol-related arrest, but Notre Dame reinstated Michael Floyd on Tuesday. With his career hanging by a figurative thread after a DUI and some other shenanigans, this was his only option besides going the always-successful Terrelle Pryor route. The hope here is that actually has his crap together and finishes his career the way he should -- with gazillions of yards and touchdowns (hopefully none of them coming against Michigan).
As for ND and Brian Kelly, this is a massive first step toward Returning to Glory
TM
. The next one is choosing a quarterback, which Kelly
said he'll do
approximately 10 days before the start of the season. The next one after that is winning a lot of games, and Floyd obviously helps a lot in that regard; he's one of the five best receivers in the country and should be a first-round pick. He just needs to stop (a) drinking while underage and (b) suffering ridiculous injuries due to the fact that his upper body is apparently made of porcelain.
Steve Kragthorpe has Parkinson's disease:
LSU announced Wednesday that offensive coordinator Steve Kragthorpe is "relinquishing his duties" as OC and will slide over to quarterbacks coach because of his battle with Parkinson's disease.
On a purely football level, this is obviously unfortunate for LSU. Kragthorpe isn't overwhelmingly revered by any means, but he's been a pretty good O-coordinator for years (just ignore his time as a head coach at Louisville) at various D-I schools, and trying to shuffle your coaching staff right at the start of fall camp is less than ideal.
The (possibly temporary) fill-in will be offensive line coach Greg Studrawa, who was offensive coordinator at Bowling Green from 2003-07 (he took over right after Urban Meyer left for Utah). In case you're wondering -- and I'm not sure whether this is an endorsement or not -- Studrawa's offenses finished with the following national rankings in total yardage: second, third, 27th and 52nd. So they got progressively worse as they got further removed from Urban Meyer's golden touch. Still, having a backup guy who's been a D-I coordinator for several years and not been terrible is something not everybody can say, and with Kragthorpe sticking around and probably being involved in just about every aspect he feasibly can, I don't think LSU's offense will really feel much of an impact.
On a personal level, hopefully he can battle this thing effectively and keep doing what he loves for a long time (he's only 46, BTW). He said Thursday: "This is obviously a bit of a blow to myself, but by the same token we're a family of great faith and will be exactly where God wants us, and that is at LSU."
Jameis Winston picks Florida State:
Jameis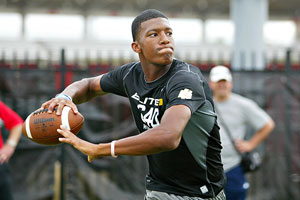 Winston is either the top dual-threat prep QB in the country or just the top prep QB in the country (depending on the particular scouting service's opinion of Indiana commit Gunner Kiel), and he announced Wednesday that he's going to Florida State. FSU has been absolutely crushing fools on the recruiting trail ever since Jimbo Fisher took over, so this doesn't seem that shocking, but what makes it pretty interesting is that Winston is from Hueyton, Alabama, so it was more or less assumed that Bama was the team to beat. They got beat.
The big question now: Will Winston ever make it to campus? He's rated the No. 22 overall prospect for next year's MLB draft, and if he ends up in the Bubba Starling range (somewhere in the ballpark of the top 10), he'll be looking at a seven-figure check right off the bat. Right now, he doesn't sound totally committed to playing football: "I don't think too many (college) fans will get mad at me if I go into the draft," he said.
His draft status will likely be the determining factor -- he's probably a goner if he's a high first-round pick next June.
Big Ten going to nine conference games in 2017:
Yay? I consider this a win for everybody who enjoys watching actual college football and not Ohio State-Eastern Michigan (insert joke here about Michigan losing to Toledo). The current format is eight conference games, three meaningless nonconference games and one sell-some-tickets games; that middle number should now (well, not now, but in 2017) drop from three to two.
The only downside for the Big Ten is that there will probably be some years in which playing an extra meaningful game will cost the conference a second BCS bid. For example, Wisconsin doesn't play Michigan for the next four years, and under the current format, they would only play four times in every 10-year period. Upping that number to six matchups in 10 years and cutting out a couple games against the likes of James Madison and Delaware State means there are two more painful losses to be handed out during that stretch.
But since I'm not a coach in need of a meaningless bowl berth and I really like good football games, I'll take it.
Kevin Newsome leaving Penn State:
Ahhh, Kevin Newsome. It was right about this time three years ago when he was gonna be The Savior of the Rich Rodriguez era at Michigan ... and then he changed his mind at some point after Tate Forcier committed during the '08 season and picked Penn State. That looked like a fine decision until he actually got on the field and was anything but productive, and by last year, he'd been passed on the depth chart by freshman Robert Bolden and walk-on Matt McGloin. Newsome threw all of 13 passes last season.
The weird thing is that Newsome wanted to transfer around the time of the Outback Bowl but backed out for some reason, eventually deciding to go through spring and see what happened. Bolden
also
wanted to transfer but had his request denied by the supposedly all-class Joe Paterno, which was even weirder.
At least things could still work out for Bolden, who's got a good shot to start; Newsome is just a so-far-disappointing guy who's probably headed for the FCS. He hasn't yet announced a destination, and although
StateCollege.com
listed a few hypothetical FCS possibilities, it's unclear whether those were purely speculative or had any reasoning behind them.
The Southern Miss logo looks too much
like what?
A panel of patent judges ruled this week that Southern Miss can't trademark its Golden Eagle logo because it too closely resembles ... drumroll ... the Iowa Hawkeye.
The Golden Eagle logo unveiled by Southern Mississippi nearly nine years ago might be in jeopardy because University of Iowa officials say it's too similar to their Tiger Hawk emblem — and a three-judge panel agrees.

USM's trademark application was denied last week by judges in the United States Patent and Trademark Office, who ruled 2-1 in favor of Iowa.
Whaaa??? I mean, there's definitely some general similarities (like the shape of the bird head and curvature of the beak), but they're not even the same freakin' animal, and it's not like it's Southern Miss' fault that the schools have the same colors. By that logic, the Arizona Cardinals shouldn't get to keep their logo either since it faces right and has a devious-looking eye.

Anyway, Southern Miss says it's considering appealing the decision. If that doesn't happen or if the appeal is unsuccessful, a new logo will be in the works and literally dozens of fans will feel obligated to buy new apparel.

Daily "laugh at Ohio State" moment:
Everybody loves Casey Anthony ... right? So if you see her sporting your team's colors, it's definitely a good idea to recognize it with an OFFICIAL school statement:
"We are never surprised to see Buckeye pride displayed across the world. Buckeye hoodies and hats have traditionally been spotted across the world, and we understand that as a result, our logo will be seen in a wide range of news situations, whether positive or negative."
Ohio!