It was somewhere between unsurprising and amusing when a story surfaced last week that new West Virginia offensive genius/coach-in-waiting Dana Holgorsen was kicked out of a casino in the wee hours of May 18, apparently in an extremely "intoxicated" state.
But the story got way, WAY better a few days later, when the Charleston Herald-Dispatch made
the following claim
:
Holgorsen has reportedly been involved in at least three and, perhaps, as many as six alcohol-related incidents in the last six months, according to multiple sources with knowledge of the situation.
Besides the unnecessary commas, the thing that stands out: SIX alcohol-related incidents in six months?!? From a guy with such a professional-looking hairstyle? No way!
West Virginia's administration blew a gasket, and athletic director Oliver Luck (Andrew's daddy) reportedly had his job threatened amid the backlash. And with the deal already in place for Bill Stewart to "retire" and Holgorsen to take over, it'd be kinda hard to just fire Holgorsen and say "just kidding, everybody!" Holgorsen's public apology was presumably the result of some outstandingly entertaining closed-door meetings.
But wait: It gets even better. With no official arrests, someone (probably Luck) wondered how Nosy Reporter Guy came up with enough info to run a story on Holgorsen's impressive track record, which
the school disputes
as having "blatant inaccuracies." According to
various media reports
and the school's Magic 8 ball, all signs point to ...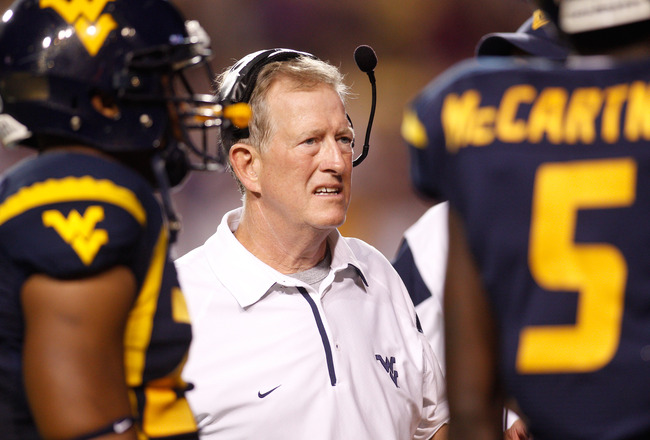 ... none other than Bill Stewart (insert laughing emoticon here).
I guess it didn't occur to anyone that when Stewart was supposedly dragging his feet on signing his "separation agreement" a few weeks back, he actually just needed more time to plot his designated successor's career-ruining flameout.
For obvious reasons, West Virginia is less than thrilled:
The timing of WVU's internal inquiry, which is a normal procedure in response to such incidents, matches up with a pause in the concluding phase of coach Bill Stewart's separation agreement with the university.

Two sources said the contract has been awaiting signatures for weeks but has been tabled as the athletic department determines who has and has not participated in fabricating stories about Holgorsen and compromising the coaching transition.
Them's fightin' words.
Stewart hasn't been too excited about the whole "here, train this guy so he can take your job" scenario from the beginning, and with good reason. But I'm not sure which is more embarrassing: (a) the reasonably well-respected veteran coach sabotaging the program or (b) the face of the football program being a slightly less hilarious version of Charlie Sheen. It's like a choose your own adventure, except every page involves making fun of West Virginia.
Either way, I'd like to give everyone involved some credit for making even Ohio State look (for at least a few days) like a well-run organization.
Oh, and one other thing: West Virginia's board of directors
voted last week
to allow beer sales at football games, which they believe is "a step forward toward our goal of a safer, friendlier and more civil game day experience."
I have nothing to add.