A coaching tenure that was WAY more eventful (at least at the beginning and end) than you'd think for a guy with three straight decent-but-not-great seasons
has come to an end
:
MORGANTOWN, W.Va. (AP) -- West Virginia football coach Bill Stewart has resigned, and a university spokesman said coach-in-waiting Dana Holgorsen will take over.

Athletics spokesman Mike Fragale said athletic director Oliver Luck will discuss Stewart's resignation Friday night and introduce Holgorsen, who was hired as offensive coordinator and eventual successor in December.
So that went exactly as planned ... or something. Holgorsen takes over, West Virginia becomes Oklahoma State East, receivers celebrate, etc.
As for Stewart, his coaching career was somehow both consistently mediocre and all-over-the-map crazy, from his first game to his last gasp at salvaging his job.
He was never really cut out to be a head coach -- he had a brief, crappy stint at VMI in the mid-90s and otherwise was a career offensive assistant who had never even been a major college coordinator before being named West Virginia's interim coach for the '08 Fiesta Bowl against Oklahoma, and even that promotion was only because most of the rele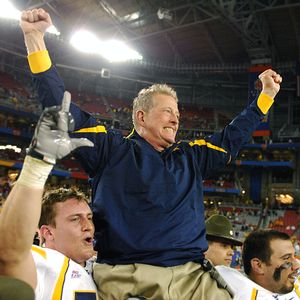 vant pieces of Rich Rodriguez's staff had bolted for Michigan. He yelled lots of encouraging things from the sidelines while Pat White and Steve Slaton went ham against a crappy OU defense, everyone cried at the end, and the administration gave Stewart the full-time job while riding a tidal wave of emotion. It was a feel-good moment that didn't make a lot of sense once the tears were wiped away and people realized RichRod wasn't the devil.
I'm sure he was a nice guy and all, but he took a loaded West Virginia team that came up a Pat White broken thumb away from a BCS championship game appearance in 2007-08 and led it to a very "meh" 9-4 finish the next season, then did exactly the same thing the next two years, which was a little more of an accomplishment without White and Slaton.
So he was far from a disaster, but following a 33-5 record in RichRod's last three years, it wasn't a lie
when Oliver Luck said
(at the time of Holgorsen's hiring), "I didn't believe we had an opportunity to win a national championship with the direction of the program." And a 28-12 career mark seems a little less impressive when considering that the only other legitimately relevant Big East team during those three years was Brian Kelly's 2009 Cincinnati juggernaut (Pitt was pretty good that year too, but not quite at Cincy's level).
Stewart probably would have gone down as a company man who got in a little over his head but gave it a good effort and didn't do terribly ... and then the last two weeks happened.
Sort of like Terrelle Pryor (but with a lot less couch-burning outrage despite being in West Virginia), it's hard to imagine Stewart being remembered as anything other than a slight disappointment with a bizarre and nuclear ending. Any good things he did have obviously been overshadowed by his twisted sabotage plot that's already been established as true in the only place that really matters -- the court of public opinion.
Maybe Holgorsen's eventual awesomeness or crappiness will allow people to forget about the transition chaos and remember Stewart as a guy who got a little crazy at the end but was a decent bridge between two offensive prodigies, but when you have a .700 career winning percentage and that's the best you can hope for, it's safe to say you could have written a better ending.