Brian Kelly probably would prefer it if his guys would stop doing stupid things; Cierre Wood cares not for what Brian Kelly prefers. The guy-doing-stupid-thing
news du jour:
Notre Dame suspended running back Cierre Wood for the first two games of the season on Sunday.

Wood, a senior, will not travel to Saturday's opener against Navy in Dublin, Ireland.
Word on
the interwebs
is that he failed a team drug test for weed. Derp. Obligatory gif: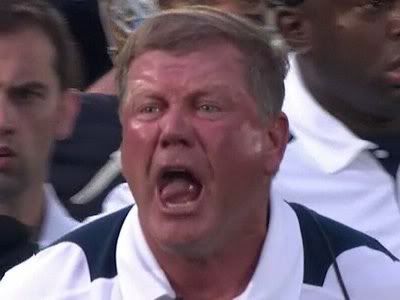 Wood was somewhat quietly a pretty good player last year: He finished with averages of about 90 yards and a touchdown on a little under 20 carries a game. He's pretty quick and a better-than-average receiver and generally a significant part of the Notre Dame offense, as evidenced by the complete lack of playing time for the guys behind him on the depth chart. Theo Riddick is the presumptive starter in his absence and has a total of 54 career carries while splitting time between running back and the slot, and George Atkinson III has been getting a lot of talk from Notre Dame people because of his kick-return goodness last year but has all of nine career carries for 27 yards. In other words, neither one of those guys has ever gotten anything resembling meaningful playing time at running back.
And therein lies the problem: The two games Wood will miss will also be the first two games of Everett Golson's career, and there will be some typical freshman-quarterback DISASTER moments. Not having a known quantity back there with him to hand the ball to in an effort to mitigate those moments creates a suboptimal scenario since either (a) Golson will have to take on more of the load or (b) a pair of guys who have never done anything of significance at running back will have to combine for Wood's typical 20 carries (plus whatever would normally go to the backups).
The good news: the schedule. The line for the Navy game moved down all of a half a point (from -17 to -16.5) after the Wood suspension came out, and Notre Dame's second game is at home against a decent-but-not-great Purdue team that'll probably be an underdog by roughly the same amount. Anything more than two games would've been pretty devastating since the schedule after the aforementioned games goes at Michigan State, Michigan, Miami, at Stanford. Yeesh.
As for the bad news, refer to the graf above. Anything that makes either of those first two games more losable is problematic in a sense that anything better than a 2-0 start would be freakin' disastrous for Kelly. It's not hard to envision an 0-4 record in those next four games, and with road games against Oklahoma
and
USC in the final five weeks ... I mean ... yeah. Kelly will
probably
get another year thanks to that contract extension he just signed but probably couldn't survive a 5-7 debacle, which would be totally plausible if Notre Dame doesn't win those first two games and figure out WTF this year's offense is gonna be.
So yeah ... the Domers will probably survive. Unless they don't.