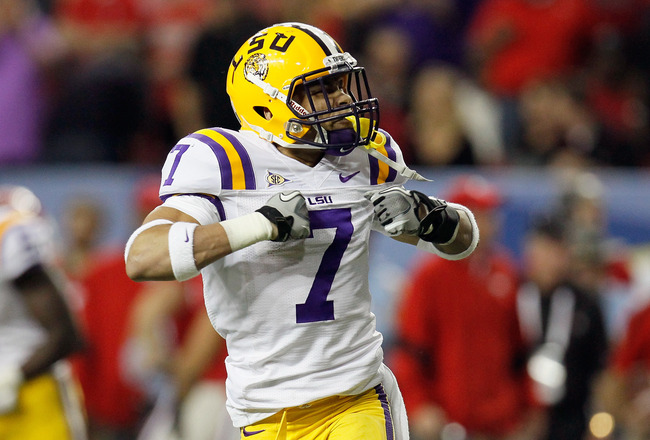 Wow: Tyrann Mathieu
is gone.
LSU has dismissed Heisman Trophy finalist Tyrann Mathieu from its football program for violating school and team rules.

"We extended ourselves personally and professionally to him," LSU coach Les Miles said at a news conference Friday. "He has really improved and has a chance to take some steps as a person.

"We extended ourself to the full length of the policy."

Miles would not specify the reason Mathieu was kicked off the team.
Wow? Wow.
I'm gonna go out on a limb here and assume (which I can do since I'm not an LSU-credentialed press member) that the only thing that would qualify under both "school
and
team rules" and a specific "policy" would be drugs. Reminder: Mathieu and a couple other kinda-important LSU dudes
were suspended
for the Auburn game last year for failing drug tests that were presumably at least their second each based on this drug policy:
First failed test: No suspension
Second failed test: Suspended for 15 percent of that season's games
Third failed test: Suspended for one year
So yeah. Y U SO DUMB ARGH. The timing (from a personal standpoint) couldn't possibly be any worse since he missed the supplemental draft by like two months and can't transfer anywhere in the FBS without sitting out a year, a pretty impractical option (even though he's got a redshirt year available) since he could go to North Alabama or wherever and be eligible for the draft after this season. In other words, the meaningful portion of his college career is almost definitely over.
BTW, this ESPN poll question ...
Tyrann Mathieu's dismissal has sent shockwaves through the college football community. Did LSU just cost themselves a shot at a title?
... is similarly dumb. LSU didn't cost itself a shot at a title by dismissing a guy who's presumably failed three-plus drug tests; Mathieu might have.
As for LSU ... ummm ... ouch. Ouch a lot. Mathieu was personally responsible for eight turnovers (!!!) and four touchdowns last year, two of which were HUGE in games LSU was trailing early because of a complete lack of offense yet went on to win by multiple touchdowns. Remember this?
I have no idea how to quantify WAR-type numbers for an individual player with that; suffice it to say his would've been ginormous. And what the removal of that hypothetical WAR-type number means for LSU
this year
is even harder to say. The defense will be OK given the hilariously talented front seven and Tharold Simon as the No. 1 corner (keep in mind that he's taking over Morris Claiborne's spot and not Mathieu's), but the drop-off at the other spot will be massive: The depth chart goes
2011 Heisman Trophy finalist,
redshirt freshman Jalen Collins, freshman Jalen Mills. All ur freshman-y Jalens belong to us. They (and whoever is supposed to take over on punt returns) are probably talented but won't be comparable to the sophomore version of Tyrann Mathieu, who was in turn comparable to the junior version of Charles Woodson.
Big picture: The offense will probably be better and the defense will probably be good but won't have that guy who produced almost a turnover a game and regularly put up points by himself last year when nobody on offense was capable of doing so against legit teams. I still think LSU can win it all but would definitely rank Alabama and USC (in some order) higher given the stuff I wrote in the previous paragraph.
So ouch a lot. Exactly how much "a lot" translates to will be determined in about three weeks (well, six weeks really since that's when
SEC play
gets real).