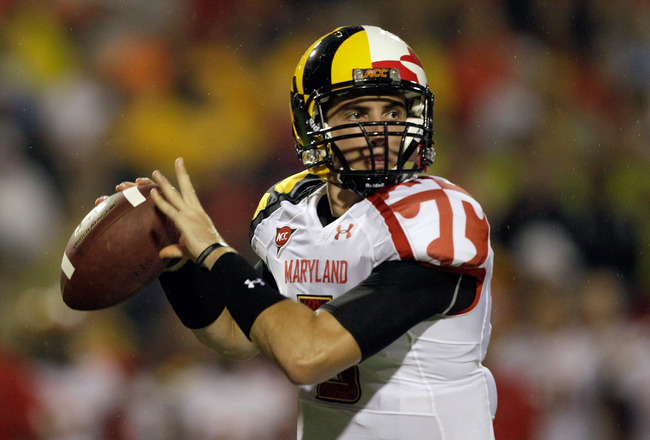 Hello. You might remember me from such activities as writing about football and working way too much. Perhaps we could get together some time and
eat a bunch of caramels
or talk about Wisconsin's quarterback situation given
this week's newsy news:
Wisconsin has added another coveted quarterback transfer, as Danny O'Brien will suit up for the Badgers.

The team on Tuesday announced the signing of O'Brien after the Milwaukee Journal Sentinel reported his arrival. Because O'Brien graduated from Maryland in three years, he will have two seasons of eligibility at Wisconsin and can play immediately.
BOOM TRACTOR BEAM'D. So much for
that development thing
I wrote about last week.
Upshot: Wisconsin will be starting a senior (in academic standing) quarterback with more than a year of starting experience for the third straight season. Think about that; there's no way that's ever happened before in the history of college football, right? Bret Bielema is turning the graduate-transfer exception* into his own personal cheat code.
The stupid thing is that Wisconsin doesn't even
need
a good quarterback in that offense ... although I guess that's kinda the draw. Being the hypothetical missing piece on what looks like an otherwise-BCS-caliber team is probably fairly enticing when the alternatives are Ole Miss and Vanderbilt and the like.
Whether O'Brien is actually that piece is another matter. There's a fat line between a guy like O'Brien and a guy like Russell Wilson, who was the reigning ACC player of the year and a career 58 percent passer with a ridiculous 76:26 touchdown-to-interception ratio in three years when he showed up. Wilson's quality was not debatable, thus the nationwide panting when NC State let him go and he became a de facto free agent. O'Brien's quality is not so definite.
Here are some numbers:
2010: 57 percent, 7.23 yards per attempt, 22 touchdowns, eight interceptions
2011: 56.4 percent, 6.19 yards per attempt, seven touchdowns, 10 interceptions
Gack. BTW, the depressed volume in 2011 was a direct product of crappy play; C.J. Brown started getting regular snaps around midseason and took over the nominal starting job for the final two games despite not being a particularly productive/efficient passer. But exactly how much of that crappy play was due to O'Brien inexplicably becoming awful and how much of it was due to Maryland just being a complete tire fire is unknowable. It's hard to reconcile last year's horrificness with the guy's talent and his production in 2010, when he was ACC freshman of the year. I mean, there's a reason a half-dozen or so BCS-conference programs were begging to get him on campus.
So ... nobody knows whether O'Brien is very good or very meh or somewhere/anywhere in between. Given last year's disaster and the new-offense thing, I'm guessing he'll be closer to the "meh" end of the starting-quarterback spectrum this year. That's not an insult as much as it is a realistic expectation; I find it unlikely that he's gonna absorb the playbook and set the all-time NCAA pass-efficiency record like Wilson did last season. He'll probably be closer to average, which should be adequate to keep Wisconsin at/near the top of the Big Ten but would be a pretty significant drop-off from Wilson's ridiculous numbers last year and the vastly underrated Scott Tolzien's numbers the year before (sixth in pass efficiency, second in completion percentage). The good news is that he'll have a fifth year available to him (if he wants it) in 2013, when he could plausibly be the best quarterback in the conference.
There's still some short-term significance, though, for the following reason (self-promoting blockquote ahoy):
Jon Budmayr has been The Next Guy since like 2008 and has accumulated 10 career passing attempts, none of which have come in the last 20 months due to a chronic nerve problem that flared up again recently and required surgery; he's out for spring ball. Same for alleged dual-threat guy Curt Phillips, whose ACLs are so flimsy that he should probably be playing for Purdue.

The leftovers are redshirt sophomore Joe Brennan, who was Wilson's nominal backup last season and went an unimpressive 6 for 15, and lightly recruited redshirt freshman Joel Stave. True freshman Bart Houston came guru-approved and would probably be a viable option if he didn't need shoulder surgery that's gonna keep him out until at least the start of the season.


So yeah ... that's not much of a depth chart.
Wisconsin's quarterback situation had season-cratering potential before the O'Brien thing. Budmayr and/or Phillips
might
be good, but there's no way to know given their complete lack of experience and general lack of functioning body parts, and starting a lightly recruited sophomore who's 6 for 15 in his career (with zero experience behind him) is something other than optimal. O'Brien immediately becomes a better option than anybody else on the roster just by (a) being healthy and (b) having experienced something resembling success at the college level. In other words, O'Brien's uncertainty > Budmayr's uncertainty > Brennan's uncertainty. This is why there's a (roughly) zero percent chance O'Brien's not starting come August.
I can't say what happens after that with much confidence; trying to guess whether the 2011 awesomeness or the 2010 blah was a more accurate indicator of what the guy's gonna do in a massively different system is an exercise in futility. What I can say with confidence is that Wisconsin's chances of a significant backslide are lower now than they were a week ago. That's not exactly "WOO ROSE BOWL" but is definitely worth something.
*Just to be clear, I am not advocating for the graduate-transfer rule to be overturned. It's a (gasp) well-meaning exception that's a legitimate benefit to the guys who use it to try to actually get a master's or whatever. In that sense, Wisconsin's accumulation of senior quarterbacks is not that important or think-of-the-children-y.