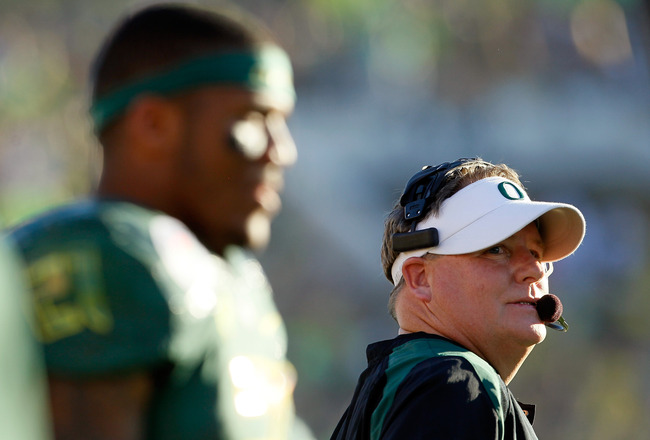 Oh hai we thought you forgot about that:
Oregon got its first Willie Lyles-related notice from the NCAA over the weekend. There were some words in it:
The draft documents released Friday, which are heavily redacted, suggests Oregon's use of three scouting services "did not conform" with NCAA rules and the Ducks exceeded the number of coaches allowed to recruit.

The documents state that the scope and nature of the violations "demonstrate that the athletics department failed to adequately monitor the football program's use of recruiting or scouting services."
This is the unofficial "proposed findings" document and not the official notice of allegations, BTW. There's nothing particularly surprising there, although the use of the phrase "failed to adequately monitor" isn't a particularly good sign for Oregon since that would presumably imply an eventual "failure to monitor," which is by definition a major violation (it's second on the do-not-do list behind "lack of institutional control").
Oregon stipulates the facts but somehow believes/claims no violations occurred, which ... umm ... yeah. I'm really curious to find out how Oregon paid $25,000 for Lache Seastrunk got conned into paying double the listed price for totally out-of-date and useless information.
Y U WANNA BE LIKE NFL??? Kickoffs: They're moving up five yards. The intention is to increase touchbacks and cut down on kick returns to help minimize concussions and various other horrifying injuries, which is great on the surface but ... argh.

Here's my issue: If kickoffs are truly significantly more dangerous than other parts of the game, they should be hacked out entirely, tradition be damned. Greg Schiano actually suggested this last year after the Eric LeGrand thing, recommending a plan that would replace kickoffs with punting situations at the same spot on the field (the 30, not the 35).
My reaction at the time:
Overreaction to Eric LeGrand's horrific injury? Probably. Ever gonna happen? Probably not. But after two days of thinking about it, I can't still can't come up with any specific reason for the existence of kickoffs other than "they've always been there." And when the governing body is saying "how can we water these things down so people stop getting paralyzed and stuff," it's worth thinking about a superficially crazy change.
That applies even more now that changes are actually being implemented. I repeat: If the injury increase on kickoffs is shown to be statistically significant, kickoffs should just be removed in favor of something less physically traumatic to everybody involved. If it's not, get off my lawn and stop ruining my kick-return enjoyment.
In case you're wondering, the NFL says last year's identical change probably had a positive effect on concussions and concussions only:

The NFL succeeded in its goal of reducing head injuries by moving kickoffs up to the 35-yard line last season as there were 50 percent fewer concussions on those plays.

Hunt Batjer delivered the good news Wednesday at Halas Hall during an NFL Health and Safety forum for coaches and players from nearly 50 area high schools.

"It looks to me like a decreased number of runbacks played a role. It did not affect a lot of the other injuries paradoxically."
The data is sadly lacking in that article. Going from, say, six concussions to four wouldn't be super-convincing evidence of a meaningful change.
The effect on the actually kickoff thingies was far more noticeable:
... through Week 13 last season, 18.8 percent of kickoffs resulted in touchbacks. This year, the figure is 45.9, well above the 30 percent the NFL expected when it changed the rule, and even above what special-teams coaches expected. Eighty-three percent of kickoffs have gone into the end zone, compared with 22.1 percent last season.
I doubt there'll be as much of an impact in college since most kickers just don't have the leg to consistently get it deep into the endzone; my guess is that the NCAA's touchback number will be closer to the NFL's 30 percent estimate than that 45.9 percent insanity. We'll find out, I guess.
Everybody LOL at Iowa:
I didn't think
the Greg Davis thing
was serious. I was wrong:
Former longtime Texas offensive coordinator Greg Davis has been named to the same post at Iowa, the Hawkeyes announced Monday.

Davis, who guided the Longhorns offense under Mack Brown from 1998-2010, replaces Ken O'Keefe, who resigned earlier this month after 13 seasons in Iowa City to take a job with the NFL's Miami Dolphins.
ESPN points out that Davis won the Broyles Award in 2005 for telling Vince Young to run around and be awesome and stuff; I'm not sure how meaningful that is. He did develop a pretty deadly short/underneath passing game starting in the early 2000s, but the running game slowly went from good to blah to complete nonfactor in the Colt McCoy era, which resulted in the offense collapsed entirely once McCoy was gone (58th in yardage in 2010) and Garrett Gilbert turned out to be suboptimal.
This does not sound much like Iowa's offense in and of itself, but the general distaste for his playcalling should seem familiar.
This is from BHGP:
A thirteen-year coordinator with a solid resume, constantly under pressure from the fan base. A solid developer of talent at quarterback -- under his guidance, UT churned out Major Applewhite, Chris Simms, Vince Young, and Colt McCoy -- yet he was constantly criticized for his playcalling and in-game decisionmaking. While he embraced some of the spread passing game that enveloped the Big XII, Texas always remained steadfastly pro-style and conservative, especially against top-shelf opposition. Greg Davis was essentially the Texas-sized Ken O'Keefe, ostensibly more successful on the stat sheet and in the standings but rarely exceptional and constantly lampooned by a fan base that had seen more than enough to make its judgment.
The numbers-or-eyeballs debate is also somewhat complicated by the talent variable. From the same BHGP post:
From 2002 through his resignation in 2010, Davis and his staff recruited 92 offensive players to Texas; 59 of those players were given 4 or 5 stars by Rivals, and the average star rating of a Texas offensive players over that period was a tick over 3.7 (by contrast, Iowa is generally in the 2.8 neighborhood).
Yeeeaaahhh. Iowa =/= Texas in terms of talent. Keep in mind that O'Keefe just got promoted to an NFL job despite his offenses finishing an average of 76th in yardage over the last five years and never cracking the top 50.
Davis probably isn't as bad as his last couple years at Texas made him look but also isn't very good. He's a pretty good passing-game coach who's a crappy playcaller and is going to a place with significantly less talent than he had at his last stop. Exactly what that means for Iowa is hard to say since O'Keefe had been there for the entirety of Kirk Ferentz's tenure, but I'm expecting a bit of a shift toward the passing game and about the same offensive mediocrity overall (maybe a little worse statistically thanks to Greg Mattison, Bo Pelini, et al). Obligatory pictures:
That second picture could serve as my entire commentary. Glorious.
They are talking about talking about it:
Jim Delany is "not a playoff guy." Shocking. He is apparently a plus-one guy, though, and since he and Mike Slive (probably the two most powerful guys that are relevant to this discussion) are on board with a plus-one and nothing else at the conference commissioners' meetings, that would seem to be the inevitable next step.
Interesting quote from Delany at said meetings:
"I would suggest that a 16-team, or an eight-team, or anything that is like that, is a negative. It is not good for the regular season. It's not good for the bowls and I don't think it's good for college football."
Jen Floyd Engel takes the opportunity to destroy him for protecting the bowls (fine) and the status quo (more on that momentarily), but he's right about the regular season; I really have no interest in seeing even an eight-team playoff that includes 9-3 teams with no business staking a claim to the title. Let's keep this thing reasonable, please.
As for the status quo, I think she and Delaney are talking about different things. A plus-one or four-team playoff or anything along those lines is a cataclysmic change to college football that can in no way be considered the status quo. What Delany's against is the "expansion" of that playoff to something larger along the lines of an NFL-style bracket with multiple weeks of competition and whatnot; I don't think that's necessarily "inevitable." I don't even want that, to be honest. A playoff does not have to be huge or eliminate the bowls in order to be a playoff that would satisfy most fans.
That said, here's an inspiring status check:
They are not talking about it. They are talking about talking about it.

"It may well be that a new system comes about. It may well be it doesn't," Delany said. "I couldn't handicap it. But I could tell you, if you think there is a presumption that it will happen, you are probably optimistic."
I'll handicap it for you: There's a 99.9999 percent chance that some sort of playoff-ish system (almost definitely a plus-one) will be implemented for the 2014 season by this August. Everybody's for it (conceptually) and nobody's against it. Figuring out the logistical details will be the time-consuming and ANGAR-inducing part.
Nick Saban is so creative: This needs to be mentioned:
Alabama made national headlines when it mailed 105 recruiting letters in a day to a running back from Atlanta this week, Norcross High School junior Alvin Kamara.

Usually, Saban puts stamps on only about 4-6 letters per day to Kamara.

"Yeah, I got home and they were failing out of my mailbox," Kamara said. "It was crazy but I liked it. ...

"It definitely caught my attention. But they're not my favorite college yet or anything like that."
Takeaway: Alabama spent $47.50 on a single day's worth of mail to a single recruit. I'm not sure what else to say here. Nick Saban recruiting rabble rabble.
Yesssssssss: I repeat: Yesssssssssss.
In a brief statement to SbB today, ESPN spokesman Josh Krulewitz essentially eliminated the prospect of Craig James returning to the network.

"We have no intention of bringing Craig James back in the future."
Everybody wins. Even Texas.
Just because: Joe Ayoob was the guy who replaced Aaron Rodgers at Cal back in the day and was not very good at football. He's apparently awesome at throwing paper airplanes, though:
On Sunday, inside a hanger at McClellan Air Force Base outside Sacramento, Ayoob threw a paper airplane 226 feet, 10 inches -- shattering the previous record of 207 feet, 4 inches.

"We made all 10 [official] throws. The record came on the fourth throw," Ayoob told Page 2. "I probably made 50 throws on the day. My body is still sore."

Verification for Ayoob's throw would seem to be a mere formality, especially since one of the official judges on hand was Stephen Kreiger, the previous record holder.
The plane was designed by some guy named John Collins who's "been pursuing the record in earnest for three or four years" and is apparently obsessed; these guys went all out. The video (
of course
there's video -- this is the internet):
Absurd.