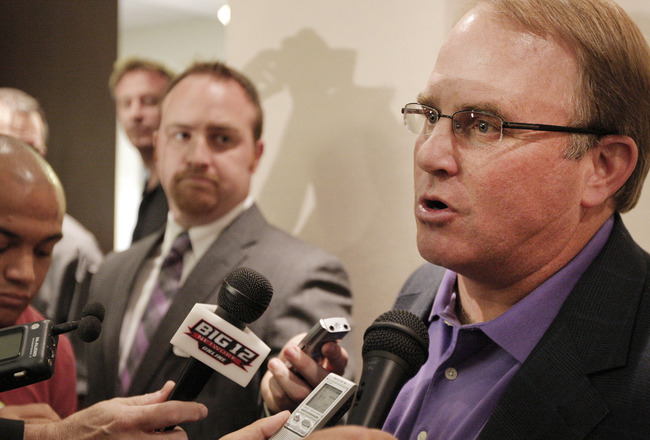 The TCU thing:
You already know about this. Upshot: Four players, most notably linebacker Tanner Brock, were arrested as part of a massive on-campus drug sting, and three of the four have been charged with dealing weed. The fact that some high-profile football players are using and at least occasionally dealing should not be that shocking but was met with a lot of "THINK OF THE CHILDREN" responses, which just shows that people don't realize how rampant pot use is among the college-age population. Telling quote:
According to the warrant, Brock said that he wasn't worried because there "would be about 60 people being screwed." Brock is alleged to have said that he and Horn had looked over the TCU roster and concluded that only about 20 players could pass the test.
Yeah. I was less amazed by that statement than by the TCU statement a couple days later that only five players had failed a February 1 test, with 11 more having trace amounts that fell within the margin of error and therefore were disregarded. It was never specified whether that group of five included the four who were arrested (student privacy laws and all that), although there was presumably some overlap.
Regardless, all four players have been dismissed. You care about this mostly because Brock is/was very good; he was arguably the best linebacker in the MWC in 2010 (when he played next to Daryl Washington) but missed most of last year with an ankle problem. His loss is somewhat significant. Also gone are defensive tackle D.J. Yendrey and safety Devin Johnson, both starters last year.
Here's
Gary Patterson's reaction:
"There are days people want to be a head football coach, but today is not one of those days."
That pretty much says it all.
Iowa hires (kind of) a D-coordinator:
All the talk about Mike Stoops (before Mike Stoops hooked up with Oklahoma) and Jim Hermann (???) apparently didn't amount to much since Iowa decided to go internal and promote linebackers coach Phil Parker to defensive coordinator a couple weeks back.
There's some logic to that: Norm Parker was there forever and had a lot of success with not-so-great athletes who understood exactly what they were supposed to do and did it really well. Iowa's defense has been irritatingly good for as long as I can remember despite being filled with the Tyler Sashes of the world. The new Parker (no relation to Norm) presumably will maintain the same terminology and structure and whatnot, which should help mitigate any drop-off in playcalling ability. Playcalling also might not be a huge issue since Norm Parker's motto was basically, "all Cover-2, all the time."
Anyway, the new Parker is highly regarded as a linebackers coach (given Iowa's pure volume of draftable dudes) and, according to ESPN, has had offers for lesser D-coordinator jobs before; I'm not sure where. He would seem to be an adequate if unexciting replacement.
Possibly more concerning for Iowa at this point is the vacancy at offensive coordinator created when Ken O'Keefe got a job with the Dolphins. Crazy tidbit: Iowa will now hire two coordinators in the span of a month after not having to hire one
in 13 years
. Think about that.
BHGP is already
planning for the worst
, and by "the worst," I obviously mean Greg Davis. Obligatory MS Paint illustration:
Excellent.
On a somewhat-related note, the hiring of Brian Ferentz as offensive line coach
does not seem to have gone over particularly well
among those who are (rightly) concerned that Kirk is turning into Lloyd Carr at a place with less talent. Read and be amused.
Navy and Memphis (?) to the Big East:
The Big East's goal is clear: Assimilate every school that's good enough at football to generate a respectable TV contract, therefore ensuring the conference's financial survival, then find a 12th team (regardless of quality,
hence Memphis
) to ensure a craptacular conference championship game and the accompanying extra cash. Awesome.
Navy will join as a football-only member in 2015, at which point the conglomeration will be complete with 24 basketball schools (lol good luck with that conference tourney) and 12 football schools, almost half of which are nowhere near a place that could be considered "east." This is not particularly surprising anymore, especially given the debacle that is Mounference UWestA. It is what it is. The good news is that Navy will get to retain its rivalry games with Army (always on the second Saturday in December, thankfully) and Notre Dame. So that's nice.
Speaking of Notre Dame, this excerpt struck me as interesting:
Navy athletic director Chet Gladchuk said scheduling games late in the season, landing desirable television deals and securing bowl bids will become a problem in the near future.


"Opportunities to exist as independents into the future are clearly in jeopardy," he said.
Insert "O RLY" owl here, preferably with Jack Swarbrick's head in place of the owl. A lot of people read that and -- between the Gladchuk quotes about independence and the understanding that Navy being in a conference could make Notre Dame's scheduling even more difficult than it already is -- jumped to the conclusion that Notre Dame will eventually have its independence blankie yanked away. The problem with that reasoning: Navy isn't Notre Dame. Gladchuk is right in a sense that conference-contract-generated TV money is too good to pass up for most schools, but Notre Dame isn't most schools since most schools can't negotiate their own national TV deals for roughly $15 million a year and schedule games in Dublin that people will actually show up to. Like it or not, Notre Dame unquestionably has a brand power that resonates everywhere and generates enough money that independence is still viable.
There's only one way Notre Dame football joins a conference in my lifetime: It's necessary to play for a national title in whatever postseason structure is implemented in the post-BCS era. If enough conference commissioners bitch and moan to the point that the new playoff-type thing only allows conference champions (highly unlikely given that the power conferences would kill to have multiple teams in said playoff), Notre Dame will sack up and find a home at the risk of becoming truly irrelevant. Assuming that there's some sort of at-large opening -- which seems just about impossible to avoid in any scenario -- independence wins.

Bonus points for "Sabanization" usage:
When I wrote about Auburn hiring Scot Loeffler as O-coordinator a few weeks back, I made an out-of-my-ass comment about the possible reasons for moving toward a pro-style offense:
Maybe that's an Alabama-induced change or maybe it's just a desire to never see quarterback play as bad as what Auburn got last year; I dunno.
I didn't think much about the Alabama thing after I wrote that. Birds & Braves did, though, and brought up some really interesting points in a post that got published right after mine. Here's an excerpt:
Auburn's transition from the run-based spread to a pro-style attack brings up a somewhat disturbing trend in the SEC: Creeping Sabanization. When Saban joined the conference, the mix of offenses was fairly diverse. Florida was running the spread. LSU was running something with spread elements. Arkansas was relying heavily on the Wildcat. Within two years, Auburn and Mississippi State were also running the spread. Two national titles for Saban later, everyone is trying to copy him, but not necessarily in good ways. Florida is running a pro-style offense under a Saban disciple. Ditto for Tennessee. LSU is attempting a modern-day imitation of the Bo Schembechler offense. Now, Auburn is eschewing the offense that was a significant factor in the Tigers winning their first national title in 53 years.
The only true spread team left in the SEC: Mississippi State. That's pretty crazy given the state of the conference in, like, 2010. Anyway, here's the relevant part:
The problem with the entire league imitating Nick Saban's style is that it is hard to replicate what Saban does. Saban is an epic recruiter. ... Programs that try to imitate his method will typically find themselves doing so with less talent.
Talent is an issue but maybe not as much of an issue as coaching. Saban is better at coaching defense than maybe any other coach in the country is at coaching anything. He's also the best recruiter, which helps with the coaching part. There's a reason the guy's won three of the last eight national titles.
Specifics aside, the overall point is a good one: Trying to beat Alabama by doing what Alabama does 75 percent as well as Alabama does it is a really stupid plan. There are obvious benefits to differentiation that are getting ignored right now just because Nick Saban is winning so freakin' much.
Danny O'Brien wants to escape:
Randy Edsall is clearly a sleeper agent. There is no other explanation at this point. Maryland went 2-10 (2-10!) last year and has had 12 (!!!) players transfer since the end of the season, including starting left tackle Max Garcia and now nominal starting quarterback Danny O'Brien, who wants to go to Vanderbilt to play for former O-coordinator James Franklin.
O'Brien was ridiculous as a freshman in 2010 and was named ACC Freshman of the Year, then wasn't so good last year (no surprise on a 2-10 team) and got kinda-sorta benched late in the season, which is why I called him the
nominal
starting quarterback. The guy has some ability, though: In two years, he's a 56.7 percent passer with 29 touchdowns and 18 picks. He also just graduated after three years and therefore won't have to sit out as a transfer, which is great
except for this:
Maryland Terrapins coach Randy Edsall has decreed former quarterback Danny O'Brien can't transfer to a list of ACC schools and regional rivals that for some reason includes the Vanderbilt Commodores. Maryland and Vanderbilt don't play each other, so there's no competitive reason for Vandy to be on the list.
Nice. Amazingly, hiring Mike Locksley might not have been Randy Edsall's worst PR move this offseason.
O'Brien's high school coach has since
told USA Today
that O'Brien and his family plan to appeal for a release through the NCAA, as they should. The whole thing is stupid; there's no reason (other than pettiness) to stop the guy from going to Vanderbilt. None. Herein lies the problem with letters of intent and the power they provide schools over their signed athletes.
Anyway, if the Vanderbilt thing doesn't work out, the other schools on his list are reportedly Wisconsin (of course), Michigan State and Stanford. Notice a quarterback-related theme?
UPDATE: Edsall
granted
O'Brien a full release Wednesday morning ... and then immediately
filed a tampering complaint
against Vanderbilt. Note to coaches: Don't be a-holes about letting guys leave. It just leads to a bunch of negative press that's really unnecessary since you're gonna end up granting the release anyway after all the hand-wringing.
Nick Montana didn't last long:
Nick Montana (the good one) was arguably the top QB in the country in 2010 and committed to Washington on the assumption that he'd take over for Jake Locker and be Steve Sarkisian's next awesome awesomeness. It didn't quite work out that way:
The University of Washington is confirming tonight that backup quarterback Nick Montana is transferring.

School officials say Montana has been granted his official release to transfer to another school.

Rumors of Montana's potential transfer have circulated for a few weeks, and there were specific reports late last week from a couple of media outlets in Texas that Montana will transfer to a junior college in Brenham, Texas, Blinn College.
Just to be clear, nobody's talking about Montana as a bust yet considering that he went 24 of 42 with three touchdowns and two picks last year as a redshirt freshman. He's obviously got some talent. The problem: the existence of Keith Price, who was ridiculous last year and has another two years of eligibility left. Montana apparently had little desire to sit around until his senior year and instead will go get a season of juco experience before transferring to a school of his choosing for his last two years. One dollar says it's Wisconsin.
Multiyear scholarships are happening:
What the headline says. What's crazy is that the rule only
allows
multiyear scholarships rather than requiring them -- it's purely a voluntary thing -- and yet 207 of the 330 Division I schools voted against it. Two more votes would have been sufficient for an override. That means about 60 percent of the schools in Division I don't even want the option of offering scholarships for more than one year. This seems like a good spot to reference what I said above about Danny O'Brien and one-sided letters of intent.
Most of the Big Ten schools (Michigan, Ohio State and Michigan State were cited in a bunch of articles) offered four-year deals to the recruits who just signed, as did Auburn, Florida and some others. That's progress. This is not progress but will probably make you laugh:
Alabama coach Nick Saban wouldn't say whether he provided multiyear scholarships. Saban said he resents the "cynical" attitude that coaches don't have the best interests of players in mind.
Pfffffft. Just
click here.
Saban and Derek Dooley spent most of Signing Day trying to convince everybody that having the option to oversign and then cut guys accordingly was somehow benefiting the student-athletes, which is a hilariously ludicrous argument. I mean ... like ... no. I don't think I even need to explain that.
The other apparently widespread argument against the multiyear deals is this:
... it drew formal objections from enough schools to force reconsideration. They argued, among other things, that coaches were using multiyear grants as a recruiting enticement.
I don't see the problem. If Alabama's offering a one-year scholarship and Michigan's offering a four-year scholarship, that's a legitimate enticement. I assume most of the "objections" actually came from schools
like Indiana State
...
The "problem is, many coaches, especially at the (Football Championship Subdivision) level, in all sports, are usually not around for five years and when the coach leaves, the new coach and institution may be 'stuck' with a student-athlete they no longer want (conduct issues, grades, etc.) or the new coach may have a completely different style of offense/defense that the student-athlete no longer fits into," the school wrote. "Yet, the institution is 'locked in' to a five-year contract potentially with someone that is of no athletic usefulness to the program."
... that (a) are disturbingly blunt about things like "athletic usefulness" and (b) don't want to be "locked in" to paying for a few wasted scholarships. My response: If eating a scholarship or two each year is gonna be a serious financial problem for your program, you shouldn't have a D-I program to begin with.
Locking the school into a scholarship offer the same way the player is locked in is indisputably a good thing.
Northwestern is bringing in some serious talent yo:
One of the odder (is that a word?) commitments in the just-finished recruiting cycle came from defensive end Ifeadi Odenigbo, a five-star out of Ohio who had offers from pretty much everybody and picked Northwestern. I know. Stanford and Notre Dame were his other finalists, which means there's apparently a guy out there who really does care about academics.
This might have nothing to do with academics but is equally good for Northwestern:
Former USC receiver Kyle Prater has transferred to Northwestern.He received his release from USC this month and also was reportedly considering Wisconsin and Illinois.
Prater was a big-time recruit back in 2010, a consensus five-star who picked USC but could've gone anywhere, just like everybody else who's gone to USC since about 2001. He's 6-foot-5, so that's fun. He'll also have two years of eligibility left after he sits out 2012 as a transfer.
In case you're wondering, he caught one pass last year as a redshirt freshman. His experience is somewhat limited.
Davonte Neal WTF?
So ... that was interesting. Consensus top-100 receiver/corner recruit Davonte Neal scheduled a presser Tuesday morning as part of an assembly at the elementary school he once attended. I know this because I helped arrange the webcast of said event. The stream went on for an hour, which was an hour too long because Neal never showed up. He didn't cancel or make a comment on Twitter or anything; he just bailed. Word on the interwebz was that there was still debate among his family about where he was gonna commit to, with Neal wanting to sign with Arizona and his dad (who seems a tad on the controlling side) preferring Notre Dame.
We have a winner:
The protracted and peculiar recruitment of Scottsdale (Ariz.) Chaparral athlete Davonte Neal finally came to an end on Tuesday, with the four-star prospect, perhaps begrudgingly, signing with Notre Dame.
Regardless, Neal's off to Notre Dame, presumably as a slot receiver. The guy's pretty good: He had 1,113 receiving yards, 1,317 rushing yards, 30 touchdowns and about a 40-yard kick-return average last year playing for possibly the best team in the state (albeit not in the highest division).
Michigan's hilariously awesome weekend:
Michigan got eight (eight!!!) 2013 commitments in about a 30-hour span from last Saturday afternoon to Sunday evening. The '13 class went from three guys to 11 during that time via a group guys who are
all
in Rivals' top 200; three of them* are in the top 100. That's gotta be the best non-Texas-junior-day weekend in the history of recruiting. I'm pointing out this purely to gloat, BTW.
*That number doesn't include the guys who had already committed, specifically Shane Morris (arguably the best QB recruit in the country at No. 16 overall) and Dymonte Thomas (the fifth-rated safety who's 77th overall). It should also be noted that Michigan is considered the favorite for No. 2 running back Ty Isaac (18th overall) and No. 2 receiver LaQuon Treadwell (32nd overall). Wwwhheeeeeeeee!!!
Urban Meyer is clearly annoyed:
Brady Hoke's habit of calling Ohio State just "Ohio" has gone from amusing to hilarious as it's become very clear that everybody at Ohio hates it. Urban Meyer's reaction has been to publicly display two prominent signs that refer to Michigan as "That Team Up North," which is both less amusing and not really correct since he's obviously referencing Woody Hayes and his "That School Up North" meme (Ohio fans/truckers on message boards have referred to Michigan as either "TSUN" or the amazingly clever "scUM" for as long as the internet has existed in my life).
Also not correct:
the sign comparing majors
at the two schools. The funny thing is that whoever created that sign bolded three majors (business, engineering and biology) to demonstrate a numerical advantage over Michigan when, in reality, Michigan has three scholarship players in those fields and Ohio has two. You don't get to include all your own walk-ons with impressive-sounding majors and none of Michigan's.
Hat tip to MGoBlog.
I give him a B for effort and a D for execution. Brady Hoke FTW.