The Big 12 finally
made a decision
Friday and picked the dreamy bachelor behind the door with a flaming couch on it:
West Virginia, a member of the Big East since 1995, will leave the conference after being formally invited Friday to join the Big 12.

The Big 12, meanwhile, plans to remain at 10 schools and is waiting on the departure of Missouri -- which has yet to receive a formal invitation to join the Southeastern Conference.

West Virginia said in a conference call on Friday afternoon it will join the Big 12 in 2012. They have already paid $2.5 million of a $5 million exit fee to the Big East.
So there ya go. There was talk that Mizzou would consider sticking around if West Virginia jumped on board, but the SEC kinda
accidentally put an end to that
by not realizing that its website is searchable: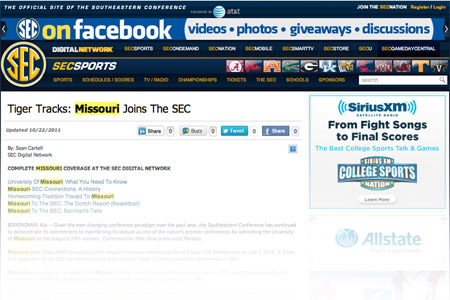 Oops. The official statement sounds plausible ...
"There had been considerable speculation about the possibility that Missouri would join the Southeastern Conference, and the working draft, which was never published, was prepared so the article could be finalized and posted quickly should Missouri in fact join the SEC," XOS said in a statement. "The draft was not intended to be publicly available, but a website user was able to obtain it through the use of a new advanced search technology."
... except for the fact that some of the other stories displayed on the site (all have since been taken down) included University Of Missouri: What You Need To Know, Missouri-SEC Connections: A History, Homecoming Tradition Traced To Missouri, Missouri To The SEC: The Dortch Report, Missouri To The SEC: Barnhart's Take. Sounds totally up in the air, yes? Everybody knows it's happening; just do it already.
And in case you were wondering,
the Big East's plan
to become totally mediocre is still coming along perfectly: ESPN says Central Florida, Houston and SMU will be announced as future members sometime early next week.
In short, nothing surprising happened today. It's happy times for the Big 12 and sad-face times for Louisville.