Chip Kelly OMG WHAT?!?
Great googly moogly:
The Tampa Bay Buccaneers have identified Oregon head coach Chip Kelly as the main target of their search for a new head coach and the two sides are involved in active contract discussions, multiple sources close to Kelly told ESPN.

Kelly interviewed with the Buccaneers last week and the two sides are aiming to work out a deal within the next 48 hours, according to one source.
Somebody with credibility (I think it was Bruce Feldman) wrote back in November that Chip Kelly could get an NFL job if he wanted one. I was skeptical not just for the obvious offense-related reasons but also for philosophical reasons; Kelly does
everything
his way, from practice times to signals to in-game tempo to system-specific recruiting to things I'm sure I don't know about. I just couldn't envision any owner buying into that so totally and completely to the point that (a) he'd think Kelly could succeed and (b) Kelly would wanna work for the guy. I might have been wrong.
I'll save the conclusions for when something actually happens, but ... I mean ... wow. I don't even know what else to say right now. Somebody get Phil Knight on the phone, stat.
Oklahoma no longer has two overqualified D-coordinators:
The Brent Venables/Mike Stoops thing lasted all of a week before Venables bailed Thursday for Clemson, which reportedly was in need of a new defensive coordinator after some issues of some sort in the Orange Bowl. I'm a little sketchy on the details.
Anyway, Venables: He's been Oklahoma's defensive coordinator since taking over for Stoops in 2004 and has been consistently good to very good, with the relative mediocrity the last two years (51st/55th in yardage and 33rd/31st in scoring) being the primary reason people have (temporarily) stopped talking about him for head coaching jobs. That mediocrity isn't as bad as the numbers indicate, though: FEI (adjusted for schedule and tempo) had Oklahoma's defense 12th this year, although that ranking is probably a little too high given FEI's obvious Big 12 scheduling bias this year. The point is that tempo and the Big 12's offensive ASPLOSION of late skew the numbers a bit.
Also of note: The people in the know at Oklahoma said Venables definitely wasn't forced out, which I actually believe seeing as how Stoops probably isn't long for the world of coordinator-ing. My guess is that he'll have a head job next year, at which point Oklahoma will be back in the market for a DC. In the meantime, Stoops will probably be sufficient. I might downgrade Oklahoma from top-five team to top-10 team just because of his lack of familiarity with the personnel and the position-coach turnover.
As for Clemson ... umm ... can I have some money? Venables is gonna be making $800,000, which is a lot but is barely half of what O-coordinator Chad Morris is (deservingly) making. Dabo Swinney is throwing some
huge
bucks around and has put together maybe the best staff in the country outside the SEC. This is an impressive accomplishment but will be met with similarly impressive expectations, by which I mean 9-3 and an occasional ACC title game appearance won't be sufficient anymore. Clemson is ballin'.
Gunner Kiel is the new Bryce Brown and/or Ron Powlus:
So ... uber recruit Gunner Kiel enrolled at Notre Dame last week, which would have been totally unsurprising six months ago but definitely induced a "WTF" from me considering that he was committed to LSU just two days earlier. In case you lost track, Kiel was originally an Indiana commit but then noticed the flaming crater that is Indiana football and decommitted around midseason. He then dropped off the grid until he committed to LSU about a month ago, and he was supposed to enroll
there
for the spring semester only to change his mind at pretty much the last possible instant.
Upshot: Notre Dame just got the top-ranked quarterback in the country (depending on your scouting service's opinion of Jameis Winston), which is swell given the end-of-season passing-game disaster. Tommy Rees somehow got progressively worse over the course of the season and started losing playing time to Andrew Hendrix, who represents an obvious upgrade in athleticism but looks (IMO) even less coherent in the passing game than the worst version of Rees. We're talking about Brian Kelly's offense here; a good quarterback is a necessity.
I'm pretty skeptical that Kiel's gonna beat out a returning junior starter as a true freshman, but getting an entire spring's worth of snaps isn't meaningless; he'll have only slightly less meaningful playing time than Hendrix (a little) and Everett Golson (none). In other words, I like his chances as much as anybody other than Rees, who's gotta be the odds-on favorite to start as of right now but has a whole offseason to continue blowing it.
Insert Beano Cook joke here.
Michigan dismisses Darryl Stonum:
Argh. Stonum missed the entire season while on suspension because of a drunken-driving arrest (his second) but was expected back next year, when he would have nominally filled Junior Hemingway's spot as the bombs-away receiver. He was also a very good kick returner who was never adequately replaced. Sadly, he won't be back at all because he's apparently incapable of following simple directions like "show up to probation meetings" and "don't drive after losing your license."
This isn't an insignificant loss. With Hemingway gone, Michigan will be severely lacking a downfield threat in the passing game, which is kind of a crucial part of the Al Borges offense. The Hemingway deep ball became a regularly deployed (and awesome) weapon when the running game got bottled up this year; the Sugar Bowl win was pure Hemingway seeing as how the offense produced about 90 yards and zero points outside of his two ridiculous touchdown catches.
Roy Roundtree is a pretty good receiver but definitely not a burner, and there's nobody waiting in the wings who fits the Stonum mold of 6-foot-3 guy who can run the 100 meters in under 11 seconds. The probable replacements: redshirt sophomore Jerald Robinson, a track guy in high school who's done literally nothing to date other than earn practice hype, and junior Jeremy Jackson, a taller-but-slow guy who would be a fine complement to a dominant No. 1 wideout but won't scare anybody. Stonum and his 76 catches for 1,008 yards would obviously be preferable.
Auburn finds an O-coordinator:
His name is Scott Loeffler. He was the offensive coordinator at Temple last year, which means nothing to anybody and needs to be complemented with the following information: He was Michigan's quarterback-coaching GA in the Tom Brady/Drew Henson days, Michigan's actual quarterbacks coach in the John Navarre/Chad Henne days, the Detroit Lions' quarterbacks coach in 2008 and Tim Tebow's learn-to-throw coach at Florida in 2009 and '10. His specialty: quarterbacks. Shocking tidbit: He used to be one.
Loeffler did produce a pretty good offense at Temple last year, but I'm not sure the numbers are useful in a spin-it-forward sense: Temple was seventh nationally in rushing and 116th (!) in passing. I find it unlikely that his numbers at Auburn will ever resemble those, although I've seen Auburn's quarterbacks and therefore can't put the chances at zero.
What's interesting is that Gene Chizik is replacing Gus Malzahn with essentially a pro-caliber quarterbacks coach, which would seem to indicate a change in philosophy. Maybe that's an Alabama-induced change or maybe it's just a desire to never see quarterback play as bad as what Auburn got last year; I dunno. Either way, expect less read option and trick-play hilarity and expect more of a pass-based offense that should (hypothetically) be more of a draw for pro-aspiring quarterbacks than the Malzahn craziness. Whether that produces a
better
offense remains to be seen. Auburn fans are laughably overdramatic in general but have some valid reasons for concern given Loeffler's lack of playcalling experience at anywhere relevant.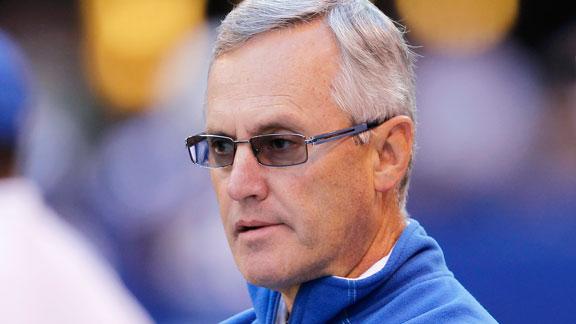 The Colts want Jim Tressel:
Mmmkay. You wanna hire a 59-year-old coach with zero NFL experience (time as a replay assistant doesn't count) who's the namesake for let-the-other-team-screw-up football to rebuild your 2-14 team that's about to draft a franchise quarterback? Good luck with that.
I'm eagerly awaiting the commencement of this train wreck.
These numbers need to be fact-checked:
This is from the ESPN story on Alabama's championship celebration thingy:
The Crimson Tide celebrated the title in the same fashion it did Saban's first with the Tide two years ago, nearly two weeks after that 21-0 victory over LSU. The coaches and players crowded onto a stage set up at midfield while highlights played on the videoboards and left tackle Barrett Jones and departing stars like Trent Richardson, Dont'a Hightower and Mark Barron spoke after winning

what the school counts as the program's 14th national title.
The qualifying "what the school counts as" comment seems weird but is totally necessary for the following reason: That number is absurd. Alabama has not won 14 national titles by any measure other than the one that says "if somebody somewhere lists us as No. 1, we're national champions!"
Here ya go:
1926: Alabama tied Stanford 7-7 in the Rose and was selected national champions by Billingley and Helms Athletic Foundation. Season record 9-0-1.

1941: After going 8-2 in the regular season, Alabama finished #20 and was selected to play Texas A&M in the Cotton Bowl. Bama won 29-21 and was selected by Houlgate as national champions.
BTW, both the AP poll and coaches' poll -- in different years -- moved their end-of-season vote to
after
the bowl games following a championship for Alabama that looked ridiculous after Bama got killed in a bowl game.
The official count, according to ESPN and everybody who doesn't have a son named "Bear" or "Bryant," is nine. So Alabama has nine national titles, which is impressive enough in its own right that it doesn't need ridiculous embellishments based on Joe's Confederate Poll of 1917.