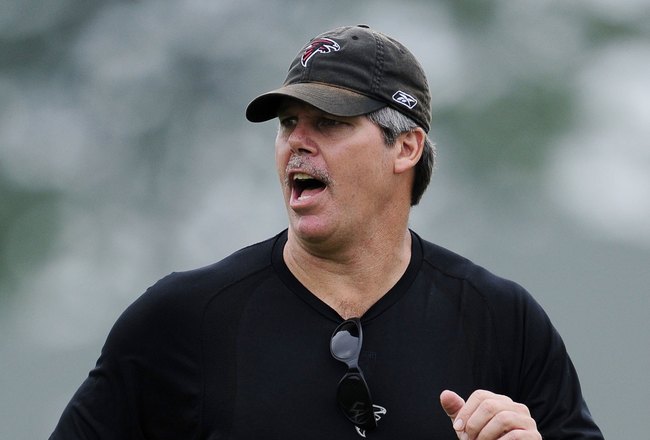 I bet they used the Tigerettes in this recruitment:
Auburn recovered nicely from the Mark Stoops thing this week by hiring spectacularly mustachioed Falcons defensive coordinator Brian Van Gorder, who was not in danger of getting fired after his D finished 12th in yardage and 18th in scoring this season. Getting a quality NFL defensive coordinator to be a college coordinator = win.
He also gets bonus points for being a former SEC guy: Van Gorder was the D-coordinator at Georgia from 2001-04 and won the Broyles Award in 2003, the middle year of a three-year stretch in which Georgia had a top-15 defense ever year. He then took an assistant job with the Jaguars, left to be be head coach at Georgia Southern for a year and then we back to the NFL with the Falcons, where he's been DC for four seasons. Fun fact: Van Gorder actually started his coaching career as defensive coordinator at Grand Valley State alongside Brian Kelly. #themoreyouknow
Anyway, Auburn's defenses were not particularly good the last couple years under Ted Roof (this year's version was downright bad at 79th in scoring and 81st in yardage), and Van Gorder would seem to represent significant improvement. Here's an odd tidbit from the AJC story:
In college at Georgia, he had a penchant for blitzing. But during his Falcons tenure, his unit played mostly zone coverage.
Those things aren't mutually exclusive, Guy Who Thinks He Knows About Football. The book is that his run defenses are swell and his pass defenses sometimes have issues, but that shouldn't be much of an issue in the SEC (zing!).
I've seen nothing about salary so far, but given that he just left a decently paying and decently successful NFL job for a college one in Pressureville, Alabama, I'm willing to bet he'll be raking in over a million bucks a year. Must be nice to have Bobby Lowder subsidizing an unlimited payroll.
Ted Roof's lengthy tenure at UCF is over:
Speaking of the guy who wasn't very good at Auburn, Ted Roof's long and distinguished one-month career at Central Florida came to an end Tuesday when Penn State came calling.
Multiple sources confirmed to the Orlando Sentinel Ted Roof is leaving UCF after 33 days to take over as Penn State's defensive coordinator. UCF is holding off on officially confirming the news until Penn State formally introduces all its new assistant coaches, including Roof, later this week.

New Penn State coach Bill O'Brien and Roof worked together on (George) O'Leary's staff at Georgia Tech and at Duke. O'Brien and Roof remain very close friends.

So there ya go. That pretty much answers the question of whether he was forced out at Auburn or just had some fascination with working for O'Leary in Orlando.
I was still a big Roof fan a couple years ago but can't really get past the mediocrity at Auburn the last two years in an SEC full of crappy offenses. For a comparative point, consider that this year's D was 11th in the SEC (?!?) in both yardage and scoring (only the tire fire at Ole Miss was worse). That's bad. Roof does have one Big Ten data point: He was DC at Minnesota in 2008 and had a defense that finished 80th in yardage and 61st in scoring, numbers that are pretty good by Minnesota-in-the-2000s standards (that team went 7-6, BTW). That team also ended the year on a five-game losing streak in which the defense gave up 37 points per game against a murderer's row of bad offenses that included Northwestern, Michigan and Iowa.
Penn State has been very good for years almost solely because Tom Bradley is one of the best D-coordinators in the country; Roof probably was in that group seven or eight years ago but isn't anymore. Penn State will probably regress significantly on defense over the next couple years, even if it's by default, and only a major offensive epiphany is going to be enough to counter that.
Mike Stoops has a job:
He's headed back to Oklahoma, according to everybody:
As first reported by Norman's Dean Blevins, former Arizona Wildcats coach Mike Stoops will be reunited with his brother Bob Stoops on the Oklahoma Sooners coaching staff, Joe Schad confirmed Wednesday. He'll reportedly take over as co-defensive coordinator, with Willie Martinez' exit making room on the staff.
No surprise there. BTW, Martinez (Oklahoma's secondary coach) is reportedly leaving to pick between the D-coordinator jobs at Kansas and Illinois.
Stoops was DC at Oklahoma back in the golden days of 1999-2003 before taking the head job at Arizona, and those defenses were good ...
almost exactly as good
as they've been under Brent Venables. Venables isn't super popular right now after the Baylor and Oklahoma State debacles but is still pretty highly regarded around the country and will probably be running his own program within the next two years.
Here's some mandatory reading
from Sooner Nation (gotta have ESPN Insider, though) about the oversimplification of the criticism by the torch-and-pitchfork crowd that wants Venables' head. Keep in mind that Oklahoma's pace of play (which has gradually increased to "ludicrous speed") and the general offensive explosion in the Big 12 skew the numbers a bit toward the negative for Venables.
In other words, Oklahoma will have two hilariously overqualified defensive coordinators. Whether that results in notable improvement remains to be seen, but I'd definitely take my chances if I could Mike Stoops on my staff as an assistant (to the) defensive coordinator.
Jeff Casteel is headed to Arizona (it's officially official):
Best coordinator hire of the offseason? Maybe. Casteel is that good and that important to Arizona's big-picture success since having a good defense (the 3-3-5 being RichRod's preference) is kinda important. This is taken directly from the section of my
Rodriguez-to-Arizona novel
about the disaster that was Michigan's defense under Rodriguez:
Jeff Casteel could have changed that. A large part of West Virginia's awesomeness under RichRod was a kinda-unique 3-3-5 stack D that didn't get much recognition but was actually pretty good; they've now finished in the top 15 in total defense three times in the past six years and have been in the top 40 every year but one since Casteel became the full-time D-coordinator in '05. The guy knows what he's doing. He also had a deal in place with Michigan (just like every other member of that West Virginia staff other than totally illogical replacement Bill Stewart) before bailing at the last minute when Stewart offered him a significant raise and a three-year guarantee, something Michigan wouldn't match because Michigan is just so awesome that everybody should coach there for free (duh). If Jeff Casteel ends up at Arizona next year, there's a good chance I'll throw something at the wall and start questioning my existence. There's also a good chance Arizona will be

really

good in the near future.
My head would be asploding right now if Michigan hadn't just won a BCS game.
As for Arizona, Greg Byrne deserves some credit for being willing to pony up (insert Jeff Casteel's salary here) to get the guy RichRod spent the last three years wishing he'd have demanded, and I guess RichRod deserves some credit for demanding him and getting him. UA now has one of the top three coaching staffs in the conference. The "
really
good in the near future" thing might be overly optimistic but doesn't seem unreasonable with the guys
Alabama wanted
before hiring Nick Saban.
Marcus Coker is definitely gone:
As you may or may not recall, Iowa suspended Marcus Coker indefinitely before the Insight Bowl loss to Oklahoma. He was dismissed this week, which ... I mean ... obviously. Starting at running back for Iowa
guarantees doom
(there's a reason BHGP has an "Angry Iowa Running Back Hating God" tag).
This
also guarantees doom:
Iowa running back Marcus Coker played the final five games of the regular season while police were investigating an allegation that he sexually assaulted a woman, authorities acknowledged Wednesday.

Weeks after authorities decided not to pursue the case, the 19-year-old sophomore was suspended. And this week, he abruptly left the program.

Authorities said they decided to drop their investigation into Coker sometime in late November or early December. While they can bring charges even if victims do not cooperate, Johnson County Attorney Janet Lyness said it is her office's policy to defer to alleged victims and the woman "did not wish to pursue charges."
Hoo boy. That's not so good. It's a little unclear if he was actually dismissed or left somewhat voluntarily; the only person commenting publicly is Coker's attorney, who's assuredly unbiased and has no reason to spin anything.
Asked whether Coker's decision to leave was linked to the public release of the incident report, Coker's attorney paused.

"Any decision like this is bound to be complicated and thoughtfully considered," Spies said.
No doubt. Regardless, Coker's done at Iowa and there is no viable replacement because there are simply no running backs left.
This rundown from BHGP
is absurd and ends with a horrifyingly ridiculous summary:
That's fourteen defections by twelve players in seven classes of recruits, and that list doesn't even include Class of 2011 defector Mika'il McCall or Rodney Coe, who failed to qualify. Coker's class still includes DeAndre Johnson; should he leave, that would make it seventeen consecutive defections from fifteen consecutive players.

This is no longer funny. This is a plague, and it has no rhyme or reason beyond its indiscriminate effect on running backs.
Redshirt freshman Jordan Canzeri, who has 31 career carries (22 of them in the Insight Bowl for a whopping for 58 yards), is the nominal backup. As noted by BHGP, DeAndre Johnson also allegedly exists. That's the extent of the depth chart. Yikes.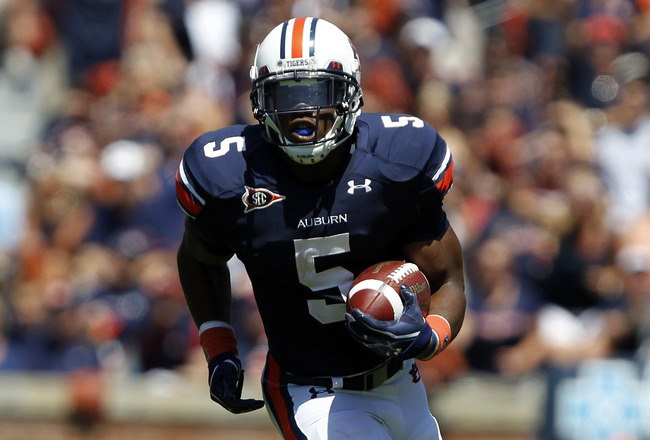 Michael Dyer is headed to Arkansas State:
As expected. I wrote about
the Auburn impact
last week, but as for Dyer, he'll have to sit out the 2012 season (unless he gets a hardship waiver) and then should dominate the Sun Belt for a year or two given. The guy was starting for Auburn as a freshman and will have more experience with Gus Malzhan's offense than anybody else on the team, even after sitting out for a year.
Speaking of which, Arkansas State went 10-2 last year to win the Sun Belt and now has Auburn's offensive coordinator,
Pitt's defensive coordinator
and the 2010 SEC Freshman of the Year at running back. That doesn't seem fair.
Brian Kelly is probably safe:
Notre Dame gave Brian Kelly a two-year contract extension Tuesday. Contracts mean almost nothing in the world of coaching but do serve as a PR indicator of satisfaction, and the consensus among ND fans since the end of the regular season had been that Kelly would need a pretty good (like 9-3 or better) 2012 season to save his job. The extension means that's probably not the case, nor should it be given the schedule:
Sept. 1 Navy (Dublin, Ireland)
Sept. 8 PURDUE
Sept. 15 at Michigan State
Sept. 22 MICHIGAN
Oct. 6 MIAMI (Soldier Field, Chicago)
Oct. 13 STANFORD
Oct. 20 BYU
Oct. 27 at Oklahoma
Nov. 3 PITTSBURGH
Nov. 10 at Boston College
Nov. 17 WAKE FOREST
Nov. 2 at USC
Great googly moogly. ND will be favored in about half of those games and doesn't have a MAC-caliber team on the schedule. That's impressive from a scheduling standpoint but has to be horrifying from Kelly's standpoint since finishing somewhere in the neighborhood of 7-5 is likely.
Whether the extension means he's
definitely
safe is unknowable as of right now. I can't see him surviving a total disaster (like 4-8), which isn't out of the question given the schedule and the quarterback situation, but I think there's enough administrative support that even a crappy bowl game would be sufficient to keep him around for 2013, when the schedule eases up and anything short of a BCS bowl game will be UNACCEPTABLE RABBLE RABBLE. It'd probably be better for him to just win nine or 10 games this year and not have to find out.
The guys are leaving:
ARGH SO MANY GUYS (and this list doesn't include the ones I've already mentioned) : Robert Griffin III (officially), LaMichael James, Luke Kuechly, David Wilson, Alshon Jeffery, Jerel Worthy, Donte Paige-Moss, Jayron Hosley, Ronnie Hillman, Brock Osweiler, Chris Polk, Bernard Pierce, Edwin Baker, Peter Konz, Ronnell Lewis, Orson Charles, Dwayne Allen and some others.
The list is currently at 41, which means we need about a dozen more to get to the typical low-50s quota. The deadline is January 15.
Bobby Hebert really liked LSU's gameplan:
Mandatory video:
I will never understand how Les Miles didn't either (a) get up and leave or (b) let loose with a string of horrifying profanities. I award him 1,000 meaningless points for not exploding. BTW, standard media rules
do not apply
to Bobby Hebert. He's just that ... umm ... special.