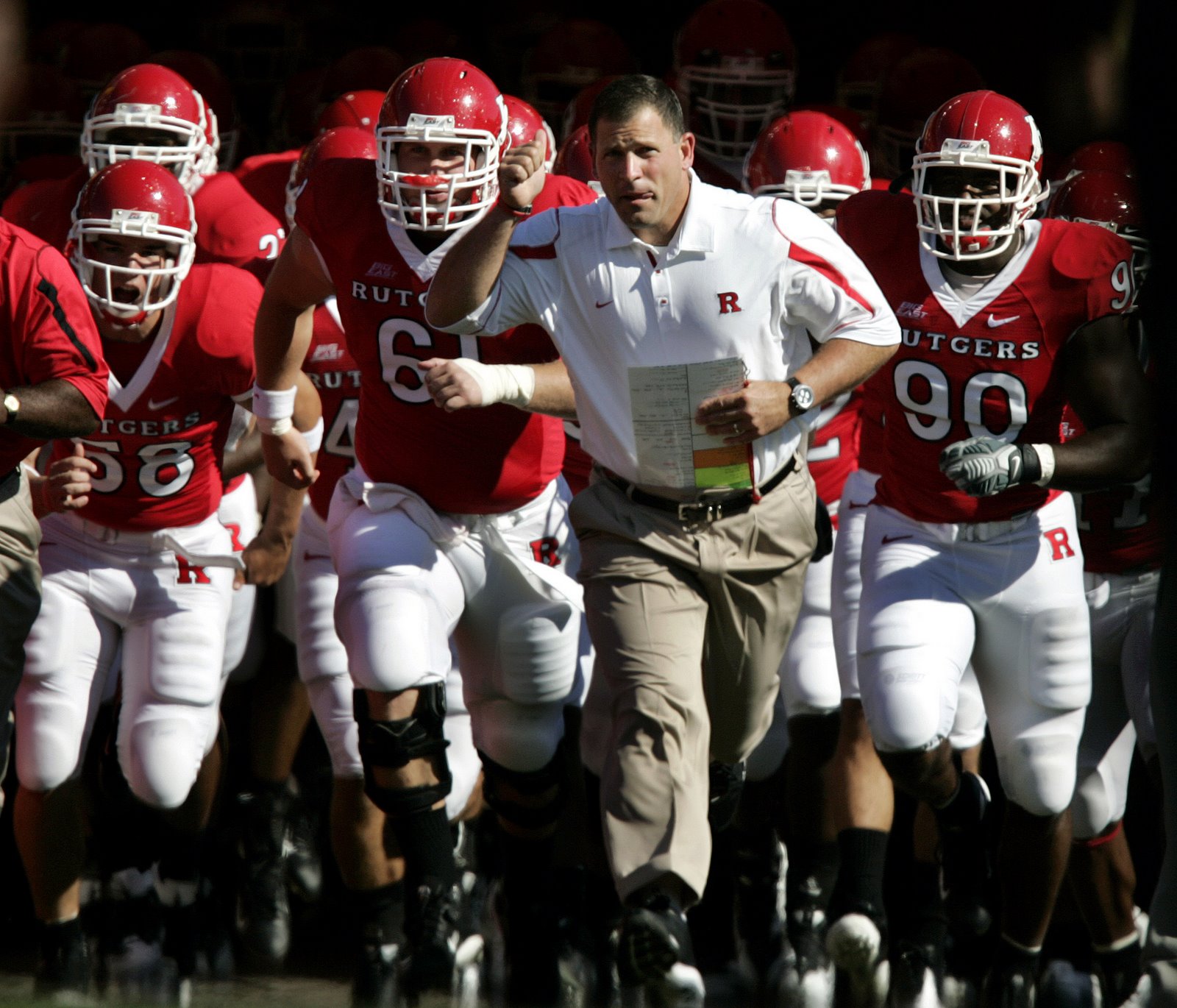 This came
out of nowhere:
The Tampa Bay Buccaneers have finalized a five-year deal to hire Rutgers coach Greg Schiano as their new head coach, according to a league source.

The two sides had been busy putting the finishing touches on an agreement Thursday morning that gives Tampa Bay a new direction and Schiano, 45, his first NFL head coaching job, according to sources.
Greg Schiano? It was almost five years ago that Greg Schiano was the guy everybody wanted after he took Rutgers from the worst BCS-conference program in the country (seriously) to one of the best in the Big East. The Big East thing means you gotta take it with a grain of salt, but still ... he took the Michigan job
for a night
before changing his mind and deciding to stay at Rutgers, at which point everybody in the world figured he was just holding out for Penn State. Not so much; that job didn't turn out to be quite as desirable as it appeared in 2007.
His name hasn't really come up for anything else in the interim, possibly because of the assumed Penn State connections and possibly because he just sort of plateaued at Rutgers. In the five years since Rutgers inexplicably went 11-2, Schiano has done this:
2007: 8-5, International Bowl
2008: 8-5, Papa John's Bowl
2009: 9-4, St. Petersburg Bowl
2010: 4-8
2011: 9-4, Pinstripe Bowl
The fact that Rutgers hasn't continued on a linear path of improvement has been considered a negative even though he's actually done something very few coaches are able to do: build a program from "nothing" to "good" to "very good" and then sustain something in the "good" range for several years. Most guys bail before they get that chance; Schiano stuck around and proved he wasn't a fluke. He's got a 64-63 record to show for it, which isn't that great on the surface but is amazing when you considering what Rutgers was when he got there (basically the equivalent of Temple). He's 49-28 since his first recruits became seniors, and posting six winning seasons in seven years while averaging eight wins a year at
that
place in a (debatably) major conference is amazing.
And now he's gone. In case you were wondering, Schiano does have an iota of NFL experience: He actually left Penn State in 1996 to work with the Bears defensive backs for three years before getting the D-coordinator job at Miami in 1999, which worked out pretty well for both him and Miami. How much three years of position-coach experience (from a decade ago) relates to a head coaching job is pretty tough to say. I'm gonna go with "not a lot." It's not nothing. It also doesn't matter much to me since I have zero rooting interest in the Buccaneers.
As for Rutgers ... umm ... yeah. This hurts a lot. Signing Day is in five days, which isn't a realistic timeline for hiring a coach when there's no obvious successor in place. There's one big selling point, though, which is that Schiano stuck around long enough that the program itself has some cachet; kids in New Jersey and the Northeastern-ish region actually have some interest in going to Rutgers, and there's a base of talent there that's about three standard deviations away from what it was when Schiano took over. The program isn't a bad one now; it's an OK one that can regularly go to bowls and occasionally compete for Big East titles.
People are already talking up Tom Bradley ...
... which would be a freakin' brilliant hire since he's basically been Penn State's coach for the last decade and is one of the best D-coordinators in the country. Do it. I'm not sure who else is out there who'd be comparable in quality to Greg Schiano and acquirable for Rutgers. I'm assuming we'll hear about Mario Cristobal (FIU) and K.C. Keeler (Delaware) and maybe Tim Murphy (Harvard).
In the meantime, O-line coach Kyle Flood
has been named interim coach
in an effort to salvage some semblance of a recruiting class. Seeing as how Flood has never been anything other than an offensive line coach and the AD has come out and said that a "new" coach will be hired "as soon as possible" I think it's safe to assume that Flood isn't a viable long-term option. O-coordinator Frank Cignetti apparently isn't either since he wasn't deemed worthy of being named
interim
coach. Maybe Flood keeps the job for the 2012 season if nobody else worthwhile is available; hard to say at this point.
Starting a coaching search on January 26: always fun.
Side note: Is it just me or is it kinda weird that the guy always assumed to Joe Paterno's successor is leaving his job -- but not for Penn State -- the day of Joe Paterno's funeral? #crazycoincidences