LSU obliterates West Virginia as couches burn into the night:
What the headline says. I'll admit it: I thought West Virginia's offense would score enough to make this one pretty interesting given LSU's general lack of decent quarterback play. It was interesting for all of about 10 seconds, which was the amount of time between West Virginia's third-quarter TD to make it 27-21 and Morris Claiborne running back the ensuing kickoff for a touchdown. What I forgot to consider was that LSU has a filthy-good defense (especially the secondary) that produces about two touchdowns worth of turnovers a game. Morris Claiborne and the spectacularly named Tyrann Mathieu are freakin' ballhawks. It'd be easy to say "holy crap Geno Smith threw for 463 yards," but it took him 65 throws to get there -- that's a fairly average 7.1 per attempt. It was 27-7 at the half, at which point West Virginia had crossed midfield once. And when Jarrett Lee goes 16 for 28 with three touchdowns and no picks, LSU isn't losing to anybody. Commence the countdown to November 5: LSU at Alabama, with Gary Danielson providing the verbal fellating to everybody involved.
Alabama find a quarterback, destroys Arkansas:
This game went from 7-7 to 31-7 in the span of about 10 minutes of game time, with Alabama having a stretch of "possessions" that went as follows: field goal, interception return for touchdown, punt, punt return for touchdown, 60-yard screen-pass touchdown to Trent Richardson. Richardson did his usual thing (121 yards rushing plus the screen-pass thing), but the big revelation for Bama was A.J. McCarron. Go back to the first drive of the game, with Alabama facing a fourth-and-4 from the Arkansas 37. McCarron takes the shotgun snap, rolls to his right, looks off the safety, sets and throws back to the tight end releasing deep down the left hash marks ... and puts the ball right in the guy's hands in stride for a touchdown to make it 7-0. He had some other similarly impressive throws in the parts of the game I was able to watch and finished 15 for 20 for 200 yards, two TDs and no interceptions. That's pretty good; it also represents massive improvement from the McCarron/Phillip Sims duo's first couple games, which had me questioning whether Alabama would have any offense at all outside the obvious Richardson handoffs. Oh, and if you haven't seen this Marquise Maze punt return, watch it right now:
Man ... that guy can move (aaarrghgh Michigan-to-Alabama transfer grumble grumble).
Denard
Michigan has surprisingly little difficulty with San Diego State:
I overslept the start of the game by about a half-hour, and by the time I flipped it on, it was already 14-0 Michigan. This was incredibly relieving; I was convinced San Diego State was gonna be irritatingly effective on offense and good enough on defense to make this a terrifying game for Michigan. That didn't happen, in part because Denard ran basically wherever/whenever he wanted and in part because Michigan's defense is
soooo
much better than last year. When Greg Mattison took over and talked about his NFL revelation that pressuring the quarterback is the key to everything, I figured it was typical "new defensive coordinator promises aggressiveness toughness blah blah blah." It wasn't; Michigan is blitzing at insane rates and killing quarterbacks on a weekly basis. Ryan Lindley looked like a mediocre high school QB because he was rushing every throw while getting crushed or preparing to get crushed. The two lingering concerns: The reliance on bending and then creating an extremely timely turnover (which probably isn't sustainable, although there will be more turnovers because of the aforementioned pressure) and Denard being unable to throw the ball to guys wearing Michigan uniforms. The second one is why I've been calling for more shotgun. Defense freaking out = hilariously wide-open receivers = not-as-difficult throws for a guy with basically no experience going through a pro-style passing progression. But hey, Michigan is 4-0 and on a smoothly paved path to 6-0. And Brady Hoke is now above .500 for his career (52-51), which is swell. Yay all around.
Clemson wins a meaningful game?!?
Yeah, I didn't really see that coming, even with Clint Trickett starting in place of the de-shouldered E.J. Manuel for Florida State. The weird thing was that FSU didn't really have much trouble moving the ball -- Trickett went 26 for 38 for 336 yards and three TDs -- but the defense got shredded by Tajh Boyd, which was pretty much the exact opposite of what I expected. Related observation: Boyd is really,
really
good. I don't know how many times he put a ball right over Sammy Watkins' shoulder in stride for 20-plus yards, but I bet Mark Stoops could tell you. Between Boyd, Watkins (so good for a freshman) and Andre Ellington, that offense is gonna be tough to stop. So Clemson is 4-0 and heading into an even bigger game in Blacksburg against Va. Tech. After that, there isn't a single good team on the schedule until the season finale at South Carolina. I have little to no doubt that Clemson will lose at least one game in inexplicable fashion since that's just what Dabo Swinney does, but that first-ever ACC title game appearance is looking totally within reach. As for the Noles, I'm not really sure how good they are or aren't -- I still think they roll through the rest of the ACC schedule, but I'm far less certain about that than I was a week ago.
Oklahoma State goes bonkers in second half to beat Texas A&M:
It was 20-3 A&M at the half ... and then Brandon Weeden woke up and A&M didn't get a first down for about an hour, by which time the situation was slightly different. In a span of nine minutes in the third quarter, Okie State scored three touchdowns (and would have had four if not for the most embarrassing play ever by Justin Blackmon -- more on that momentarily) while A&M turned the ball over three times in six plays from scrimmage. It was 30-20 Oklahoma State by the time A&M remembered there was a game going on. Weeden ended up going 47 for 60 for 438 yards, which has ceased being amazing in that offense. A&M is a pretty good team, but the turnovers were devastating (hey, I could work for an ESPN studio show!) and the secondary couldn't seem to cover anybody once Oklahoma State figured out at halftime how to block for more than one second. BTW, Justin Blackmon is really good and should be a top-15 pick in about eight months.
This week's worst play in the history of ever:
Man, there is some serious competition this week. Let's start with Blackmon being a moron and celebrating at the 5-yard line en route to an awful/hilarious touchback:
Next: Minnesota's comedy of errors against North Dakota State (guh) included probably the most amusing Hail Mary I've ever seen:
I didn't think those could be beat until I saw Tajh Boyd's lone interception against Florida State -- I can't even describe it in words, so just watch:
Craptactular? Yeah, I think that works.
I don't understand what they were looking at:
I'm sure you've seen this by now, but just in case: Syracuse beat Toledo in overtime Saturday in a game that should never have gone to OT since it wasn't tied. With about two minutes left, Syracuse scored a touchdown to go ahead by two. The extra-point attempt was missed ... except the officials called it good. But the review solves everything!
Ummm ... what!?!?! The ball clearly goes in front of the left upright -- it's not even debatable. Here's the Big East's
official statement:
"After studying the videos of the Syracuse extra point attempt at 2:07 of the fourth quarter, we have concluded that the ruling on the field that the kick passed between the uprights was incorrect, and that the replay official made an error in failing to reverse that ruling. In reviewing the video, we have determined that the angle from behind the kicking team shows conclusively that the ball passes outside the right upright.



Our review of the process determined that the replay official mistakenly focused his attention on

the sideline angle

, which proved to be distorted. We are confident that our officiating staff will learn from this situation in order to prevent a reoccurrence. "
Please explain to me why you'd choose to focus on a sideline angle to determine whether an extra-point attempt went
between the freakin' uprights
. Toledo got hosed: The field goal with two seconds left that sent the game to OT should have won it, and even if there's no chance in hell Syracuse is gonna give back the win, I have no problem with
Toledo disputing it.
I've never understood why conferences/officials can say, "Yup, we screwed up and cost you guys the game" but the NCAA can't do anything about the result. Lame.
The circle of illogical wins/losses begins:
Miami lost to Kansas State at home Saturday. Maryland -- which beat Miami three weeks ago -- lost to Temple by 31 points (!!!) and got outgained by almost 200 yards. So maybe Miami is just awful ... except I just watched a fairly impressive win over Ohio State like nine days ago, and I'm pretty sure Ohio State isn't significantly worse than Temple and Kansas State (reverse jinx FTW?).
Minnesota and Indiana are so, so awful:
As you may have surmised from that hilarious Hail Mary, Minnesota ended up losing to North Dakota State. The final score was 37-24, which means Minnesota has now been outscored by 20 points in the past two weeks by New Mexico State (arguably the worst D-I team in the country) and an FCS team. That is just inexcusably terrible. This is also the second year in a row Minnesota has lost to a lower-division team (lol); South Dakota came to TCF Stadium last year and won 41-38. So everybody laugh ... except Indiana. You can't laugh because you just lost at home to winless North Texas in a game you trailed 21-0 at halftime. Only a massive fourth-quarter comeback made it close (the final was 24-21), which is just flat-out embarrassing against a Sun Belt team that lost its first three games by a combined 91 points. I'd feel comfortable wagering that neither one of these teams finishes with more than two wins, especially given Jerry Kill's uncertain status for the rest of the season. In case you missed it, Kill had more seizures this week and is now
hospitalized in the Mayo Clinic
with no definitive plan for a return. No joking here: I hope he can get his seizures under control, because those are just scary and are obviously more important than football.
Mike Locksley still had a job?
New Mexico
finally
came to its senses and
fired Mike Locksley
on Sunday after a home loss to Sam Houston State (yes, Sam Houston State). Quick recap: Locksley faced a sexual harassment complaint early in 2009, punched an assistant coach later that year (and was suspended for it) and went 2-26 in two-plus seasons ... and yet he probably still wouldn't have been fired if not for an incident Saturday night in which
a recruit was arrested
on a DUI charge
while driving Locksley's car
. Pick your favorite part of that sentence; there are so many options. While you're doing that, I'll be throwing breakable things at the wall due to New Mexico's admission that Locksley will be getting paid about $500,000 in order to NOT coach for the next three years. Can I get a job that allows me to get sued, punch a coworker and never succeed and
still
get paid a couple hundred grand a year? Also,
I used a lot of italics in this paragraph.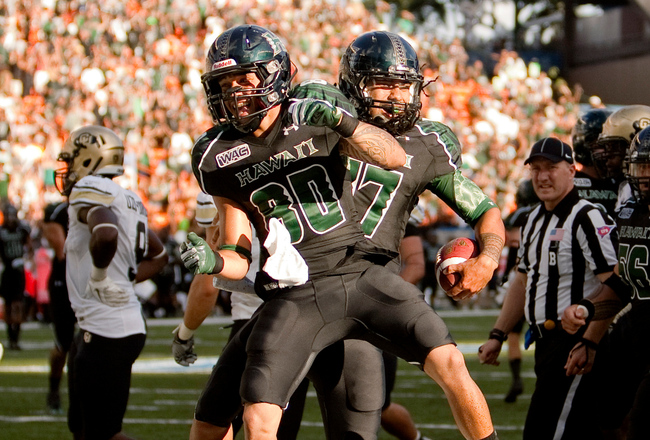 Player of the week:
Bryant Moniz. I don't care that Hawaii was playing UC Davis; he had seven touchdown passes in the first half (!!!!!). That's five exclamation points! He finished 30 of 40 for 424 yards and the seven TDs, which equates to a pass efficiency of 221.79. He also had 50 rushing yards. The most surprising thing (to me, anyway) about all those numbers is that the seven TD passes in a half only tied an NCAA record held by three players. Ridonkulous.
Moniz's only competition this was week was Robert Griffin, whose numbers were less absurd from a volume standpoint but actually better from an efficiency standpoint: Griffin went 29 of 33 for 338 yards and five touchdowns in Baylor's 56-31 win over Rice (that's a rating of 223.92). Oh, and he ran for a score. Solid effort.
Hilarious stat of the week:
I honestly didn't believe this until I'd seen/heard it from three people: Robert Griffin has more touchdown passes than
incompletions
this year. I know, right? In three games so far this season, he's gone 21 for 27, 20 for 22 and 29 for 33. Add up the incompletions and you get 12; for comparison, he's got 13 touchdowns and no interceptions. His efficiency rating this season is 236.23 (!), a number that actually went down Saturday. I will laugh about that for the remainder of the night (hat tip to friends Brett and Andrew).
Post-Week 4 top 10:
A&M is out for obvious reasons, but I'm even less sure this week about what to do with spots 8-10. Nebraska hasn't been very impressive (I'm really looking forward to the Wisconsin-Nebraska game Saturday), but I'm not totally convinced that South Carolina, Clemson and Florida are legitimate top-10 teams. Also, the top three are basically interchangeable at this point.
Oklahoma
LSU
Alabama
Boise State
Wisconsin
Oregon
Oklahoma State
Stanford
Nebraska
South Carolina