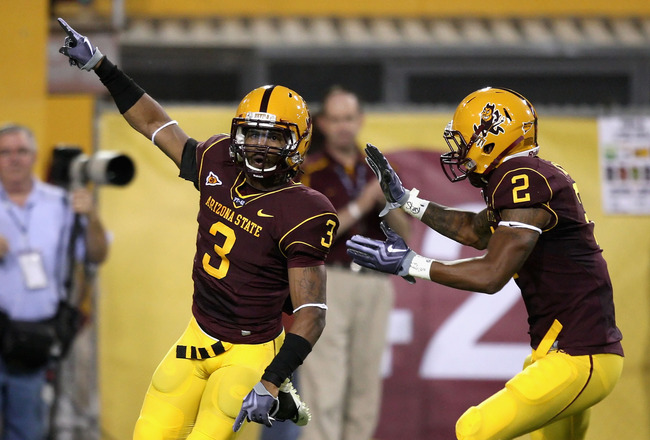 When uber-corner Omar Bolden tore his ACL back in the spring, it was obviously a pretty devastating blow to an Arizona State team with legitimate hopes of going places (Pasadena, specifically) this year. Cornerbacks don't return from torn ACLs in less than six months, so the general assumption at the time was that Bolden would have surgery, do some rehab and then consider his late-season options, with the most likely scenario being a redshirt and a return for a sixth year of eligibility in 2012.
That apparently won't be happening:
"I just kind of feel like (after this season), my time is done here," Bolden told the Arizona Republic.

And that's particularly relevant because (as we already figured):
"I wouldn't say I'm not going to play (this season), but chances are slim," Bolden said.
His interview
Friday was full of sad-panda statements, with the most meaningful being those two. "Slim" might not seem like such a dire assessment, but his thought process basically eliminates any possibility of an in-season comeback:
"I want to be back as soon as possible, if I'm healthy. I won't step on the field if I don't feel confident in my knee. I won't play if I'm not ready. ... That's the only way I'm going to be effective. I wouldn't want to put myself out there when I'm not 100 percent, because I'd be hurting the team."
Again, Omar Bolden is a cornerback -- there is no chance he'll be ready to play at 100 percent less than eight months after tearing his ACL.
Maybe
he could get back to 80 percent (or something in that vicinity) by November, but not 100 percent. Not happening. His only shot at suiting up in one of those brand-spanking-new ASU uniforms: a bowl game, preferably an early January one (you know the one I'm talkin' about).
That obviously would be a much more realistic team goal if one of the best corners in the country were actually, you know, able to play and stuff, but college careers don't always
end the way
they're supposed to.
Bolden is just the latest unfortunate example; while his career isn't technically over, his next meaningful game will probably be on a Sunday.