Auburn isn't entirely free and clear:
When the NCAA conveniently declared Cam Newton eligible (and therefore everything at Auburn on the up-and-up) just before the SEC title game, I think the assumption everywhere was that the NCAA enforcement people were just giving up on finding any meaningful evidence of wrongdoing.
That
might not
be the case:
An NCAA official told Auburn coach Gene Chizik that it is not done investigating the Tigers' football program and the recruitment of Cam Newton, The New York Times reported Wednesday.

Chizik asked NCAA vice president for enforcement Julie Roe Lach several questions, including why the NCAA had not announced that the Newton investigation was finished, during a presentation at the Southeastern Conference meetings in Destin, Fla., last month.

"You'll know when we're finished," Roe Lach told Chizik, according to several coaches who were at the meeting, the Times reported. "And we're not finished."
This seems potentially significant. If the NCAA hadn't found anything worthwhile in the last eight months, it seems likely that they would have just closed up shop and moved on (it's not like the NCAA is lacking for things to do or places to send its investigators).
On the flipside, if they
have
found anything significant, how has it not been leaked?
Everything
gets leaked to somebody, usually Yahoo since their guys are on NCAA violations like white on rice. And we're talking about a $200,000 payment (allegedly, of course), which isn't exactly a $100 handshake -- if there's evidence, it'll be radioactive.
I'll be skeptical until something actually happens, but the fact that the NCAA is still nosing around at least provides some hope of finding the truth behind the super-hard-to-believe cover story that the Newtons (Cecil, at least) just stopped looking for money out of the goodness of their hearts after getting shot down by Mississippi State and conveniently decided to enroll Cam at one of the
dirtiest schools
in the country.

Michael McAdoo loses in thoroughly unsurprising fashion:
In the fastest court case in the history of the legal system, Michael McAdoo lost his lawsuit (the one he filed last week) against North Carolina and the NCAA on Wednesday.
A judge denied a request Wednesday by a former North Carolina football player to be reinstated to the team after being declared permanently ineligible for academic misconduct by the NCAA.

Durham County Superior Court Judge Orlando Hudson denied a petition by Michael McAdoo seeking to compel the university to reinstate him while preventing the NCAA from interfering in that process or punishing the school if he returned.
As
I've mentioned
a few times now, the events of the last year have established that fairness is pretty much irrelevant; the guys at the NCAA do what they want (
whateva!
). And besides, the players who sign up to be a part of this bass-ackwards system via the NLOI are also signing up to live by the accompanying rules and enforcement. The courts aren't stepping in.
This is becoming a problem:
Arizona State lost another starter (kind of) Wednesday, this time senior defensive end James Brooks, who left the program for undisclosed personal reasons. Brooks was one of three nominal starters at end alongside Pac-10 Freshman of the Year Junior Onyeali and Jamaar Jarrett, and he actually had the fewest sacks of the three -- Brooks had four, Jarrett 4.5 and Onyeali 6.5.
But I'm officially getting (a little) concerned about ASU's defense, which was pretty disappointing last year -- 57th in yards allowed and 55th in scoring -- and has now lost uber-corner/legitimate first-team All-America candidate Omar Bolden (torn ACL), defensive tackle Lawrence Guy (left early to be a seventh-round pick) and Brooks. For a team with astronomical hopes and a Rose Bowl twinkle in its collective eye, those are some serious holes.
Brooks' loss won't be super significant if Onyeali and Jarrett can stay healthy, but depth isn't a meaningless thing on the defensive line, and losing a guy who's a senior and two-year starter is a negative no matter which way you cut it.
On the bright side, we'll always have
the Arizona game
: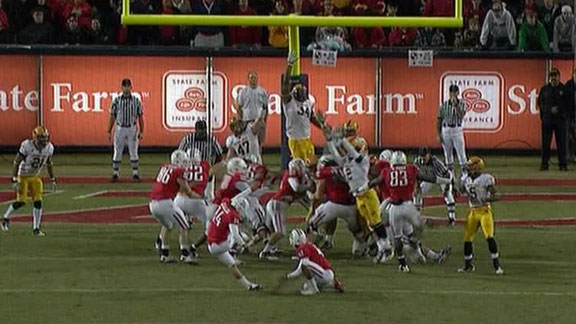 Mike Vrabel hired as Ohio State's linebackers coach:
You already know about this since it happened like four days ago. A few thoughts:
It's a good hire in "name" terms by Luke Fickell, who was the linebackers coach before his way-up-the-ladder promotion and was actually Vrabel's roommate back in the day.

Mike Vrabel was a pretty damn good linebacker, but nobody has any idea whether he'll be a good coach -- he has zero experience whatsoever, and outside of saying "I'm Mike Vrabel, here's a Super Bowl ring so come to Ohio State," he doesn't bring any known coaching-specific qualities to the table.

It's an interesting move picking recognition over experience, especially for a guy who grew up at the feet of Jim Tressel. Cheatypants McSweatervest (as he heretofore shall forever be known) made a career out of finding and developing irritatingly good defensive positional coaches and coordinators.

A rough week for West Virginia:
Spectacularly named West Virginia linebacker Branko Busick -- a backup last season -- got himself kicked off the team with an arrest for armed robbery (!) on Monday, and the news
didn't get any better
Wednesday:
West Virginia left guard Josh Jenkins will miss this season after undergoing surgery on his left knee.
Ouch. Jenkins is a senior who started almost every game the past two years (he did miss two games last season after knee surgery) -- Jeff Braun is now expected to slide over from right tackle to start in his place at guard.
For a team
some people
are plugging as a darkhorse national title contender out of the pathetic Big East, losing one of the best and most experienced players on the O-line in the summer before his senior season -- and then shuffling to make up for it in fall camp -- seems like a not-so-good start.
Caleb King enters supplemental draft:
This was pretty much a given since his career ended last week with the academic-ineligibility ruling. King has some talent -- that's the only thing he consistently displayed at Georgia -- but given his lack of overall production, inability to hold the starting job and off-the-field (ahem) issues, he's probably a seventh-round flyer or undrafted free agent.