USC suspends Marc Tyler for (at least) the season opener:
So ... Marc Tyler made some "news" the other day with a hilarious TMZ interview, and USC wasn't real happy about it.
Here's why (seriously, watch it):
That guy is drunk like whoa. Highlights:

"We all get in Kim Kardashian"
USC is the "University of Sexual Ballers" (lol)
"They breakin' bread"
I give him no grief for picking Arizona State girls over girls
anywhere
-- I mean, obviously.
In any of the previous gazillion years, the reaction to (insert USC running back here)'s suspension would be "whatever, there are 17 former five-stars behind him." For once, that is not the case. With Allen Bradford and C.J. Gable graduated and Tyler coming off a 913-yard, nine-touchdown junior year, he was in line to be the first true feature back at USC since ... well, I don't even know. Before Pete Carroll. Sophomore Dillon Baxter and redshirt freshman D.J. Morgan are uber athletic but lacking size (weight, specifically) and experience, and everything beyond them is a complete unknown.
On the plus side, assuming Tyler stops getting drunk and granting hilarious interviews and therefore only misses one game, USC will probably be OK; they should be able to get past Minnesota without him.
LSU gets probation for old recruiting shenanigans:
This happened so long ago that it was barely still on the national radar, but the NCAA announced its ruling Wednesday on LSU's 2009 recruiting violations:
BATON ROUGE, La. -- LSU committed major violations while recruiting a junior college football player but won't be slapped with any postseason bans or future scholarship reductions, the NCAA ruled Tuesday. The governing body decided to place the school on probation for a year and cited a former assistant coach for unethical conduct.

The investigation found that former assistant coach D.J. McCarthy improperly arranged for transportation and housing for former defensive lineman Akiem Hicks in 2009 before later trying to cover up those actions.

McCarthy resigned in December 2009. Hicks never played for the Tigers before he left LSU.
LSU had already self-imposed two lost scholarships and a 10 percent cut in official visits this year, and the NCAA extended the official-visits penalties one year.
If the punishment seems light, it's because LSU found out about the violations, ruled Hicks ineligible before he ever played a game, forced McCarthy's resignation, reported everything to the NCAA and was supposedly very cooperative during the investigation. In other words, they did the exact opposite of what Ohio State is doing. They also already took care of the scholarship penalty, going with just 83 players during the past academic year -- they'll be back up to 85 this season, so any tangible punishment is already over.
Given the scope of massive and ridiculous NCAA violations in the past year, this gets a "meh" from me and rates about a 3 out of 10 on the Cam Newton Scale of Cheatiness.
Hawaii turns down Tate Forcier: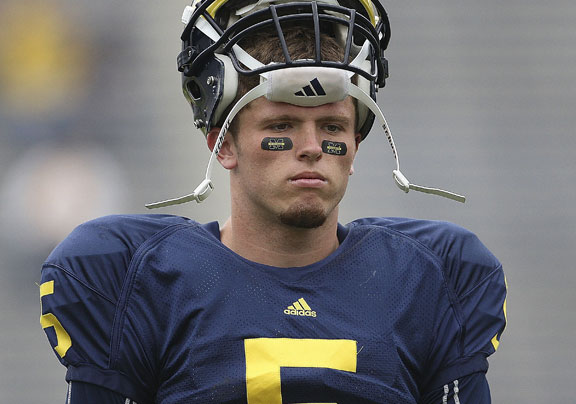 The headline says it all. There was actually some mutual interest -- at least temporarily -- as Hawaii invited Forcier for an official visit and appeared to be ready to offer a scholarship ... until his transcripts showed up.
This is from the Honolulu Star-Advertiser:
People familiar with the situation said Forcier did not project to meet the requirements to join the Warriors for UH's fall semester, which begins Aug. 22. ...


Last month, Forcier contacted the Warriors. Two weeks ago, Forcier and McMackin had a 1-hour telephone conversation during which Forcier was offered an official recruiting trip. A condition of the trip was UH's receipt of Forcier's transcripts.

UH received the transcripts this past Friday.

On Monday, Forcier told ESPN and the Star-Advertiser he would be visiting UH this weekend. The projections of Forcier's eligibility apparently aborted those plans.
It's pretty bad when Hawaii (which isn't exactly Princeton) looks at your transcripts and reacts the way a car salesman would react if I filled out a credit app to buy a Dodge Viper. Forcier's grades have been the big problem throughout the entire process, and it's sounding less and less likely that he's gonna find somebody willing to take the chance that he'll get his crap together and get eligible for the 2012 season.
The only remaining school that has expressed interest and seems to be a realistic option: San Jose State.

Stephen Garcia will "in all likelihood" rejoin South Carolina:
Coming off his fifth (!!!) suspension, Stephen Garcia has supposedly made some "lifestyle changes" and is ready to rejoin the team.
(Steve Spurrier) said "in all likelihood" quarterback Stephen Garcia will be back in the fold for preseason camp. After all, Spurrier cracked, "I guess we don't want to kick him out for stupidity."
Of course not -- everybody deserves a sixth chance (that's the
Mark Dantonio philosophy
, amirite?).
The real question is whether Garcia will be the nominal starting quarterback -- "nominal" because we know it'll only last until the Ol' Ball Coach flips out following one of those trademarked Hilarious Stephen Garcia Interceptions -- or cede that title to sophomore Connor Shaw, who looked decent while getting meaningless snaps in nine games last season.
Spurrier's in-depth analysis:
"We're going to have competition," Spurrier said. "I guess everyone assumes Stephen is going to be the quarterback if he's there. But we'll see."
Yeah, we'll see. Sounds to me like another motivational ploy, which has become a summer tradition in the ongoing quest to turn Garcia into something other than an enigmatic interception machine.
Georgia suspends Carlton Thomas,
gets

really

concerned:
Georgia's running back situation was already pretty dire after the (somewhat) unexpected departures of Washaun Ealey and Caleb King, but the situation is now downright desperate:
Georgia running back Carlton Thomas is suspended for at least the first game of the season.

The rising junior from Frostproof, Fla., violated team rules back in the spring, three persons familiar with the situation confirmed to The Atlanta Journal-Constitution. As per Georgia Athletic Association student-athlete policy, Thomas has to sit out 10 percent of scheduled games this season.
Thomas was the only experienced running back left on the depth chart and was expected to be the backup-type guy behind uber-freshman Isaiah Crowell. Losing him for a game or two might not seem like a big deal, but Georgia's opening opponent isn't exactly West Georgia Centenary:
The Bulldogs' season opener is against top-10-ranked Boise State in the Georgia Dome.
Gulp. Just before Thomas' suspension became public, Georgia announced that redshirt junior linebacker Richard Samuel, who played running back in 2008 and '09 before switching to defense last year and redshirting with a knee injury, is headed back to the other side of the ball just to have somebody/anybody who knows what they're doing back there. He does have six starts, 600 rushing yards and two touchdowns in his career, but considering that he was utterly buried on the two-deep just 18 months ago, it seems unlikely that he'll make a significantly positive impact.
Thomas and Samuel will probably make a fine backup platoon once Thomas is actually, you know, eligible to play. Until then (read: against Boise State), Georgia's only real shot at having an effective running game is to give the ball to Crowell and hope his first career start is an impressive one.
Let's all be embarrassed for Ohio:
This is exactly what it looks like:
I don't think anything needs to be said.