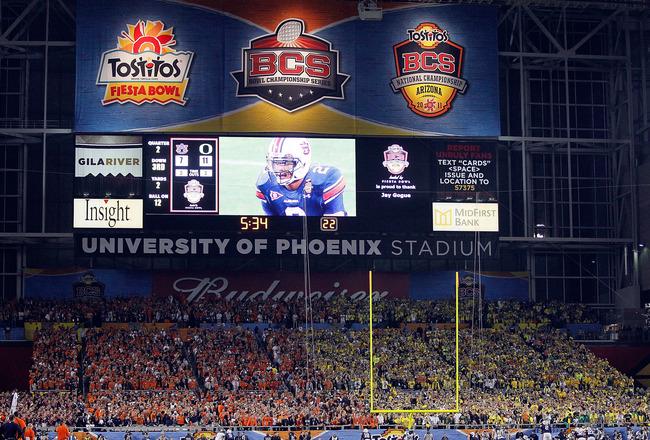 I learned a new formula this week: horrifyingly massive workload + sick kids + sick me = WANT DEATH. Ughgh ...
Anyway, the conference commissioners are starting to say various things about various things related to playoff scenarios. This is interesting for obvious reasons. It's also depressing because the things they're saying are not (entirely) the things I was hoping to hear.
This is from
my post
a couple weeks ago, specifically the part about the possibility of playoff games being held on campus:
This needs to happen. This

soooooo

needs to happen for

soooooo

many reasons, specifically the massive advantage for the teams ranked first and second (the preserving-the-regular-season thing) and the guarantee of actual fans producing actual sellouts rather than guys in suits filling up the JerryDome to create the illusion of a sellout. The possibility of this excites me to a ridiculous degree. There are also some obvious benefits to bowl integration (from a transition standpoint) if they want to go that route, but I hope they don't until the campus thing is thoroughly vested.
Yeah. That. I still want that. I'm probably not getting that.
This is from
an ESPN story
that came out earlier today:
If Football Bowl Subdivision conference commissioners and the sport's other power brokers approve a four-team playoff to determine college football's national champion, the semifinals and the national championship game will be played at neutral sites and the BCS bowl games will be played closer to New Year's Day, a source familiar with the negotiations told ESPN.com on Tuesday.

... A proposal to play the semifinal games at the home stadiums of the higher-seeded teams is all but dead, according to the source. The semifinal games will either be hosted by the existing BCS bowl games or opened for bidding. The source said it seemed almost certain that the national championship game will be opened to bidding by the existing BCS bowl sites and other cities such as Atlanta, Dallas and Indianapolis.
Lame. Before I rant about said lameness, I should point out that there are a couple of good-ish things included (at least implicitly) in those comments.
The first is the specificness of the details regarding scheduling/sites/bidding/whatnot. There's obviously been extensive discussion about the logistics of a four-team playoff to the point that it seems like by far the most likely end result of all this. The second is the above scenario's lack of reference to Jim Delany's
death grip on the Rose Bowl
, although ESPN's source says the Rose Bowl's role is still a matter of debate and that Delany, Larry Scott and the Rose Bowl people all "prefer" to keep the Big Ten-Pac-12 thing intact.
I'm skeptical anything's gonna come of that preference given Mike Slive's (correct) assessment of its ridiculousness:
A four-team playoff proposal that would ensure a Big Ten/Pac-12 Rose Bowl semifinal pairing ... prompted a smile from Slive.




"It's not one of my favorites," he said. "What we're trying to do is simplify in many ways. I don't think that adds to the simplification of the postseason."
You don't think? It's absurdly and unnecessarily complicated and is of no benefit to anyone other than the guys who make $500K a year to make sure the Tournament of Roses looks exactly like it did in 1930. I'm gonna be downright pissed if Delany gets
that
approved after apparently conceding defeat on the homefield-semifinals proposal.
Back to the semifinals, the stupidest part about the whole thing is the stupidly stupid reason for going with neutral sites. Back to ESPN:
The conference commissioners have reached a conclusion that some FBS schools' stadiums aren't large enough to host a national semifinal game and that many college towns don't have enough hotel rooms to accommodate bigger crowds.

"What happens if TCU finishes No. 2 in the country and hosts a semifinal game?" the source said. "TCU finished No. 3 two years ago. Are they really hosting No. 3 Ohio State in a 45,000-seat stadium? Where are people going to stay if Oregon hosts a semifinal game? In Portland? As much as it would be great for the sport to see a game played in Ann Arbor, Mich., Tuscaloosa, Ala., or Lincoln, Neb., some of the logistical issues are just too severe. I think that idea has come home to roost as far as these guys are concerned."
Ummm ... what? The point of homefield advantage is that most of the people who get to buy tickets are the people who
normally go to the games at that stadium
; miraculously, lodging and transportation are not issues for those people at regular games, even the ones that include College GameDay and LSU-Alabama-type media throngs all that stuff.
I went back through 10 years of regular-season-ending rankings (I got bored after that) and found that the smallest stadium that would have hosted a semifinal game if the four-team playoff format had been in place was Autzen, which has an official capacity of 54,000 but averages a few thousand over that. UNACCEPTABLE.
Because it'd be SO AWFUL if 20,000 random rich dudes got squeezed out of their $250-a-pop seats in favor of, like, actual fans, the kind who would either (a) live in the general vicinity as students/season-ticket holders or (b) fly/drive in and find a place to stay, just like the 10,000-15,000 visiting fans do for every road game at every major venue. Hotels exist; if Oregon hosts a semifinal game, people will stay at the same places people currently stay when they travel to see a game at Autzen.
BTW, the Fiesta Bowl (at University of Phoenix Stadium) and Lucas Oil Field both can seat about 63,000 fans; is it really worth stripping the freaking essence of the sport out of the postseason in order to avoid that once-in-a-century scenario in which TCU or Boise finishes in the top two and can
only
accommodate 50,000 people at a semifinal game? Not even the NFL Sponsored By Sprint on FOX Brought To You By Coors Light sells out like
that
; I know because the microscopic city of Green Bay has a football team and somehow does not turn into that city in Andromeda Strain when people go there in December/January for playoff games.
What it comes down to is obviously not "logistical issues" but the opportunity to sell luxury boxes and corporate sponsorships (including comped tickets) and whatnot. Any argument otherwise is so totally laughable that ... I mean ... ARGH. This tweet from MGoBlog's Brian Cook pretty accurately encapsulates my frustration:
The BCS is arguing college football stadiums are unprepared to host college football games.
Pretty much, yeah. And the alternative really screws the fans (as always) since it requires anybody wanting to go to shell out a huge chunk of money for a trip to L.A. or New Orleans or Miami or wherever for a
semifinal
game and then, in the best-case scenario, do the same thing a week later for the national championship game. Nuts to that.
I kinda blamed Delany earlier for "conceding defeat" but didn't expect much (and not just because he comes up with awful ideas like Legends and Leaders and the Stagg-Paterno Trophy); the on-campus thing was doomed from the beginning because it had no real voice at the table and plenty of voices against it. Delany's interest wasn't the same as the fans' but was more of a "this would kinda help my conference" thing, whereas the bowl reps have been sitting there trying to salvage the very existence of the entities they're representing and the non-Midwest commissioners just want to figure out how to ensure everybody a Scrooge McDuck-esque pile of cash (preferably without leaving the comfy confines of their 60 degree winters). Survival and cash apparently won, which sucks but isn't surprising.
The not-totally-cynical part of me thinks an imperfect four-team playoff is indisputably better than a two-team game pretending to be a playoff. The other part of me thinks about the stupidity of sacrificing games in Ann Arbor and Tuscaloosa and Lincoln in exchange for some luxury boxes and corporate sponsorships and then remembers this:
Sigh.