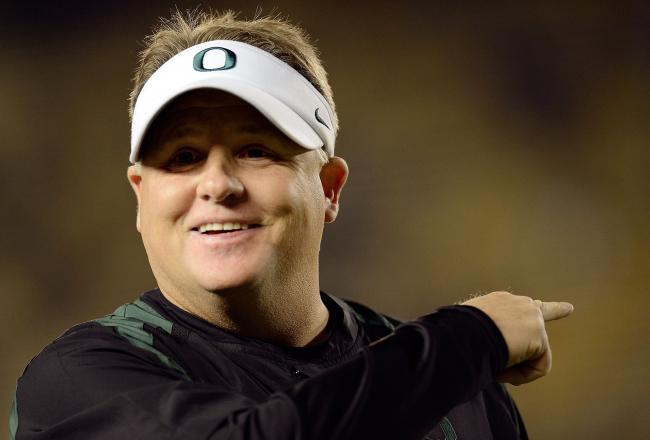 What the headline says.
From ESPN:
Oregon coach Chip Kelly has decided to turn down a chance to go to the NFL and instead will return to the Ducks, according to league sources.

Kelly was intrigued with the Philadelphia Eagles' head coaching job but decided he wasn't comfortable leaving the college game. The Cleveland Browns are the only other NFL team known to have interviewed Kelly.
Yay. I will now Ctrl+C/Ctrl+V most of
what I wrote last year
at this exact moment.
I don't root for Oregon as a fan but also have no desire to watch the most entertaining offense in the universe get yanked out from under Phil Knight's wallet and NFL-ized to the detriment of everybody who enjoys watching really fast guys do amusing things and score touchdowns on 52-second drives.
For now, Oregon is still Oregon. Whether that's still the case a year or two from now is impossible to know, especially with the NCAA looking skeptically at the Willie Lyles thing for obvious reasons. I don't doubt that Kelly will get another call or three next year; he's only 49 and isn't getting any worse at producing ridonkulous offenses, although finding an owner willing to totally commit to his system won't happen a lot. Hopefully it won't happen at all (yeah, I'm selfish).
Side note: The site
firechipkelly.com
exists, is run by an Oregon fan and is apparently totally serious. Actual quotes:
I have no personal vendetta against Chip. I've met him at school events and found him to be a nice enough guy, but I hold us to a higher standard than most and I think we can do better.

No National Championships. With decent coaching, we should have 2 at this point.
Hahahahahaha. The rest of the crappily formatted single-page site is similarly hilarious and worth checking out purely for the laughs. Enjoy.